New South Wales
Finally, on June the 24 2006 at 8.00 AM I stood in front of the Opera house in Sydney, ready to leave. With me were 6 Australian bikers, waiting to guide me out of town.


 On the far left in the picture is Eugen Schilter  the world record holder on the challenge "Biking around Australia"
And my good friend Lars Bording ( the man in long sleeved yellow jersey ) had once in his younger years reduced Bjarne Riss (tour de france winner 1997) to a second place in a bike race.
The others were also very keen bikers, so it was a strong team leaving the opera house that foggy morning.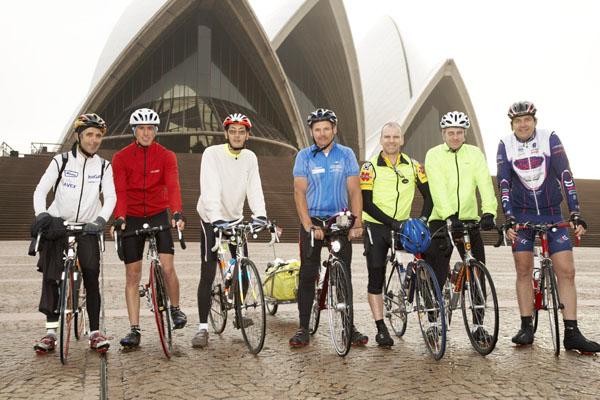 In front of the Opera house in Sydney.
After about 35-40 km I was alone, facing nearly 14.500 km of Australian roads before I would be back in Sydney.


The Australian eastcoast was in my mind just something that I had to be over with as soon as possible. The traffic and the shoulders are bad in many places. The nature however is quit astonishing and there are lovely views to the ocean at times.

Already on the third day I sent tent sleeping bag and some other stuff back to Sydney, to lighten the trailer. I had big trouble on the uneven shoulder, with the trailer twisting around, and bending the QR on the rear wheel. After roughly having reduced the weight on the trailer to the half, I found the setup performing much better.
I reached the Gold coast on day 4, where I found accommodation for 50$. Had to put up with an unfinished room with building mess though, but the price considered in this area it was ok.
Queensland
Reached Brisbane in an infernal traffic, and on the north side of town I found a bike store and bought a new QR so I had a spare one if the bended one broke down. The bended one turned out to last the whole way however.


The Towns Rockhamton - Mackay - Bowen and Townsville mm. were reached and passed "on time" and I put some km in the bank every day, saving them for bad times.


A good experience, At least for me, was when I succeeded in kicking a dog, coming out from a house trying to bite me, they usually escape.... but not this one!
Reached Innisfail on day 12 after 2592 km. The town was 5 months earlier hit by the tropic cyclone Larry, and was still under recovering. The Banana trees were almost all wiped out, and this caused the price on bananas to go from 2$ per kg to 16$ per kg in some places.

From Innisfail the route goes west over the great dividing range, following the Palmerston Highway. Very beautifull area with rainforest, but also very hilly.

I was now on more quiet roads and could relax from the heavy traffic I have had up the east coast.

After Ravenshoe it became bush and cattle country, the type of country I like best in Australia. The next 800 km would mostly be on a single track sealed road, leaving only space for a roadtrain. Here was no staying on the road when roadtrains passed, just hit the dirt!


Mt. Garnet and Mt. Surprise were passed, a couple of small towns, not situated on a mountain as the names indicate, but on the more or less flat bush land.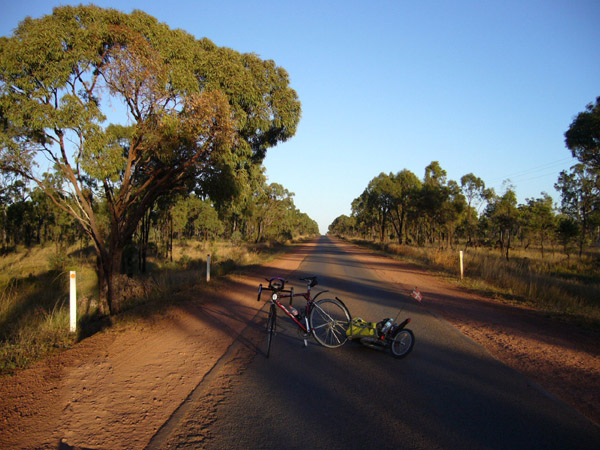 Gulf Developmental Road.
The next town Georgetown was not much bigger, but in those days home for the annual Rodeo. So I was very lucky to find a bed for the night!
I began to miss my tent now because I now faced the choice of doing only 150 km a day the next 2 days, or do the 304 km to Normanton in one blow.

I went for the 304 km, I would lose too much time the other way, and started out at midnight hoping for tailwind. I did have a slight tailwind and the road was most of the way a brand new wide road, so I made good progress and arrived at Normanton around 3 pm.


Biking at night in the outback revealed many eventful situations with the wildlife. Especially the Kangaroos were plenty on the road, and sometimes did not move before I was about 5 meters away. Apparently they were dazzled by the light from my bike.
Roadtrains at night was a very special event. Most of the time it was peaceful and I had the road for myself.
But once in a while a Roadtrain would appear. At first a light in the distance, and after a while weak rumbling could be heard, rising slowly to a horrifying racket as it passed by in a cloud of dust, noise and a whirlpool of tires and yellow lights down the 50 meter long vehicle. A frightening experience in the night, and I always got off the road in good time before it passed.

Soon peace would be re-established and I could go back on the road again. One night I biked for 5 hours without any traffic at all, NICE!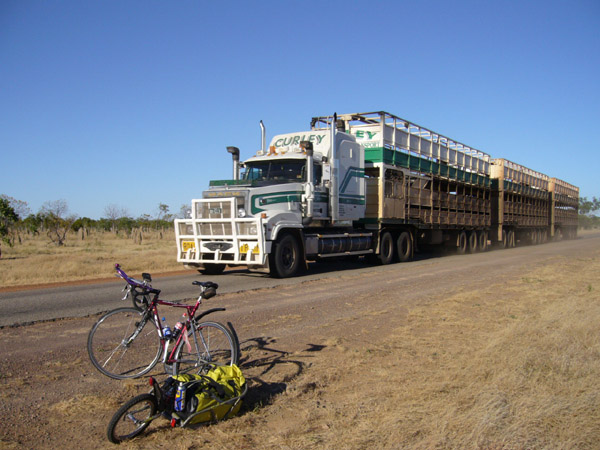 Matilda Highway.
I began to feel the need for a tent now, and 3 days later I bought a mosquito tent and a sleeping bag in Mount Isa, a large mining town. Now I was independent of Roadhouses, and could get more even daily mileage.

About half the way between MT Isa and Camooweal was 4 years ago single track, but now only remained the last 30 km or so, before it was fully upgraded. That meant 30 km of roadwork, and some dirt roads.

At a point a leveling machine honked at me, not something I took much notice of, I just waved and continued biking.
Surprising enough, the machine kept honking and started following me. I thought he was mad of something and stopped and out jumped the driver and started speaking Danish to me, now that was a huge surprise. Turned out he was a former Dane, but had lived in Australia the last 33 years. We talked for a while before I continued.

In the General store in Camooweal I found unexpected an Internet corner, were I spend 15 minutes.


An Australian description of Camooweal:
There's no way to avoid CAMOOWEAL but you might wish there were; the township's atmosphere of lazy aggression is exacerbated by a total lack of charm. The highway from Mount Isa forms the main street, built in 1944 by American servicemen whose names are painted on a rock at the edge of town. You'll find a roadhouse, mechanic, general store (and Westpac agent), post office and hotel – a risky place for a last drink in Queensland. The store's old decor is worth a peek, and murals at the service station  should raise a chuckle; around the back are cabins and a campsite with thick grass to raise a tent over. Otherwise, move on.
I did not find it that bad though, but nothing much seems to happen here.
I continued west, and after 13 km I entered Northern Territory. The temperature climbed for the first time above 30 C.


Northern Territory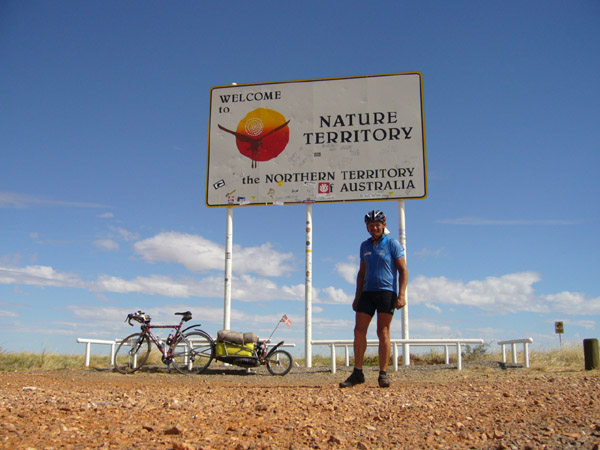 Northern Territory.
Barkly Roadhouse, 262 km west of Camooweal had as usual high prices and no grocery, but I knew that in advance, and had topped up in Camooweal.

A rainstorm was developing and 30-40 km west of Barkly Roadhouse it started to rain, very unusual this time of year. 10 km later I pulled in to a rest stop to seek shelter under a roof over some tables.

To retired men in a van had done the same, they seemed to spend their lifes autumn driving around in Australia on an everlasting journey. We talked a lot the 2 hours it took for the rain to finish.
Among much else I asked what to do if I got a snakebite, and one of them answered by standing on his head for about 10 minutes. I told him I then would prefer to die instead, and that made him chuckle so he had to stop his "demonstration"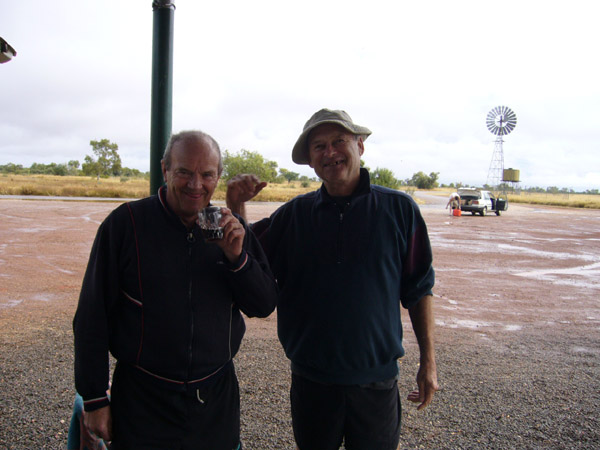 Heinz and Herman.
When it cleared up I continued the 70 km to the next rest stop, hoping to find a roof there too, because it looked like it could start raining again anytime.

There was a roof, but unfortually occupied, so I had no choice but to set my mosquito tent up in the open and hope it would not start to rain.

At 1.30 am I woke up to the sound of howling wind in the trees, and jumped out of the tent, and packed down in record time. I made it just seconds before it started pouring down with rain, and I had no other choice but to continue my journey.

I made it to Tree ways just before dawn, and treated myself with a double portion of egg & Toast. The food had been "alternative" the last days, so I needed that!

After some further provisioning, I started out from the Roadhouse. From here the road turned North, and I was looking forward to Reach Renner Springs and get a bed and a shower after 3 nights in the mosquito tent.

Just outside Tree ways Roadhouse I met a couple of bikers coming out from the back of the roadhouse. Turned out to be the last 2 of a team of 16, biking from Alice Springs to Darwin with "Outback Adventure Cycling" They had a bus, and only biked about 2 hours each day, and was then transported in the bus further on to the next accommodation.

I reached Katherine on day 24 and had biked 5.041 km with an average of 214 km, so things looked fine.
My saddle vas partly broken down and I went for the bike store to buy a new one. There was an unexpected big selection, so it took a while for me to decide which one to choose. Next bike store would be in Broome, 1.600 km down the road, so it was important not to buy something useless.

From Katherine the road turns west again, and I biked about 110 km more that day, before putting up my tent at a rest stop beside a water tank. Here in Northern Territory these water tanks are rather common at rest stops, and a good help to get washed, and to do the dishes, a warning sign against drinking the water was usually on the tank, so did not dare drink it.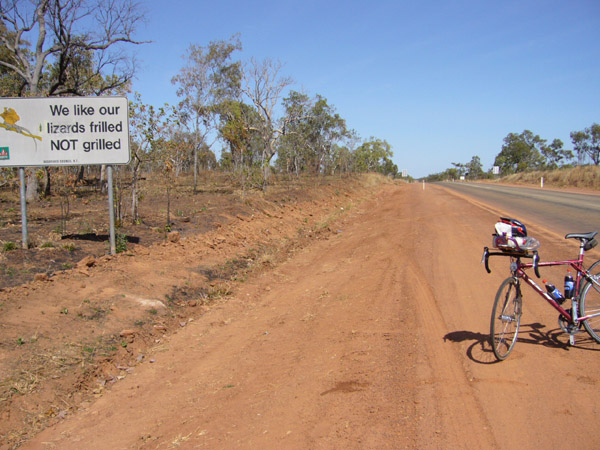 Between Katherine and Victoria River.
Earlier that day I had passed some road workers who was cutting grass in the verge, and one of them was pulling a dead kangaroo of the road into the verge. At first I did not think much about it, but suddenly I realized what the meaning was, and looked back just in time to see him drive over the kangaroo with the mower, Urghhh!!! but actual rather smart, the "remainings" would then disappear in a few days.

The next day, between Victoria River and Timber Creek I almost run over my first live snake. Luckily it did not snatch at me. Many pieces of rubber from truck tires look like a snake, so guess ones attention is not too good when it finally is a real snake.

Later that day I was passed by a travelling Fun Fair truck. The truck stopped suddenly a bit ahead of me, and out jumped a shabby looking guy, and offered me a job in his show!! I told him I had "job" enough and continued. The guy most have been desperate to stop a touring cyclist.


When I sometimes passed a bushfire, there were birds of prey above the fire, waiting to snatch small animals fleeing from the fire. These birds were often seen early in the morning, patrolling up and down the road, on the look for new road kill.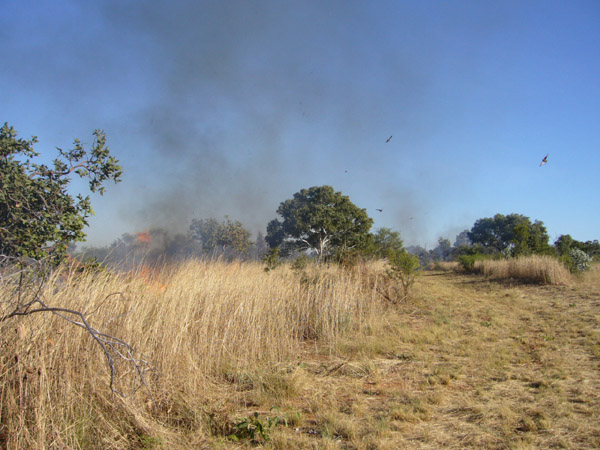 Bushfire, notice the birds of prey.
Western Australia
Kununurra, a rather big town with about 4000 inhabitants, came 40 km from the border. I topped up on food and visited the internet cafe. Time had changed 1½ hour at the border, so I adjusted my watch to the new time.

Continued on with suddenly pain in my left hamstring, and it got worse fast, and with great pain I pulled over for the night, 70 km west of Kununurra, a little early that day.
This could be very serious, and I knew I had to do something to make it go away before it became permanent. I spend most of an hour sitting in my tent and massaging the leg, and then could only hope I could continue next morning. The leg was better next morning and did not get worse as I continued, and 2 days later it was gone, so I was very lucky.

I had now entered "The Kimberleys" a beautiful mountain area with red rocks, especially in the early morning sun. There were some hills to climb but not too bad.

I reached Halls Creek about 10 am on day 28 and topped up on food and water.

The next stretch to Fitzroys Crossing 292 km away, was the trips longest with nothing but dessert in between. I had to stay for the night somewhere in the middle, so loaded extra much water on the trailer, and ended up camping for the night about 130 km southwest of Halls Creek.

Earlier that day I had passed 2 czechis bikers, they pulled a trailer with a 40 liter water barrel on!! They claimed they always had food and water for 14 days with them.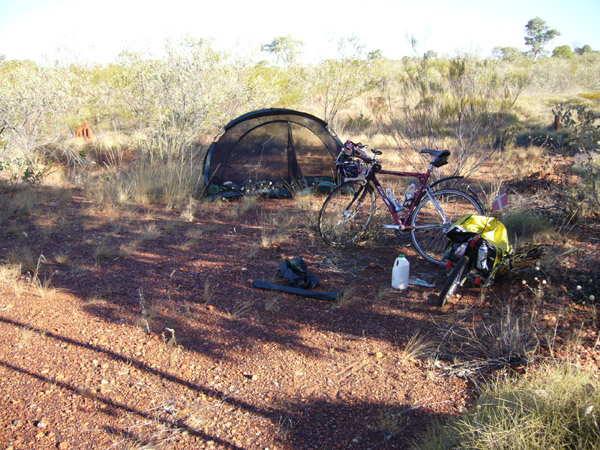 Camping between Halls Creek and Fitzroys Crossing..
Fitzroy Crossing was at my last visit 4 years ago, defaced by many drunken aboriginals, and a scary place to visit. This time however things were clearly opposite. Everyone seemed happy and with a quality life, something I had noticed in other towns too, so that was a positive experience.

The day after I nearly drove over another snake, this time a big green one, about 120-130 cm. There was not much go in this one, and being early morning I figured it was still heating its body up, regardless the temperature already was at 26 C.

After 6 nights of camping in the roadside I welcomed the stay at Roebuck Roadhouse where I got myself a needed bath. Next day I drove the extra 33 km down to Broome to get the headset on my bike adjusted, and to make an interview for Australian Red Cross.

I was back at Roebuck about noon, and after taking in supplies, I continued out on the next longest stage, the 286 km towards Sandfire Roadhouse in the Great Sandy Dessert.

After about 90 km I had my first (and last) flat tire. It was a very hot task to replace the tube, and about 20 km later I pulled over in to the roadside for the night.

Sandfire was its usual self, with peacocks running around and a dromedary in a fence.

Pardoo Roadhouse was reached and passed, and from here there only remained about 150 km to Port Hedland, a big town at the coast. I was now pretty much exactly halfway around! I always think about being halfway, as a milestone reached. It would now be less and less to bike than I already had done!

I was now closing in on the area where I gave up last time, and had planned to buy a lot of supplies at Roebourne, a small town with a supermarket. Unfortunately I arrived 3 hours before opening time, and I am no patient person, so I convinced myself they probably had some groceries at a Service center 50 km further on.

Turned out of course they did not, so now I was facing 4 days with only burgers and hotdogs to eat while biking, just as last time. This time however it was not so hot and I was not in the same hurry, so I should have better chances.

I was about 2 hours from Fortesque Roadhouse when a van pulled up beside me, and out of the window came a hand with a cold coke in it, now that was NICE!
Reached Fortesque Roadhouse and to my big surprise, the owner was the same person who had given me the coke earlier.

He had a wife...a terrible woman... that day anyway! It started when I, after settling in in my room, went back to get some one dollar coins for the washing machine. This little request, made her shoulder sink 10 cm as if I had just loaded something very heavy on her shoulders. In my unending wisdom I suddenly realized that I might have a need for coins for the dryer too, that is if they had one? This question was too much for her and she yelled...what the hell do you need a dryer for?? You got the god dam sun out there!! and she said a lot more very quickly. Slightly shocked, I mumbled "just asking" and disappeared out to my laundry, feeling a bit stupid.

Went shortly after back to the store for some food, and same reaction again, she sank 10 cm, looked very tired and waded out in the kitchen.
While I was waiting a man came in for a can of beer, and he was unwise enough to mention that the beer was not cold. Then she more or less exploded, grabbed the can out of his hand and hurled it out in the kitchen, and with wildly swinging arms and a lot of swearing she took a new beer from the cooler and slammed it down in front of the man. The man of course was shocked and hurried out.
I finally got my food and made my own retreat to safety.

My rear tire was worn down and I decided to change it while waiting for the washing machine to finish.
This tire had now done 7.500 km and that was more than expected, so with some luck the spare one could make it the rest of the way to Sydney, 7.000 km away. The tires were "Vredestein Perfect Max" and I can only recommend them.

My room was haunted by small ants, but that was ok, more grotty though, was when my hand got captured in a thick spider web when I reached out for the night lamp.

Turned out the wind and the sun did dry my clothes, so she was right, the mad woman! J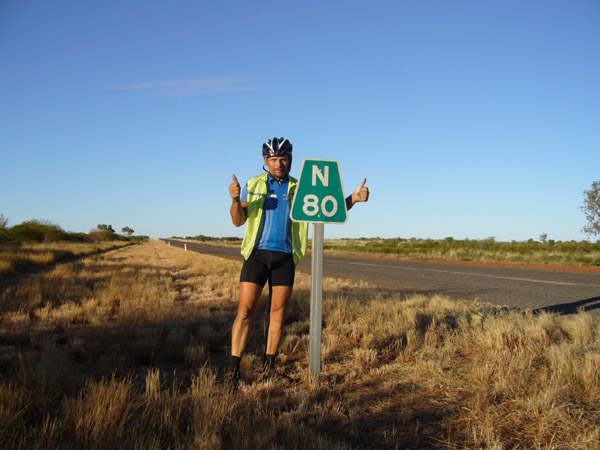 80 km to Nanutarra, and still going strong!.
Next day I passed the point where I gave up last time, a milestone on my journey.

Nanutarra Roadhouse was out of milk and cola, so had to try Fanta instead (for the sugar) Loaded up with water and some burgers/hotdogs and continued on.

After about 100 km more, I put up for the night at a dried out riverbed and rest stop. It looked as if it could start to rain soon, so sat the tent up under a roof. Did not expect to find much shelter though if the rain came, a strong wind and the roof being only half done was not the best of oods.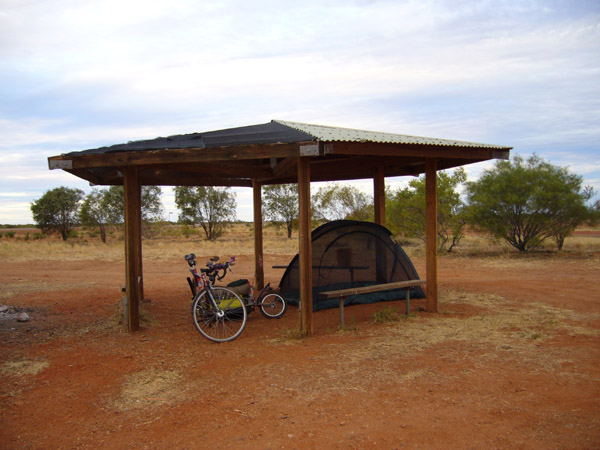 The roof.
After dark a man in a camper pulled in with his 2 dogs. The dogs did not like me and wasent quiet about it eater, so when the rain came around midnight I have had very little sleep. As predicted there was no shelter from the rain and I moved on.

About 30 km before Minilya Roadhouse I began to feel really sick, and started looking for a tree where I could find some shade. I needed to recover a bit, and stopping in the sun would probably result in a sunstroke.

I found no shade so I arrived at Minilya Roadhouse more dead than alive, and could hardly stay on the bike. In the shade of the Roadhouse I slowly regained strength, after consuming a lot of milk and food. And after an hour on the bed and a shower I felt much better.
The cause of this breakdown was probably bad food, Fanta and lack of sleep.

I decided then that the 140 km to Carnarvon next day, was all I was going to bike that day. I also decided to skip my tent and sleeping bag, I was closing in under cooler and more rain full area now, and could not rely on dry weather at night.

Arrived at Carnarvon about noon, and spend the rest of the day eating, laundry, internet and resting.

I think it was a good decision, I had an average of 245 km the next 3 days, and felt very strong, in spite of some headwind and hills.
Billabong Roadhouse had the kitchen closed the evening I arrived. The woman in charge told me that "the kitchen died" and looked as if she had a bad conscience. Guess the owner was not there that night, but no big deal for me, I had some oat to eat.

Perth was reached, and it was unexpected easy coming in to town, far more tricky to get out it seemed. I asked at a bike store, and they told me there was a bike path along the entire freeway southbound, and there was, so easy going out too!

I was now in more cold and rainy area. From Bunbury to Denmark there were some severe hills, but the landscape was beautiful and with big Karri trees.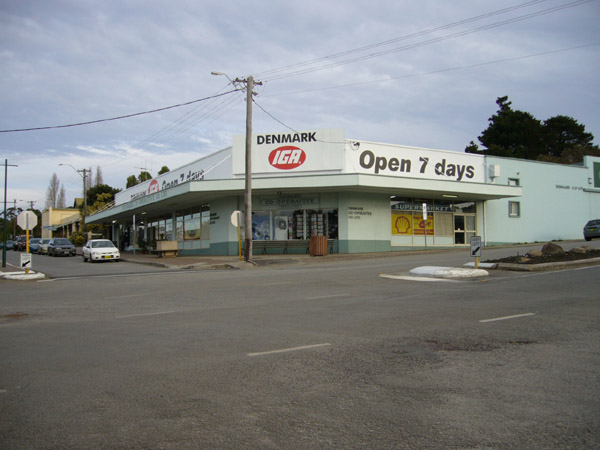 Down Town Denmark.
I was getting keen on taking another half day off, after all, I was nearly 4 days ahead of schedule and had some light pain in my left knee from climbing the hills. The next town, Albany was big and would be a good place to spend some time.

Next morning I arrived at Albany about 6 Am, the weather forecast said thunderstorm and rain, so if there ever was a good reason to stop for the day it was now. I would be facing a half headwind up to Jerramungup, 176 km away, but then again, burning off an entire day would be rather silly too.

I decided to continue, and the first part was not too bad, I had some shelter from the hills and vegetation along the road. The last half was more strenuous, with hardly any shelter from the wind and rain, so I arrived at Jerramungup very tired and wet.

The powerful wind was still there next morning, and from here the road turned more to the east, given me a super half tailwind. It was looking good for the mega leg to Gibson 292 km away.

After 50 to 60 km however I decided to stop at Ravensthorpe at 116 km, because the many ups and downs and the woods spoiled the use of the tail wind. My legs were also complaining from yesterdays headwind, so started to slow down and enjoy the landscape. I was looking forward to finally having a half day off, and arrived at Ravensthorpe in high spirit 9.50 am.

I was on the road again at 10.18, panic was in my face, as it turned out there was no accommodation in town, all was full because of a mine project nearby. I suddenly had to add the last 176 km to Gibson Soak to the days figure after all, and regret now I had used so much time getting to Ravensthorpe.

I made it to Gibson in the very last light, mainly because of the good tailwind and the landscape had flattened out, so it was fast going.

Just 4 km before Gibson I passed the 10.000 km mark, I was on day 46 and had an average of 217 km.

The next day the 181 km to Norseman was feeling like it was going up all the way, but that was hardly so.

I was now on the edge to the Nullarbor plain, the next 1205 km to Ceduna would mostly be on flat ground, and with limited vegetation. The wind was the big factor on this stretch, it could add or shave days of the time spend here.

By many the Nullarbor is considered to be the most remote part of Australia. Well, not so in my opinion, I found it far more remote up north, longer between the roadhouses, and a lot hotter this time of year (August)

About 200 km into the Nullarbor, Australians longest strait road starts. 146,6 km later at Caiguna it stops and the road bends again.
Midways over the Nullarbor is the border between Western Australia and South Australia, at Border Village.

The roadhouse had 3 different time zones to deal with, one for WA, one for SA, and for unknown reasons their very own time at the border. Did not matter much though, they had 24 hour service.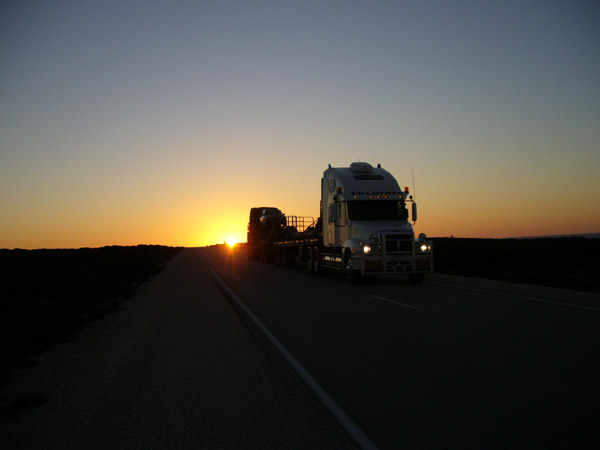 Sunrise over the Nullarbor plain.
South Australia
Nullarbor took a good five days to cross with mostly powerful crosswind, but also head and tail wind. I was lucky not to lose time on this leg of my journey, and I was now nearly 5 days ahead of schedule, and with only 3.000 km left to Sydney, things looked good.

At Ceduna I had one of my favorite, an Apple-pie from the local bakery, these Australian Apple-pies are tops!!

Then I got smart and took a more scenic route following the coast down to Laura Bay.
However, after only 3-4 km the pavement stopped and the road became a very bumpy gravel road.
18 km later, and after a lot of swearing I was reunited with the highway and promised myself never to leave the safe pavement again.

I spend the night in Streaky Bay. It finally looked as if I would get the half day off the next day. There was nearly 300 km to Port Lincoln, a long distance for one day, and only 126 km to Elliston.

So the next day I stopped at Elliston, and played a lazy tourist.
I did not feel the same effect the following days as I did in Carnarvon, but it was nice anyway.

I rounded the tip of Eyre Peninsula at Port Lincoln and had my cheapest accommodation in Tumby Bay, 20$ for a hotel room.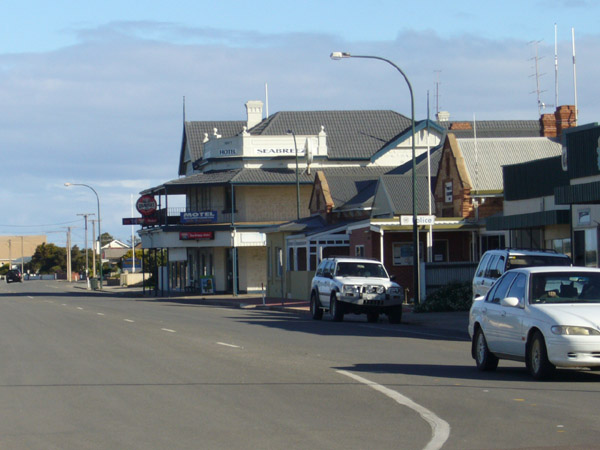 Tumby Bay.
As expected just after Port Augusta I had my first meeting with the magpies. This bird I had bad memories of from last time, and had feared this part of the journey. In the breeding season the males are very aggressive defending the nest with the eggs, and anyone passing by is a threat and must be scared away by swooping down from behind and bumping on the head of the thief. I HATE THAT!!!

I found accommodation in Snowtown, a small languishing town about 150 km north of Adelaide. This town had recently been in the headlines for being the breeding ground for Australians worst serial killer affair.

If of any interest hers a link to the story:

http://www.crimelibrary.com/serial2/snow/
The Hotel seemed to have been sleeping for years, it was worn down and in the TV room there was only 9 years old magazines to read, but altogether nice anyway.
My room was at the end of the first floor, with a firsthand view of the bank that had played such an unpleasant part in the murder case.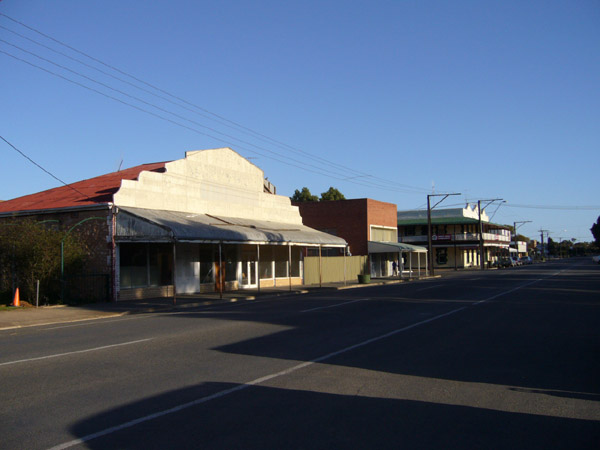 Snowtown with the Hotel in the background.
With the towns sad story in my back head it was a rather odd conversation I had with a fellow at the bar that evening, eating my supper. He kept talking about how brave he thought I was, biking around Australia alone, and wasent I scared of getting stabbed down?
I found it somewhat strange over time, and made sure by a mere to mention I had an appointment in Adelaide the next day with the Australian Red Cross.

That night I placed my bike in front of my room door, so it would fall and wake me if someone tried to get in :-)

I left the Hotel next morning at 4 am, very much alive and had the unbelievable experience of a view over Adelaide by night, from a hilltop 125 km away.

Adelaide is a very beautiful town, and well worth spending some extra time in. However, my time schedule did not allow that and after a short meeting with the Red Cross I continued out of town, and up in the Adelaide hills.




Victoria


Two days later I passed the border to Victoria, and had my first stay in the little neat town Dartmoore. Next day I reached Princetown more or less halfway on the Great Ocean Road, and it was pretty close to being the southern most point on my journey.

The Great Ocean Road was one of this trips highlights, with astonishing views over the ocean and the rocks in the water, even though it was all cloudy when I was there.
The road has some few hills, with the Layers Hill as the winner with its top nearly 500 meters above sea level. Next day was wet and cold, and I froze the entire day.

One good experience that day was when a Wedge tailed Eagle set of from the roadside just in front of me. These huge birds are very impressive at close range.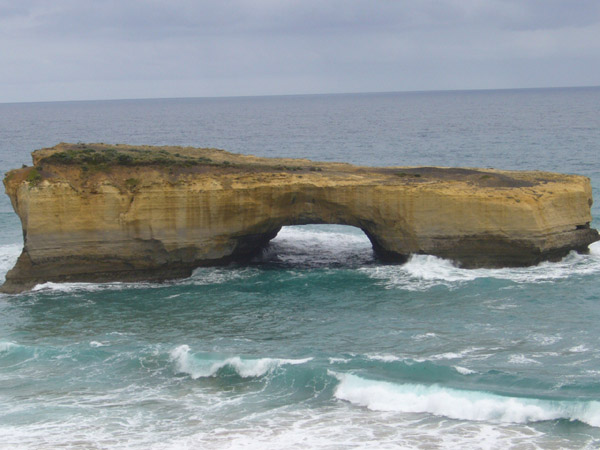 view of the sea from Great Ocean Road.
I had planned before starting the trip to take the ferry at Queens cliff to avoid Melbournes traffic. But remarks from people stating that I then could not claim to have biked all the way, made me decide to turn up around Melbourne anyway, so there would be no later "talk" of the matter.

As expected Melbourne was a pain getting through, and took time. Between Warragul – Moe the magpies were in a special bad mood, and I was a victim of attack 7 times on that part, some knocking my helmet down in my forehead. One came from the side, and hit hard, but only once so I guess it hurt itself too.
I was getting rather frighten and expected to be attacked anytime, and with stories of people having their ears scratched and eyes pecked out, it was an unpleasant experience.

Meet a local biker in Sale and he told me he had never been attacked himself???...but had seen other having the pleasure. His advice was to get away from the bird as quickly as possible, so turns out I had done the right thing all along.

The last 5 days of my journey was in very hilly country, and when only remained 600 km up to Sydney (normally a 3 day ride) I decided to use 4 days. I would then arrive on day 69, still 5 days ahead of schedule, so no need to struckel.



New South Wales


The hills were severe, mostly just up and down with only a bridge at the bottom. Picture below taken on a hill just after Eden. For the first time on the trip I had to stop and pull a bit.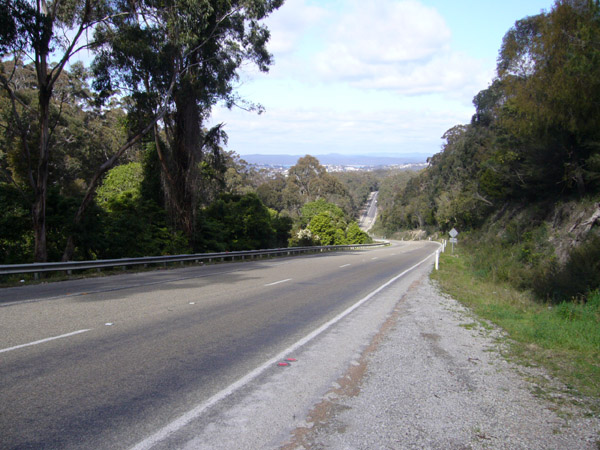 Eden in the distance.
In Wollongong, about 90 km south of Sydneys Opera house, I found my last accomodation. Next morning I started for the first time on this trip out after sunrise. The reason for this was that my good friend Lars Bording was coming on a train from Sydney to Wollongong to follow me the last way in.

We meet at the railway station at 8, and started immediately out towards Sydney. I had advertised the Red Cross we would arrive at 13.30 and Lars stated that the country would flatten out, so we should have plenty of time.

I was really glad to have company after 2 months alone, and let Lars do the navigating. When we reached Waterfall after several severe hills, Lars admitted that he had never biked this stretch, and that the flatten out came later.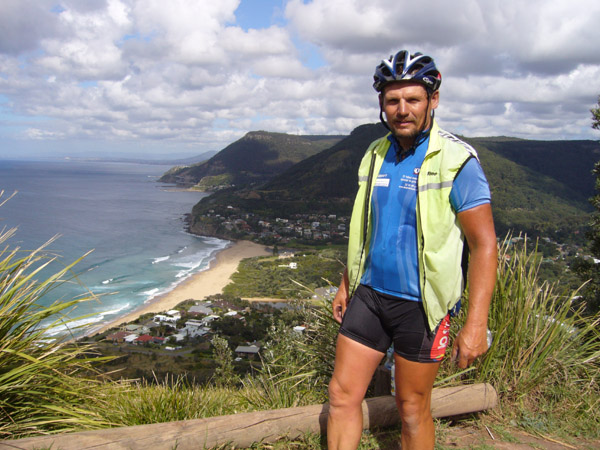 Wollongong in the distance about 50 km south of Sydney.
When standing at a hilltop gasping for air, Eugen Schilter came and joined us. He had biked from Sydney to here to follow me in.

The Hills had taken too much time, and we now had to struckel to make it on time. Again I let them navigate me, and could full of admiration follow their sik saking through the heavy traffic, sometimes crossing 2-3 lanes. All I had to do was keeping track.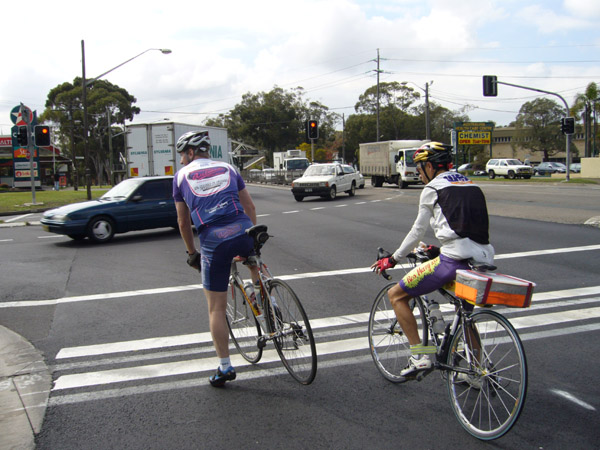 Lars and Eugen.
We arrived at the Opera house 13.23, and Eugen had arranged a nice finish banner for me to bike under, the very same he himself had biked under 2 years earlier, completing his amazing world record ride.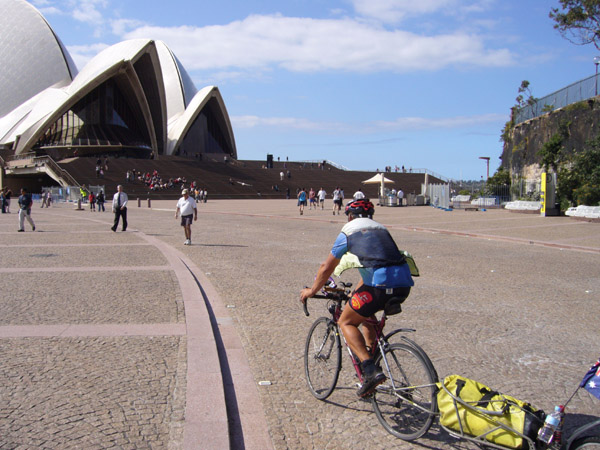 Mission complete!
After some photos we continued to the Red Cross at Clarence Street. Here were gathered people from the Red Cross and from Radio SBS, and the Red Cross was host for a wonderful sandwich lunch. The Red Cross also gave me a bike jersey from the Australian proof bike team, THANKS!

After a last interview with the Radio SBS, I could finally relax and look back on 69 adventurous days and 14.492 km on the road.



End of journey