Start Pos. 31.958801 S 115.857580 E
Note! All positions are plus/minus 2 metres

Day 1† The start was scheduled to March 29 at 8.00 am from The Swann Bell Tower in Perth. Australian Red Cross had arranged police escorts the first 18 km to Fremantle (Cool). A flock of local cyclists also followed me on the way, and I therefore didnít had to speculate on finding my way out of the busy city.
In Fremantle after some 20 km we parted and I was alone. Ahead of me were approximately 14,500 km of bicycling, and the idea filled me with both excitement and anxiety. There is so much that can go wrong and the trip should preferably be completed in less than 55 days and 16 hours.
Bicycling went fairly smoothly down the west coast and I visited Mandurra town center as the rules prescribed, and took a "proof" photography of the city center. There were 19 of these "benchmarks, and in order to claim the prize of $ 15,000 I had to prove I had passed them all on my way. Furthermore, I had to collect signatures from people along the way, who had seen me on the road. This should be done at least 10 times, and with approximately 1500 km intervals.
†
The weather was fine with a fresh crosswind and the terrain was flat, so I was quickly heading south. At one time, when a car passed from the rear, I felt a splash on my back and learned that the driver apparently had not been able to eat up his chocolate ice! So much for starting in a clean jersey!
I reached Busselton in the dusk after 234 km of bicycling. Quite well, considering the fact that I had started out late. The area was still relatively civilized, so I found a caravan park to stay overnight in order to avoid any trouble with landlords :-).

234 km and 421 high & low. Pos. 33.654267 S 115.323236 E


Day 2 was harder with many hills and headwind. I started out at 2 am as planned and as I expected to do for the rest of the trip. I passed 2 fix points before sunrise at 7 am. The night was full of kangarooís. They have a way of impulsively crossing the road when they (too late) get frightened by me, so one have to be extremely aware during the night and cannot safely cycle at full speed.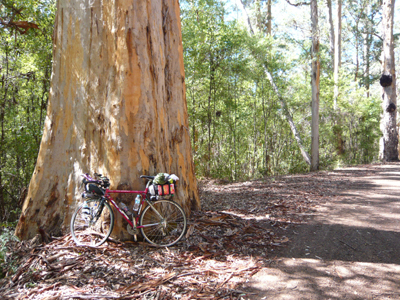 Karri trees


The rest of the day I biked through different types of landscape with both land fields and forestry and ended the day after 286 km in the large Karri forests - the home of some of Australia's largest trees. Here, I found a spot to put up my tent out of sight from the road, as it is national park and probably not entirely legal to camp here.

285.86 km and 2351 high & low. Pos. 34.703100 S 116.517261 E


Day 3 was less hilly but offered a very strong headwind. I had still relatively strong legs and knew that these kind of days are a part of the challenge, so it didnít worry me too much. Instead I was delighted that it didn't rain, as it had done on my two previous trips in this corner of Australia.

At one point I discovered that a dog ran next to me. Apparently it just wanted company and it was quite nice at first, but it soon became a pain though, because the dog began running in front of me, so I had to brake all the time. After a while I speeded down a hill to get rid of it, and succeeded, it was apparently completely gone. But around 1 km later, I heard the characteristic sound of paws on the road next to me, and could welcome the dog back again. Once more I speeded down a long hill, got rid of it, and once more it popped up again. The third time I speeded down a long hill I saw no more of it, but by then it had probably followed me around 10 km.

In mid-afternoon it began to rain. This, along with the wind, was a mixed blessing, so I was happy to turn off the road into the Wellsteads Roadhouse an hour later, very wet. They had no accommodation for the night, but I was allowed to put up my tent under the roof of a picnic table. The rain and the wind had now turned into a regular storm.
When I later lay in the tent and had slept a half an hour or so, I discovered that I was lying in a 5 cm deep puddle. Fortunately the tent bottom was waterproof, and I moved on to another building where there was shelter and no puddle. Later during the night, I was forced to move once more, because the wind tossed around with the tent.

261.54 km and 1778 high & low. Pos. 34.493461 S 118.604556 E


Day 4 Because of the storm, I slept poorly and decided to start biking again at 1 am. The wind had fortunately changed direction at night, meaning there would be crosswind, but the rain and the wind was strong the rest of the night. There were strong gusts most of the time and that was probably the reason why water found its way into my GPS logger, although it was wrapped in several layers of plastic. It resulted in problems with charging, and I also feared that it did not log anymore. Another side effect was that my cycle pants became soaked because my rain jacket was on the short side at the rear, and I therefore got a saddle-sore that entertained me the next 11-12 days.

I arrived at Jerramungup close to daybreak, approximately 10 minutes before the roadhouse opened. Here was also 4-5 truckers waiting, and I used the time to get a little order in my oddments, while I was monitored by the truckers, sitting in their trucks. They probably wondered about the fool, who was out in this nasty weather. Later in the shop, I could (while I made a puddle of water on the floor) wonder about them and their appearance. Some of the trucker in Australia are really special types; dirty and with tattered clothing.
The weather cleared up a bit and there was even a little sun on occasions, so the rest of the day was easier. Hilly on the first part, later it became more level. I arrived at Mungliup at the end of the day, where I put up the tent next to an information board that had a little roof over it. It was still windy and looked like the rain was not far away.

274.55 km and 1990 high & low. Pos. 33.704515 S 120.861080 E
Day 5 A good day with crosswind the first 100 km. Then tailwind from Esperance to Norseman. I had a man at Salmon Gum to sign my book, stating that he had seen me on the road bicycling, so the first "statement" was made. I complained a little that many of the new roads in Australia are so incredibly uneven, and that I preferred to cycle on the old worn out roads. He could only agree, and said it was due to savings from the government and that car and truck drivers are not satisfied with the roads either.

The man with his "Statement"

Approximately 10 km before I arrived at Norseman, the logger began flashing red, which meant it had no more power. I checked in at a motel in Norseman and after a bath and having filled the washing machine, I separated the device and discovered that it was complety wet inside. I dried the device with a towel and put it an airy place for the night hoping that it would work again the next day. The logger was an extremely important part of my equipment, as it logged a point for every 250 meters with place, time and speed. It maintained information which would serve as proof after the trip, that I had followed the demanded route.

312.66 km and 821 high & low. Pos. 32.187080 S 121.779060 E
Day 6 Started out in a starry night at 2.52 am, in the hope that the next 1200 km across the Nullarbor plain would be with tail wind. I tried to get the logger working again leaving Norseman, but it would not charge. A few hours later I tried again and the miracle happened. The device charged and seemed also to log, but I could not be sure, only hope. It appeared after the trip that it had logged the entire trip perfectly, except for the approximately 61 km at Norseman!
This night turned out to be the coldest on the trip. The temperature decreases to 1 degree just before daybreak, so I had to use all my clothes. With dawn came the wind, which unfortunately was headwind, and I had to fight the rest of the day to reach the 270 km which I was scheduled to go every day. Nullarbor is a really bad place to have a headwind as it is mostly open landscape and flat. It was also hard on my knees, which began to ache because of the constant pressure they were exposed to. There is no variation compared to more hilly landscape. Camped in the bush.
†
273.44 km and 831 high & low. Pos. 32.395040 S 124.456650 E


Day 7, I started out at 1 am in order to get more time to travel the required 270 km. Most of this nightís biking was on the longest straight stretch in Australia; a 146 km road section that was completely straight. I found it interesting that I saw the lights from a road train from far behind, and that it didnít pass me until 40 minutes later. The wind was still head on, so once again it was a hard day. The knees got worse and my left knee got swollen up. However, at the middle of the day it was as if the knees had given up the protest and the pain decreased. Camped in the bush.

273.19 km and 330 high & low. Pos. 31.910680 S 127.209400 E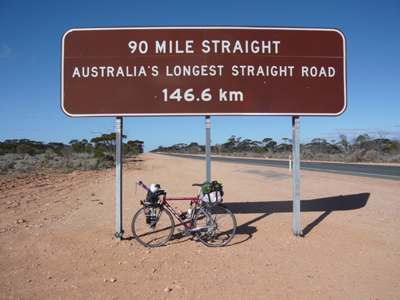 The straight road.

Day 8 The knees were in pain at night and in the morning, so I had to take much account of them, but as the day before it got better during the day. Headwind to Eucla, then crosswind for the rest of the day. Just before the border to South Australia, there were 2 dead camels on the roadside and to judge by "the smell" they had been there a long time. After the border the road was better for cycling, it became smoother, but the shoulder disappeared, so security was deteriorating. Camped in the bush.

272.99 km and 181 high & low. Pos. 31.571578 S 130.011885 E


Day 9 Meet 2 dingoes in the night and many rabbits. I reached the Nullarbor Roadhouse at dawn and had to wait a bit before it opened. I was very hungry because I had run completely out of food and ordered 2 servings breakfast.

The units are usually not so great, but here they were, so I had plenty to eat! Headwind the first 120 km, then crosswind. I had planned to reach Penong for the night because I knew they had a grocery store where I could buy oatmeal and better food than the roadhouses provided.
I reached Penong in the very last light, but unfortunately after the store had closed. However, there was a gas station where I could buy fast food (again), so I didnít starve. Found accommodation in the same caravan park where I stayed 2 years ago. I tried to be witty, when I was asked about the type of accommodation I wanted. The usual I replied, and got the desired response, a surprised detailed look at me, at the end I guess it was only I who found it funny. Got the same cabin as last time, and had a much needed bath.

310.44 km and 776 high & low. Pos. 31.925050 S 133.010110 E
<![if !supportLineBreakNewLine]>
<![endif]>

Day 10 I reached Ceduna in the early morning. Here I had to decide whether I should follow Eugens route or take the more accurate and 277 km longer route down to Port Lincoln. The decision, however, was not hard and already made several days ago. I would take the longer route, because it followed the coast and therefore were more in the spirit of the challenge. I felt I had done so well so far, despite different kinds of trouble, that I could allow myself the extra distance. I therefore turned right about 5 km outside of Ceduna and pedaled south.
At one point I had an apple reached out of the window of a pickup full of young people, thank you for that! I had hoped to reach Ellidston, were I knew there was a motel, but the light declined, and I chose to camp at the roadside, 20 km before the city. I gathered I could not be sure of getting a room so late in the day anyway.

284.98 km and 660 high & low. Pos. 33.442670 S 134.913335 E


Day 11 The night was filled with grisly many kangaroos, and some rabbits, so it was exciting, but also extremly tiresom biking. That night, I was overtaken by the many days with too little sleep, and found myself rolling around on the road, almost unable to keep awake. I realized that I had to spend time taking a powernap and sat down on the side of the road, where I immediately fell asleep. Was awakened around a quarter of an hour later when a roadtrain rumbled by, ate a bowl of oatmeal and continued while the morning broke. I had to take these powernap's, much against my will, every night on the rest of the trip, usually around 4-5 in the morning. Sometimes I didn't sleep, but mostly I got 10-20 minutes of sleep. Sometimes I woke up because I was falling down, sometimes because a roadtrain roared by, but every time I managed to get a little sleep I felt refreshed afterwards. The last 10-15 days I also had to powernap midday, usually under a bridge or anywhere I could get some shade
I reached and passed Port Lincoln, and continued up along the east side of the peninsula Eyre and was given a strong headwind. I realized soon that I would not get as far as expected that day, and had to take a detour into Tumby bay to buy supplies for the rest of the day and the comming night. Camped in the bush.

271.34 km and 993 high & low. Pos. 34.175605 S 136.247225 E
Day 12 I left my home in the bush at 2 am and pulled the bike through the scrub. Suddenly I discovered that my path was blocked of a large spider web with a spider in the middle. The spider was a great chap at 7-8 cm in size, I didnít know whether it was one of the toxic ones, so I found another way out.
This day I had a hard journey with a strong headwind and temperatures up to 34 degrees. Just after having passed the town Whyalla I had my arms splashed with some fluid from a passing pickup, which had an erratic course on the bumpy road. First I thought it was water, but after a few hours the skin began to bubble on both arms, so it had not been clean water after all. Perhaps some spray liquid. The arms were to bubble up on the rest of the trip, the burning sun probably didnít help either! Here in the time of writing, however, there are fortunately only the scars left.

I arrived in Port Augusta, pretty marked by the wind and sun, and checked in at the first opportunity of accommodation in order to get in the shade as fast as possible and have a cooling bath.

267.07 km and 807 high & low. Pos. 32.479515 S 137.753150 E

Day 13 The wind had not changed direction overnight, which was quite good because from Port Augusta I was now heading south and therefore had a good tailwind. I was now in a more busy area and there was heavy traffic most of the way to Adelaide where I found myself a motel.

299.29 km and 492 high & low. Pos. 34.850300 S 138.600491 E

Day 14 Started out at 2 am as usual, and moved slowly through Adelaideís relatively quiet streets. I made a pit stop at a service station at the foot of the Adelaide hills, just to gather strength. I remembered from earlier, that Adelaide hills is a very tough area, and the road will wind up in the hills for the next 8-10 km. I reached the top at 576 metres above the sea.
Slight tailwind most of the day, and I hastened the pace to reach Kingston SE. I was quite wet from the rain, and remembered that there was a motel in that city, so would be nice to get there, and I did.

303.82 km and 1194 high & low. Pos. 36.824295 S 139.863178 E
Day 15 Quite hilly at the Nelson area, I remember in particular that there were many Emus in that area. Camped around 15 km east of Portland.

272.97 km and 909 high & low. Pos. 38.256778 S 141.704165 E
<![if !supportLineBreakNewLine]>
<![endif]>
Day 16 The day brought me past the Great Ocean Road and Lavers Hill, 468 meters above the sea, and a lot of other hills. Approximately 20 km before the Great Ocean Road, I was overtaken by 4 cyclists with a support car probably being out on a sundayride. I passed them later when they had a rest at the Great Ocean Road. When I came to the foot of Lavers Hill, their support car was waiting for them, so they have not had much speed as they hadenīt overtaked me.
†Just at the foot of Lavers Hill and the next 2-3 km, there were roadworks and graveled road. The road is very steep here, and because it rained, it was difficult to maintain the momentum of the cycle when the rear wheel kept slipping on the greasy ground.
I arrived at the end of the day atWie River where I booked myself in on a caravan cabbin.

275.96 km and 2013 high & low. Pos. 38.637100 S 143.887915 E

<![if !supportLineBreakNewLine]>
<![endif]>
Day 17 This day I had to pass Geelong and Melbourne, two cities with heavy traffic. A usual I started out at 2 am but was soon depressed, as the road was suddenly was blocked. I had seen some warning signs the day before, around 50 km back, but had expected that there would be a detour ahead. Well, there werenít, but there was a pickup with a female road worker by the closure. She was very surprised to see a cyclist popping up in the dark, 2.30 at night! I explained the situation to her, and she phoned the chairman and was given permission to lead me the 3-4 km through the roadwork. I followed her car in the darkness, and soon passed all the roadwork, and continued on.

I stopped at Geelong and had a small breakfast. I then continued towards Melbourne on the Freeway, which is legal about half of the way. Then you are thrown off and must find alternative routes. I knew this in advance and had put the route into my GPS bike computer before leaving Denmark. I just had to follow the arrow on the computer the rest of the way to, and through Melbourne, so it was somewhat easier than last time, where I spent a lot of time finding my way.
After Melbourne, I had to choose again whether I should follow Eugens route, or take the about 82 km longer route along the coast down to Foster. This time the decision was a little more difficult to take, but I chose the longer route because I knew it would irk me later if I didnít. After spending most of the day in strong traffic, I felt the need to stop early and found accommodation in Koo-Wee-Rup. Got some laundry chores done too.

233.49 km and 1100 high & low. Pos. 38.197760 S 145.486900 E


Day 18 †The approximately 97 km from Koo-Wee-Rup to Foster was extremely hilly, mixed with road works so I feared the whole day would be in such a terrain. At the same time strong showers were pouring down, and the spirit was very low and I prepared myself to lose some km that day. But after Foster it all changed to a nearly flat terrain, tail wind and no rain, so I suddenly could keep up a good pace and the day ended to be a good one after all.
289.43 km and 1368 high & low. Pos. 37.825324 S 147.635820 E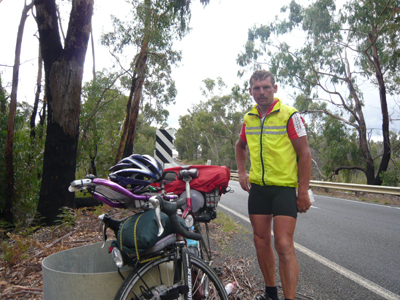 Break on the road.

<![if !supportLineBreakNewLine]>
<![endif]>


Day 19 I was now facing the Australian "Alps". The next 3 days would be the hilliest on the entire trip, and I knew I was bound to lose km here. This day also brought an unexpected reunion. †A Japanese I had met 2 years ago in Western Australia had followed my progress on the net and waited for me about 60 km before Eden. It was a nice gesture, and he wrote a "statement" in my book. He also carried a bag with various fruit and other food which I ate later in the tent. Camped in the forest about 35 km before Eden.

247.38 km and 2735 high & low. Pos. 37.285500 S 149.780008 E
<![if !supportLineBreakNewLine]>
<![endif]>

Day 20 This day was the journeys most hilly, and I felt it as if the Australians had spent the last few years to heap even more hills up. Just north of Eden was the steepest hill where I last time, with the trailer, had been forced to get off the bike and pull a few hundred meters. This time, I had less luggages, but still I had to walk a little bit. The journeyís first puncture, appeared 50 km before Batemands Bay, the days goal, where I checked in for the night at a caravan park. Traffic is close here, and with many trucks on the not always good roads, the nerves get a bit jagged.

233.55 km and 3475 high & low. Pos. 35.702780 S 150.181549 E

Day 21 Started at 2 am. I wanted to reach Sydney early and I still had a lot of hills to climb. When I came to Wollongong, about 85 km south of Sydney, I phoned my good friend Lars Bording in Sydney, and we agreed to meet in the town Waterfall about 45 km south of Sydney. Before the start of the journey I had sent new tires and other gear down to him, Stuff that I might need. About a third of the trip was now completed.

Earlier this day I had also called Eugen Schilter and told him where I was. I knew he was interested in us meeting. Great was my surprise when he suddenly came cycling, approximately. 70 km before Sydney. We followed the road towards Sydney. After we had forced a steep hill, and had the prospect of a more or less long downhill for the rest of the way to Sydney (50-60 km) we had a break, and Eugen was host to a big apple pie, which we ate.

It had looked like rain for a long time, and now it began to pore down. Since there were no shelter, we continued towards Waterfall in the rain. It was only a shower and when we arrived at Waterfall, it had almost stopped. We found Lars Bording waiting with my gear. I immediately switched to new tires on the bike and also put new pedals on, for safety's sake. Lars had his bike with him and would lead me through Sydney. The plan was, even though there was only 2-3 hours of daylight left, to cycle through Sydney and find accommodation in the northern outskirts of the city.
Underway, we were greeted several times with heavy showers. It turned out to be some of the more exciting/dangerous hours on the journey, not least because it was dark, and the traffic heavy. I remember in particular a tunnel under the airport with heavy traffic in both directions, no shoulder and a stench of airplane fuel from starting planes as particular exciting. In the evening, we biked over Harbor Bridge and I found a motel for the night a few km later. Lars' wife Lisa came to pick up Lars and carried a pot of spaghetti and meat, which was quite wonderful, as I hadnít had sufficient food since Denmark.

283.87 km and 3010 high & low. Pos. 33.822707 S 151.186325 E

Day 22 I started out late at 4 am in a quiet rain. Soon, I was on the freeway and as the last time it was legal to cycle there. This time however, after about 10 km it became suddenly banned and I was forced to use the old pacific highway, which is much more hilly and twisted than the freeway. After about 50 km, it became legal to use the freeway again, and the rain had stopped, so I made a good pace. Later during the day it began to rain again, this time in fierce showers and I prepared myself to find accommodation, rather than to put up a tent in this weather and sleep in wet clothes.
I had a puncture but found nothing suspicious in the tire, so I put a new tube in, and continued.
At evening time, I came to a small town where I had expected to stay overnight, but it was not possible, there was no acommodation. I then continued 20 km forward to the next small town where there should be more opportunities, while darkness fell. I spent probably a half hour looking around the town for an overnight stay there, but all were full. It was now poring down again and when I left the last option for accommodation, a caravan park, I prepared myself to continue about 30 km further to Taree, a fairly large city where there should be good accommodation options.
†It was now quite dark and I missed to notice a high edge on the pavement when I rolled out on the main road, which resulted in me tipping over, and scratched a hole in my knuckle and one knee. Fortunately, the bike was unharmed and I could continue, while feeling quit sorry for myself. The day had been long and I was freezing, it was pit dark and poring down, and with the blood dripping from my wounds, it could not be much worse I thought. I had to revise the view a few km later as there were roadworkís again, but fortunately not with gravel road.
†I arrived in Taree and was lucky already at the outskirts of the city to find a Caravan park with a Cabin vacant, and furthermore, there was a service station right next to, so I could get supplies while my clothes dried in a dryer. After a half hour when I felt warm again, I could at least feel happy that the troubles had brought me longer than planned, despite the late start in the morning.

305.15 km and 1100 high & low. Pos. 31.937213 S 152.467754 E


Day 23 Very heavy showers characterized this whole day and I was soaking wet from the beginning. This resulted also in the journeys second saddle wound, but this time not as bad, as it only entertained me a few days with pain in that part of the body. Traffic, rain and bad shoulders made this day a strucle, and for once I stopped early , to find shelter, get in dry clothes, and have a good long sleep.
I found a motel room in Coffs Harbor, bought food and prepared myself for sleeping. The rain outside was extremely violent and suddenly I discovered that water splashed in through the air conditioner, which hang on the wall, and down on my clothes which was supposed to be drying. I rushed to the reception, as I predicted it could lead to a short circuit, meaning I would not have heat in the room. The owner had only a shrug of the shoulders about it, that was what happened when it rained so heavily, he said. That the carpet also got soaked didnít seem to worry him at all.

229.03 km and 1156 high & low. Pos. 30.308118 S 153.099950 E
Day 24 It was dry when I started out in the night, and traffic weak, so everything was a little easier. The middle of the day I had a puncture again, and I found it very surprising that I now have had 2 puncture on a bran new tire. I had a suspicion that the foreign matter that had caused the first blow, perhaps still was in the tire. This time I did what I should have done the first time, pump air into the tube, locate the hole, and lay the tube on the tire to find the spot where the problem was. I still found nothing, so I patched the tube and arranged to mount it as it had sat when punctured. Then the patch would, if there still were a foreign body in the tire, act as reinforcement.

Not long thereafter, there was suddenly a long line of cars on my side of the road, and in the distance I could see there was an overturned truck across the road. I sneaky went past the row of cars that had the prospect of an hour long waiting, and were allowed to pass going into a field. Sometimes it is an advantage to be on a bicycle!

304.72 km and 1549 high & low. Pos. 28.176030 S 153.540890 E


Day 25 This day I passed Brisbane and therefore, had a lot of city driving and heavy traffic. This was the last big city to pass, but again I had plotted the route through the city into my GPS bike computer at home, so it was easy to find my way. The weather was good and also quite hot now. I visited a pharmacy and bought a tube of grease for my sun burnt ears, It didnít help much though. In the outskirts of the city, I pulled in to a bike shop and had my left detailer adjusted, as it was not working properly. The owner was also kind enough to write a "statement" Ė all of it for free.

North of Brisbane, I was not allowed to cycle on the Freeway, but I had taken account of this at home, and had found alternative ways. After about 50 km, it became legal to cycle on the freeway again, and there was blowing a good tail wind, so I made a good pace the rest of the day.
†
280.44 km and 1650 high & low. Pos. 26.186150 S 152.652650 E


Day 26 I had incurred myself a few defects on my way. The knees were however, much better, I had only ease pain in the left knee in the first few hours each day.
My saddle sore was also almost gone now, but a new disorder that had developed in a negative direction lately, was my hands which now slept in their tips on the left hand while the right hand was partially paralyzed. I had difficulties using my thumb because it was powerless. The reason for this defect was probably the constant pressure on nerves from the handle bars and up to the carpus.
It is quite astonishing how much one uses the thumb without thinking about it, and one of the things I had to give up was to write cue down to this diary. I was not able to hold the pen, so the rest of the trip will be described solely by memory, and will therefore probably not be very comprehensive.
From day 26, I remember only that I had yet another puncture, and this time I found a small hole in the patch I had put on. A very small needle like piece of wire stuck forward now, so I could see it because it this time had to go through both the patch and the tube. I removed the wire which had been the cause of 3 puncture and had no more puncture for the rest of the trip.

274.18 km and 1771 high & low. Pos, 24.504280 S 151.613864 E

Day 27 This day I do not have any specific memory of, but I have probably cycled up along the east coast.
†
274.33 km and 1087 high & low. Pos. 22.883456 S 150.069420 E

Day 28 Remember it as a long day which brought me a little north of Mackay, where I had forced the pace, to arrive at a Caravanpark after having slept the last few nights in the tent. The sun was almost gone when I came to a Pub in the countryside, where there were some caravans. People were having a good time in the pub with loose women inside and out. Not a place I would normally go into, but it was late and the countryside was agricultural land, with limited ability to camp. I went into the bar and enquired on the night and was referred to a very drunken man who apparently was the ďheadĒ here. When he heard I was on a record trip, he thought that was quite cool and said I could sleep there for free. There were 4 motel rooms and I could choose the one Iíd like, he said while he laughed.
I soon found out why, as the best room had only a filty mattress on the floor, and a few just as dirty furniture. The whole room was no less dirty, but ok I thought, it was free and I was tired and had no other options. I turned the madrassen up to knock the worst of the dirt off, which disturbed a giant spider, which I unsuccessfully tried to kill. Well, it was probably not toxic anyway, I thought, and would have stayed if not in the other corner, now jumped a frog out. This, combined with a noisy Pup 10 meters away, made me decide that I had enough and went back into the pub again, as I assumed he just had a little mockery of me and had better accommodation elsewhere. He had not, and he could not understand why I was not happy with the room. I told him I wasnít keen on the spiders and frogs in the room. ďDonít be such a sissy, you are from Denmark, youíre the VikingsĒ he said.
Vikings ore not, I decided to continue cycling, hoping to find a place to put up the tent in the dark. Approximately 5 km later appeared, nevertheless, a real caravan park, which was operated by an elderly couple. The place was in direct contrast to the pub, everything here was all clinically clean and with lace at the bedding. The couple even gave me free food for the day after, when they heard I supported the Red Cross.

289.52 km and 812 high & low. Pos. 21.006265 S 148.874780 E
Day 29 The day brought more spiders. I had to pass a bridge which was around 750 metres in length, and led over a river, just after Home Hill. And because it was long and narrow with large trucks, I decided to use the footbridge that hung just below the bridge. There were apparently not others who used the footbridge, I discovered. The bridge was overwrought with spider web, which sticky settled on me and my bike. Suddenly there was a couple of giant spiders sitting on the bike only 10 centimeters from my left hand, and I quickly stopped, and drove the spiders away. The last part of the brigde, I had to walk, so I could chase spiders away in time.
Later I arrived at Ayer, a fairly large town with a tourist office, I enquired on the possibility of accommodation about 50-60 km further on. The staff was 3 elderly ladies who were quite interested to hear all about the Danish crown prince couple. I'm sure their knowledge on this matter was larger than mine, so I was not able to help much. They were concerned about Frederik being nice to their Mary!
They werenít to much help on the enquiring, their knowledge area only covered the city, so I then continued towards Townsville, after topping up on food. I put up the tent by the roadside about 30 km south of Townsville.

311.67 km and 723 high & low. Pos. 19.454518 S 147.044100 E
<![if !supportLineBreakNewLine]>
<![endif]>

Day 30 Bought supplies in the night silent city of Townsville and otherwise had a quiet day at the office, although very busy traffic. In the town of Cardwell, I had hoped to buy an apple-pie at the local bakery, but unfortunately it was closed, so again I ate fast-food at a service station. Found accommodation at a caravan park approximately 4 km south of Innesfail.

298.24 km and 498 high & low. Pos. 17.557389 S 146.035384 E ††


Day 31† When I cycled through Innesfail I had to decide whether I would continue to Cairns or take the Palmerston highway west. Although the route to Cairns would be more accurate, it was not a requirement, since the former record holder had not cycled there either. I had chosen in all a 359 km longer route down south, and decided that it was enough. Furthermore, I was fed up with the east coastís traffic, and only wanted to go west as soon as possible, where traffic is much less.
Palmerstone Highway brought me over the Great Dividing Range, and at one point I was 1104 meters above sea level. I arrived at Mount Surprise at the end of the day where I found accommodation in a caravan park.

260.21 km and 1912 high & low. Pos. 18.143203 S 144.321300 E


Day 32 When I left the caravan park, I saw large fruit bats flying around between the treetops, good thing they are not man-eaters! The night reviled in addition to the usual experience with kangaroos and wild cows, also dingoes and rabbits. Arrived at Georgetown early morning and bought supplies for my further progress at a gas station with associated general store. I ate some oatmeal on a bench outside, and suddenly the lady in the store came out to me and gave me a bar of chocolate for free, nice!

I continued on to Croyden where I arrived at the beginning of the afternoon. Here I would have to buy supplies for the next 1 Ĺ days, because I had decided to test whether it was possible to have water and food for so long a period on the bicycle. It might be useful to know, and crucial if I later on should chose between the 377 km long route to Cape Crawford, or the 96 km shorter route over Three ways as the rules stated.
The day was one of the hottest with 36 degrees in the shade, so it corrode well on the water stock. Suddenly I heard the characteristic sound ďDOCď from the front wheel, which meant that a spoke had broken. Itīs the first time ever, I experienced a broken spoke on my front wheel! itīs usually always the rear wheel that breaks spokes. It appeared that the spoke had broken near, and not in the elbow, and it could indicate that there had been a weaknes in the metal.
†
Earlier this day I had talked to a Road train driver who reported a cyclist in front of me. This cyclist would stay for the night about 65 km west of Croyden at something called the Black Bull Siding, no more than a rest area. My interest grew bigger when I became aware that it was David in OZ, an English cyclist, I had followed on the Web before I even came here.
†I decided to try to reach Black Bull Sidding so that I could meet him. I arrived as the sun was about to go down and rolled up to his tent and said much to his surprise, Hi David.
It appeared he had also been on my website and look before he went to Australia, so we knew a little about each other in advance.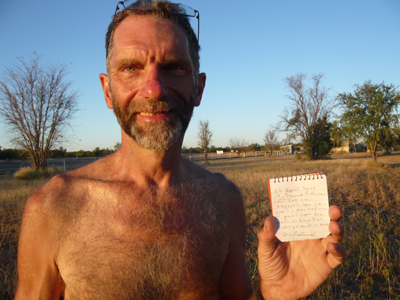 David in OZ, with his "Statement"
<![if !supportLineBreakNewLine]>
<![endif]>


I needed of course my value of sleep so it was not so much talking and I camped a bit away from David, so I would not wake him when I packed together in the middle of the night. David came over with a bag containing an orange and other thing for me and I got him to write a "statement".


301.89 km and 1150 high & low. Pos. 17.941020 S 141.755200 E


Day 33 I was a little worried when I left, as the day and the night before had called for plenty of fluids. I was not sure I had enough for the whole day, and maybe I would have to create a detour of 2x7 km to Normanton about 85 km ahead. This night a wild boar family nosed around on the shoulder. Later in the night, I heard screams that sounded like wild boars fighting violently ahead of me. It had however stopped before I came to the scene where the smell of pigs still hung in the air.

I arrived at the junction before dawn and I had to decide whether the 2.4 litres of water I had left could last the next 180 km south to Burke & Wills roadhouse, or whether I should take the 2x7 km extra north to Normanton and top up on water there. It was still cold and I was not really thirsty, and also feared I would have to wait until they opened the shops, so I decided to go south and hope I could stretch the water to last all the way.

It was obviously not very wise in hindsight, because when the sun got up and started to burn down on me, it increased my need for liquid dramatically. I Started rationed the water and only alowed myself a bit of water every 20 km. I kept on till about 60 km before Burke & Wills, by then I had long been out of water and so dehydrated that I was aware I had to beg water from some campers if I were to avoid kollaps. Fortunately, I found a family at a rest area which gave me all the water I could drink + a little for the rest of the trip to Burke & Wills.


277.76 km and 189 high & low. Pos. 19.226750 S 140.347600 E



Day 34 Left Burke & Wills and had an uneventful night and morning to Cloncurry, where I topped up on supplies in order to reach Mount Isa for the night. I have had a little laborious headwind to Cloncurry, but now the road turned west, and I would have a half tail/cross wind the rest of the day, so it would probably be easy riding.

The wind didnít help much, because itís quite hilly on this route, and the heat was unbearably, up to 34 degrees. I was, nonetheless, at Mount Isa before the sun went down and got a cabin at a caravan park in the western outskirts of the city.


307.01 km and 873 high & low. Pos. 20.707900 S 139.494342 E



Day 35 I left the caravan park early in the night and bought supplies at a service station that had open 24 hours. There was a bunch of drunken aboriginesí at the store, but they didnít bother me, and I continued my process into the night. The city Camooweall was reached, where I filled up with liquid and food for the next 24 hours.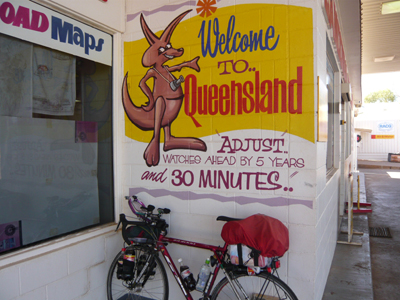 Shell roadhouse at Camooweall.


The day was hot and about 70 km west of Camooweall was a rest area with a water tank, where I had hoped to be able to fill up my water bottles. A sign on the tank warned me that it was not sure the water was fit to drink, so I continued until the next tank, approximately 65 km further on. Arrived at sunset, but here was the same message. I decided to take the chance and filled the bottles with 75% water and 25% cola. I then hoped that the cola would kill any bacteria.

I am otherwise very against camping at these service areas since there is always noise from other campers, children, dogs or some generator going. I needed to fall asleep at 18-19 pm, as I get up at 1 am in the night. However, I was alone and decided to put the tent up here anyway.
Before I fell asleep of course, a camper came in with 2 children and 2 dogs, and they of course made a lot of noise!

325.32 km and 330 high & low. Pos, 20.073257 S 136.878200 E


Day 36 The next day, my stomach was a little upset, and I promised myself, I would never drink water from these tanks again! Itīs much better to beg a little water from campers if needed. Bought supplies at Barkly roadhouse for the rest of the day, I hoped to reach Three ways before evening. It is here at Barkly roadhouse the road to Cape Crawford begins, but before the trip started I had promised myself that I would only go up there if I had good tail wind from the south. I did not, the wind was heading west and so did I! Reached Tree ways as planned, and got a little laundry done.

312.76 km and 256 high & low. Pos. 19.436999 S 134.208690 E


Day 37 I donít remember much about the day, other than I had a good half tail wind and I hastened the pace to reach Dunmarra roadhouse. I succeeded as the sun went down. The Roadhouse looked dark and closed off, so I asked an aboriginal who sat and hung on the veranda if it was closed. "I do not know, it is not me who owns the roadhouse" he answered acidic. Well, I went to the door and unexpected, it was open. Inside, was quite dark, but it was open and luckely I got both accommodation and food.

329.26 km and 606 high & low. Pos. 16.679710 S 133.413065 E

Day 38 †Again an early start. I would try to reach Katherine to get the distances to suit for the next several days. I do not remember there was anything special that day, only that it was very hot and that I was glad to be able to buy cool liquid 2 times on the way. I found accommodation on the outskirts of Katherine on the way out of town, on Victoria highway. It was in a caravan park only approximately 20 meters from a gas station where they sold fast-food, who can then ask for more?

320.47 km and 359 high & low. Pos. 14.485108 S 132.256829 E



Day 39† Many small kangaroos to start with, and in many places also fire in the bush. It looked absolutely fantastic in the dark. Some of the trees were full of embers and lit like Christmas trees. The fires has problely been started deliberately along the road in this season, where it does not get out of hand.
The landscape and the nature here is beautiful, with many red rocks which have a very special light in the sunrise. If I were to pick a particularly beautiful area in Australia, it must be the route from Katherine to Broome, due to the beautiful nature and wildlife. I got an early noon stop at Victoria river roadhouse and ordered toast, eggs and sausages.
Timber Creek 90 km further on was achieved, and here I bought food and water in large quantities because I would not have any opportunity the next 24 hours. Continued then until the sun went down, and found a place in the bush and put up the tent.

322.47 km and 869 high & low. Pos. 15.685721 S 130.167318 E



Day 40 †A rather cold night / morning. I remember it as a very flat area to start with. I arrived at the border to Western Australia at 9.30 am Northern territory time, but 8 am in WA time, as time changed 1 Ĺ hours here. I got a border guard to write a "statement" in my book, and I was allowed to come into the office and get washed. I was quite dirty after 3 days without a bath, and I would like to be a little more presentable when I 42 km later would arrive to the town of Kununurra.
Here was my second depot on the trip, with fresh tires and tubes. The manager of the BP station in Kununurra, Lynne Kenworthy had kindly allowed me to send my gear down to her, which was quit good because they had 24 hour service! This way, I could be provided with my gear at any time of the day, I might pass by. I had advised Lynne a day in advance, so I was expected when I came to Kununurra in the middle of the day. I changed tires and got a new bike jersey and other gear I had sent there. The local press was also present. Lynne insisted that I should eat and fill up my supplies for free at the store, Thanks Lynne!
I then continued to Doon Doon roadhouse, approximately 100 km past Kununurra.† They had no accommodation, but I could put up the tent in the camping area for $ 10, and
I could also get a much needed bath. I was the only one there at first, but unfortunately there soon came more visitors, and peace was destroyed, so I did not get any sleep the first few hours.

292.72 km and 509 high & low. Pos. 16.308641 S 128.247399 E


Day 41 When I left the camp the entrance was closed by a fence. I peeled it down, and walked in the gravel to reach the main road. Suddenly there was a rumbling in the bushes next to me and a herd of cows took the flight, away from me and over the road. It †was probably the reason for the camp being fenced at night. I arrived at Turkey Creek 7 am in the morning, after about 100 km, and had a solid breakfast. Then I continued towards Halls Creek.
†
At one point I suddenly felt a huge tail wind and dust and grass whirled past me and I had trouble controlling the bike. A split second later, I was aware that I had been hit by a wind spout from behind, and stopped immediately to prevent falling. Before I managed to stop completely, however, it was all over, I was fortunately only been slightly hit by it. I have seen a lot of these small wind spouts. They occur suddenly and disappear just as suddenly.
†In Halls Creek, I bought large quantities of food and water because I again had a dayís ride ahead of me before the next opportunity.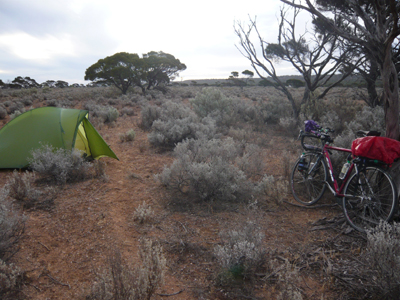 Bush camping.


I continued towards Fitzroys Crossing, 292 km away until sundown 2-3 hours later, and camped in bush.

290.72 km and 755 high & low. Pos. 18.456100 S 127.419253 E


Day 42 I donít remember so much about this day, other than I got supplies in Fitzroys Crossing and then continued towards Willarre Roadhouse and the sunset. Set camp in a drain ditch, because it didnít look like rain J
†
317.30 km and 448 high & low.

Pos. 17.967899 S 125.037133 E



Day 43 Again, thereís is not much I remember from this part, except of cattle on the roads, and that Willarre Roadhouse had changed the store. Now there was a small niche with pastries and I had me a long missed Apple-pie. I arrived at Roebuck Roadhouse at the end of the day and bought supplies for the next dayís 286 km to Sandfire Roadhouse, situated halfway across the Great Sandy Dessert.

296.27 km and 292 high & low. Pos. 17.847656 S 122.500718 E


Day 44 After a long day, I arrived to Sandfire Roadhouse which had burned down about 1 year ago and still had not been rebuilt. Business was operated from a small shed and food was limited to sweets and sandwiches. At the shed was a very depressed young girl. She was stranded with 3 other 10 km north of Sandfire, because their car had broken down. She had phoned after assistance in Broome, 319 km away. It would take the mechanic 3 hours to arrive.
†I could not help thinking what it perhaps would cost them, a burden they probably could not afford.
Checked in at a motel room for the night.

286.43 km and 262 high & low. Pos. 19.769018 S 121.091750 E


Day 45 Arrived early morning to Pardoo Roadhouse, 140 km southwest of Sandfire, where I had great breakfast with toast, eggs and sausages. I continued then to South Hedland and had actually decided to stop there for the night, a little early, so I could get my clothes washed + some other chores. Unfortunately, the caravan park I stayed at 6 years ago was in the meantime transformed into housing, so if I would have accommodation I had to pedal a couple of kilometers back, and that was not an option. I never go back on my trips! I therefore decided that it was not this day I should have my clothes washed, and bought supplies for another night in the bush.
After a few km and some road work, I had the bike up in speed and continued almost another 50 km to a rest area, where it was allowed to stay overnight. I was about to put the tent up when suddenly someone shouted "Hello, Erik." It proved to be a motorcyclist I had exchanged a few words with a few days earlier. He asked to my hands and offered to massage them for me, because it was something he was capable at. I got the big massage, and it was as if they slept less afterwards, but several days after it was more painful in the hands than before he had massaged them.
A couple gave me a bottle of frozen water so I still would have cool water the day after, beautiful!
Very little sleep again because of noisy neighbors.

336.76 km and 265 high & low. Pos. 20.699550 S 118.299300 E


Day 46 Some cows roared by 11 pm, and I got up and was on the move again at midnight as I had done it the last few days because of the heat. First, however, the cows had to be scared away. There were also a few out on a long bridge that went over the river.
I remember a mysterious car in the night that passed me a few times at slow speed. Later he came back and drowe a little next to me, the window rolled down, and he asked if I had seen a motorcycle get past. I had not, in fact, he was the only one I had met so far this night. The man then disappeared ahead, and I saw no more of him. Mysterious why he was sneaking around at 2 am in the morning!
I arrived in the town of Roebourne a-half an hour before the supermarket opened, and I had to wait. It was important for me to buy lots of oatmeal here. The ability to buy adequate food would not be present the next 3 days. I bought 3 packages and put them on the side of the bike basket in the straps I had mounted for the same reason. The day ended up very hot and a couple of times I had to seek shelter under a bridge to cool down a bit. In the middle of the day, I was lucky to get some ice-cold water of some road workers.
I arrived a little early to Fortesque Roadhouse and finally got my clothes washed. I had a room at half price because it was not cleaned after the last guest. There was a second biker there. He was somewhat concerned about how little the selection was in the shop. He drove around 100 km per day, and had 165 km to Nanutarra roadhouse with also little selection, and then the 227 km to Minilya roadhouse which was very sparingly with the selection. He was right to be concerned!
I bought a package of frozen bread and gave him half, I didnít have room for it all anyway. I had a little jam, for the bread, but unfortunately only enough for myself. They had no milk for my cereal, so fast-food again.

277.77 km and 256 high & low. Pos. 21.295042 S 116.137850 E


Day 47 Left Fortesque at midnight, and had a long day of dessert like terrain, with a slightly laborious headwind. Ate late breakfast at Nanutarra roadhouse, and continued until sunset, where I camped in the bush.
A bird sang an incredibly beautiful serenade before I closed my eyes, I remember.

293.95 km and 310 high & low. Pos. 23.141284 S 114.517409 E


Day 48, I came to Minilya roadhouse Ĺ an hour before they opened. The morning was cold, so I walked a little around in order not to freeze. This day, I was for one reason or another, more tired than usual, I had also run out of food, so when they opened, I ordered double portion of toast, eggs and sausages. Here the units were very small though, so I had to buy some muffins as well to make the hunger less present. I bought supplies for the 141 km to Carnarvon, and continued on.
The headwind was strong, and because the terrain was wide open, there was no shelter to get. Approximately 10 km before Carnarvon the desert stops and suddenly there was lush fields of various fruits along a big river. On signs, I learned that it was a test area. My knees began to complain again because of the flat land, headwind and therefore constant pressure.
I concluded that the last 900 km to Perth could not be achieved in 3 days anyway, since I could expect headwind and hills rest of the way. I might just as well take a short day, and stop at Carnarvon, and thereby spare my knees a little. The temperature that day went only up to 25 degrees, so I was now in cooler areas.

231.03 km and 204 high & low. Pos. 24.863192 S 113.703045 E



Day 49 It still blew a strong headwind and the ground was quite flat and completely open, so I was slowly progressing. I tried not to overload my knees, and they luckely didnít get worse this day. Stayed at Billabong roadhouse for the night.

242.20 km and 275 high & low. Pos. 26.816269 S 114.613984 E
<![if !supportLineBreakNewLine]>
<![endif]>


Day 50 The terrain became hillier and I didnít have so much trouble with the knees this day. Although the wind hadnít gone weaker, I now made a higher speed, as there was more shelter from the wind in this area. I passed Geralton in the beginning of the afternoon, a large city, but I had no business there, so I bought supplies and then continued to Dongara where I found accommodation.

296.18 km and 1266 high & low. Pos. 29.246998 S 114.932605 E
<![if !supportLineBreakNewLine]>
<![endif]>


Day 51 Now only approximately 365 km to Perth centre remained, so this would be the last long days on the trip. I had advised Australian Red Cross that I would be by Swann Bell tower before 8 am, the day after. The first 100 km was still head / cross wind, but then I had a half tail wind, so I made a good pace. Had planned to stop at GinGin, and then take the last. 80 km at night. I would then have time to arrive at the Bell tower before 8 am tomorrow. Unfortunately, GinGin was not situated at the main road and I'm not biking off the route unless it absolutely necessary.
It wasnít late because of the tailwind, so I decided to continue towards Perth and check in at the first the best accommodation offered. It turned out I ended up only 22 km from the target in Perth, in the town of Midland, before I found accommodation. I could easily have continued into the Swann Bell Tower, but I had an agreement with the Red Cross, and I knew it meant a lot for them to gain publicity for the trip in the media, so I decided to stay in Midland, and then take it very easy the next morning.
†
341.66 km and 1106 high & low. Pos. 31.876542 S 116.011741 E


Day 52 The last 14 days I have had the habit of starting out at midnight, so it was quite a luxury to sleep until 3.30 knowing that I only had to cycle around 22 km before 8 am the next morning. I took my time this morning and rolled out in the dark at 5 am. Still far too early, but then I had plenty of time if I had to deflate, or have other problems here at the last minute. I was down at the Swan River just past 6 am and could see the tower only approximately 1 km away. Now I had to wait to about 7.45 am, where we had agreed I would arrive.
†It was cold in the early morning air and I was pleased when it finally was time to trundle over the finishing line.
Pos. 31.958801 S 115.857580 E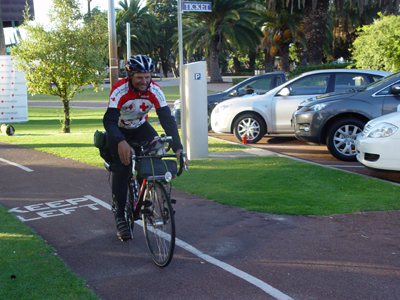 Finish!
There was a nice bunch of Red Cross people, Danish / Australians, and media people waiting for me, and the Red Cross staff had made a "finish" banner, which I had to bike through.

The trip was officially over and I was happy and proud to have set a new record by biking the 14.611 km around Australia in 51 days and 47 minutes.




The record has subsequently been approved and the 15.000 $ payed to Red Cross.