Diary


Friday 26-6 94 km

Started right after work at 4 pm towards Frederikshavn. Good weather and tailwind. Slept on a football field in Svenstrup 10 km before Ålborg.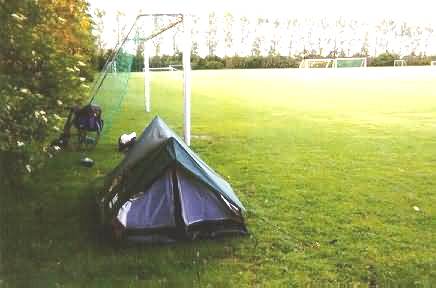 Svenstrup



Saturday 27-6 198 km

Rain most of the day. Arrived at the ferry in Frederikshavn at 10 am and was in Gøteborg, Sweden at 12 o'clock. I had some trouble getting the right way out of town, I misunderstood some signs and ended 9 km in the wrong direction. Next I ended up on a motorway (in Scandinavia biking on most motorways are strictly forbidden ) so the trip was starting very well.
Later I got a hole in the behind as a result of new pants and rain I think.
Sleeping in the forest about 15 km north of Vänersborg.


Sunday 28-6 214 km

Again rain the most of the day. My wound was trouble ling me, I had to sit Askew on the bike. Headwind but nice temperature. Went on a camping place for the night in Fillipstad. A bath was also needed,
I was charged 80 Swedish kr, but the owner came later and gave me 25 kr back because she got a bad conscience when she saw my little tent.
I have almost only been eating bread and jam till now, so tomorrow I will try to buy some honey.


Monday 29-6 216 km

It has been raining all night but here in the morning it stopped. Am now beginning to get a sore leg because of the awkward position I have to sit in because of the wound. It's quite hilly her and a fine nature.
Many roads are closed for bikes, so I must find alternative roads. Slept at a lake at Enviken, on a public beach, there were no people around because of the weather.


Tuesday 30-6 198 km

Hade quit some pain in my wound and leg, but it got better as the day went by.. Dry and sunny weather. Enjoyed some fruit syrup and water at a social democratic polling station, the man clearly needed somebody to talk with.
I had decided to take the day of at Hudikswall, so my wound could get better, but I didn't fancy the camping place, so I continued to a place in the woods 6-7 km north of Hudikswall.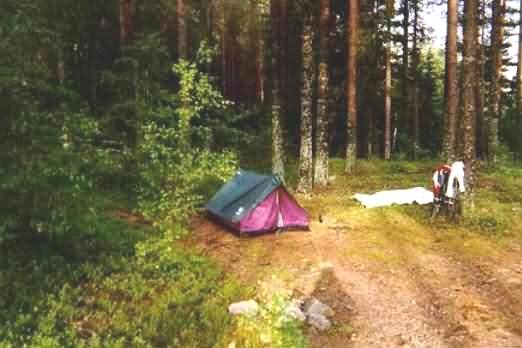 Hudikswall



Wednesday 1-7 204 km

A good and sunny day. Sundswall thou were laborious to pass because of many no biking roads. Sleeping for the night at the foot of a huge rock on a camping place.
Apparently my visa card didn't work, but luckily I had some cash too. Must to a bank tomorrow to see if the card works there.


Thursday 2-7 243 km

Much better with the weakling today, so the spirit is high. A little thunder and rain but otherwise a god day.
Have raised some money on my card today, so I can relax again. The Landscape has flattened out again and the trees are getting small as I am getting more and more to the north. There only remain 290 km to Happaranda. Slept in the woods..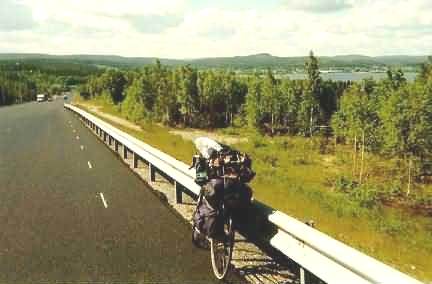 Sweden



Friday 3-7 233 km

A hard day with heavy headwind and sore knees. Met a Swedish cyclist who also dreamed on taking a long bike trip someday, and we biked together for about 15 km. Sleeping at a picnic area


Saturday 4-7 219 km

Drove into Happaranda at 9.15 am in pouring rain, after having biked 1677 km., this is the northernmost spot of the trip. Entered Finland at 10 am, and drove for the next 100 km in a very flat area with moistly fields and forest.
Rain the rest of the day, till I put up my tent at a camping place in Oulu where I could wash and dry my clothes as almost everything was wet.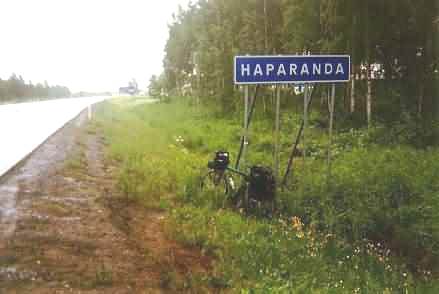 Haparanda



Sunday 5-7 174 km

Had a long sleep, and a hard time getting started. Rain a few hours then nice and sunny weather. Luckily it's not so flat anymore, it's both funnier and prettier when there are variations in the landscape.
Alarming many mosquitoes here in the woods, At least 20 got in the tent, it won't be fun tomorrow morning, when I pack the tent down.


Monday 6-7 112 km + 20 km with train

The bike broke down on the best day of the trip so far, what the weathers concerning. 42 km before Kuopion the rim crashed, and dragging on the breaks continues.
I got a hold of a bicycle repairer in the town Sillinjarvi but he didn't have a new rim, but he got me on a train to Kuopion, were I had to go to tree different stores before I could get a rim for the next day. So I am taken a break at a camping place until tomorrow, were I hopefully are on the road again.


Tuesday 7-7 136 km

The bike was finish at 13 pm so now I just hope it's a good rim. Drove at once of at Lappenranda. Slept at Juva on a camping place, they charged only 20 finmark. Should preferably reach Lappenranda before the tourist office is closing tomorrow.


Wednesday 8-7 159 km

Reached Lappenranda in time. In books and on the Internet the stretch Lappenranda - Sank Petersburg is indicated as "dangerous " because of road robbery. Therefore I would check the tourist office to hear if it would be safe to bike the stretch.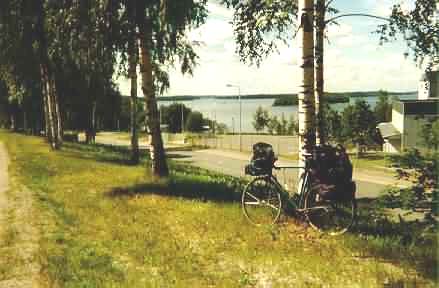 Lapeenranda



They had not heard about robberies but they advised against the stretch as the roads should be very bad. (they turned out to be very good) and they did not know of any camping place near Skt. Petersburg either, in fact their knowledge of Russia was very poor, scanty for a border tourist office.


Thursday 9-7 192 km

Started out early since I wanted to reach Sank Petersburg before nightfall, and maybe the border passing would take some time. Drove by a guard sitting on a bench talking with 2 ladies.
I wasn't quite sure if this was the finish or the Russian border guards, since I drove on for 500 m or so meeting only forest, suddenly a car came from the behind in full speed and pulled over in front of me, out jumped a guard and shouted "passkontrol" and send me back to the building, were I was checked properly. The guard on the bench I think had red ears.
After about 800m the Russian border turned up, some very young guards were very interested in my bike and the trip, but they would only see my passport. I drove on and was surprised how easy it was getting in to Russia.
The road followed a river where there were big ships sailing, and three floodgates on the way. After 15-20 km the real frontier guards with lots of rusty barbed wire turned up, there my passport and visa was checked, some phone calls were made, I was checked again and had to sign some papers telling how much money I had and so on, finally I could continue.
Drove in to Vyborg, this is a funny town, almost as in Africa with dusty trucks scrambling around on their reputation. Saw Lenin's portrait bend in neon 5 m high, and huge crossways with no stripes on the road, nor any traffic lights in spite of heavy traffic.
The road from Vyborg to Sank Petersburg was almost entirely through forest. Some places it was very vide, probably so it can be used as a landing ground in case of war. There were many cars parked along the road, and people collecting fungus, it must be the season for them now, some places people sad in the roadside selling to the travelers. They must earn well on the fungus, since they could afford to drive so far to pick them. A man tried to stop me, but I continued since I didn't have space for hitchhikers.
A lot of crosses along the road, telling their sad story of traffic victims, often surrounded by pieces of wreckage. Entered Skt. Petersburg's at the outskirts of town, didn't find the right camping place, but a motel where it was possible to camp. The lady in the reception said on bad school English, " Yes……… tis is possible " when I asked, she was by the way the only fairly English speaking person I met in Russia.
There is only 500 m to the railway station, so coming to town tomorrow will be easy, I am going to explore the town tomorrow, and therefore I will have 2 nights at the motel.


Friday 10-7 0 km

Went to the railway station, on the way I passed some very picturesque sceneries, it looked like poor farming houses in USA in the 20thes, with people sitting on the veranda in moth-eaten armchairs. All the houses were of wood and very neglected, and piles of garbage was everywhere.
I just missed of course the train and had to wait an hour for the next one. The station was just a big ramp with no information whatsoever, but the local of course knew when the trains went. The train was not so old but with good wooden seats. Right after start a women came in and began to advertise for some newspapers and magazines, and selling them too. Later a man came and made his speech for some books.
There is 5 railway stations in Sank Petersburg. I entered naturally enough at the Finnish station. A lot of people, there were soldiers with their big funny hats, rich and poor, some very poor, I saw a man collecting empty tin cans pressing them flat and putting them in a bag, but I saw none begging.
A lot of small shops in and outside the station. It was my plan to see the winter palace, but I gave it up because I couldn't find it since no one seems to speak English, and their letters are unreadable for me.
The city is quite big (5 million inhabitants) so in order not to get lost I followed the Nerva river the town is build up around. Many of the young ones had American T-shirts on, maybe therefore I could walk unnoticed about and was not taken for a tourist. Bought an ice at a street dealer, but they have a lot to learn about making ice.
I went to the station to find out what platform my train back was leaving from, but although there was 10-15 ticket-office windows, not one of them could speak English. So I took the chance and entered a train from the same platform as I had arrived.
Gradually I realized that It was the wrong train, and I left the train at the next Peron out in the country, and had to wait 1½ hour before I could get back.
Back in Sank Petersburg I again tried to find a English speaking person but didn't succeed, so I decided to take a cap, since I didn't know which way to walk. The cap driver demanded 50$ but we settled at 30$. When we arrived at the motel he could not give back on. 2 20$ bills but at last he found 7 one dollar bills.
I'm the only campiest here, I'm also a bit anxious about getting through the town tomorrow as there aren't many signs here.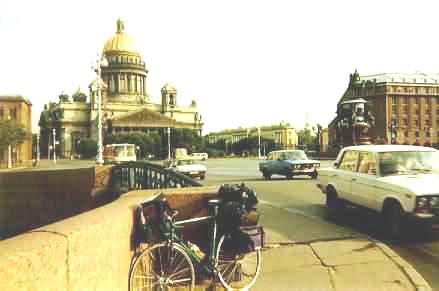 Skt.Petersborg



Saturday 11-7 223 km

It was not so bad to get through Sank Petersburg. I found some small signs a few times keeping me on the right track.. It had rained in the night so there were many puddles on the road, I drove around the puddles as there could be deep holes under the water.
Still I damages my back wheel driving through a very small puddle, It must have been a very deep hole, it made damage to 3 spokes and made a big bump in my rim, I could still drive, only it gave a bump for each turn. I wasn't too keen on finding a place to get it fixed in Russia, It could be almost impossible since I didn't speak the languages, so I would try to make it to Eastland were the spelling was more normal.
After 64 km I reach the edge of Sank Petersburg The roads got better and I was making good speed. There were several checkpoints on the way, but they were only interested in trucks.
Met another biker as I went through a small town. It was a Belgian, who had taken the plane to Sank Petersburg and was biking back to Belgium.
We kept together for the rest of the day, it was nice to have someone to take guard when shopping on the way, and we took turns to swim in a river, it was a very hot day. When we reached the border to Estonia, a thunderstorm came from behind, and we entered the border building seconds before it reached us. We had to unmount our luggage to get it x-rayed but the electricity went off and then we cut some corners.
When we were allowed to leave, the thunderstorm had just passed by, how lucky can you get. Johan would find a place for the night, but I continued for about 30 km longer.
Had by the way the first flat on this trip just outside Narva. Slept in the forest.


Sunday 12-7 241 km

Had another flat after just 50 km. Along the great coskoya lake I saw many old and children at the road side selling fish. My back wheel was getting very bad, I was hoping to reach Riga in Latvia as it was a big town, but I didn't succeed,
I tried to get on a train from a small town, but I had only dollars, and apparently it wasn't good enough.
It was sometimes a experience for the local to try to understand me and especially if it was women's, they could sit and giggle as small children.
Well I had to continue in spite of my wheel now was very bad and wobbling seriously, so I made slow progress. I just reached the border between Estonia and Latvia.
Very much rain in the afternoon, I slept in a park on the Estiske side of the border, at a town called Valga. With some luck they have a bike store where I can get my bike fixed the next day.


Monday 13-7 61 km with train

The town is called Valga on one side of the border and Valka on the other side. I spend a couple of hours looking for a bike store, but with no luck, so I crossed the border to look in Valka, but again with no luck, so I crossed the border again, because there were a tourist office in Valga which had open now.
They said there were no bike shops in the area, but they gave me the train schedule for the trains starting on the lettish side.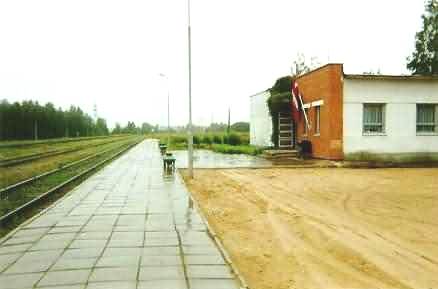 Railway station



There were a train leaving at 10,54 witch I could reach if I hurried, but first I had to Cross the border again, and go to a bank to get some lettish money. The border guards were now looking at me in a very strange way.
There were a line up at the bank so I didn't reach the train, but there were one leaving at 14,15 I read on a sign, so I waited at the station 3-4 km out of town. At about 13 o'clock a old women came in the waiting room, and said a lot, which I didn't understand a word of, but I could understand she was wondering what I was doing there, so I pointed at the schedule list at 14,15, but she shacked her head and pointed at the next time on the list, 19,15, so I understood I had a long waiting ahead of me and went back to town to buy some food and then back to the station where I spread my clothes out in the waiting room to dry it.
The lady came in sometimes and looked a bit stiff but didn't say anything. At 18,00 people began to arrive to the station, and at 18,30 the women came in and said that the train to Riga couldn't get further than to Cecis because of the rain which had undermined the tracks further on. All this I of course didn't understand a word of, but I could sense something was wrong, and asked some passengers in English what was wrong, they seemed not to understand me but finally a lady answered me in bad English. She helped me a lot, also getting the bike aboard the train for the 61 km to Cecis, and I promised to write to her as she would like to get better to English.
In Cecis I slept at a hotel, because It was very dark and not easy to find a place to sleep at 11 pm. Also I needed a bath badly.


Tuesday 14-7 114 km + ca. 100 with taxi

The day started bad since I couldn't get on a bus for the last 100 km. No one the busses would or could have my bike with them, so now I was stuck here as the trains were stopped for several days. I have seen some cabdrivers but expected them to be too expensive, but then I thought It wouldn't hurt to ask about the prize. They were not as expensive as expected, about 30$ So I was on the move again.
It was a very nice driver who talked all the time, I didn't understand much but we got a conversation running. Suddenly he grab the phone, called at number, talked a bit and then gave me the bone. He had phoned to an English speaking women who asked me where I wanted to go to in Riga and then she told it to the driver. I just wanted to come to a bike repair, when we arrived to Riga he asked some of the local cabdrivers were there was a repairman, and soon we were at a huge block of flats, and a sign " REMONT" in front of a cellar door.
There were a guard at the door, there is a lot of crime in Riga. The repairman could fix my rim he claimed and I played of the cabdriver.
The workshop was very small and over crowded with bike parts, The repairman changed to working clothes and began to fix the rim. I could see he was very handy to his job, and to do something myself I began to tighten my brake wires, but was stopped by the man who did it for me. We talked a lot together in spite of the language problems, he had a son in Newzeland and was himself from Ukraine and then a Russian.
He was very interested in my bike trip and told me he was a engineer and made bike inventions, and had a drawing room with all kinds of bikes and drawings of them, this was very interesting as he was very eager to tell me about it.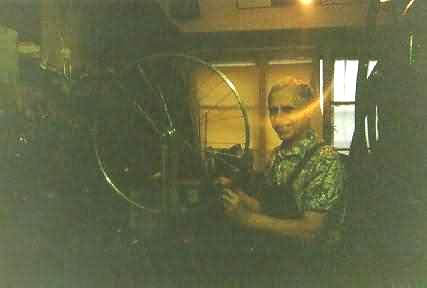 Repairing my wheel



When he was finish fixing the rim he made some tea in cup and put a lot of strawberry jam in it and served some special bread so we had a good time. He charged only about 3$ for his work so cheaper would be stealing.
When I was about to leave he kept saying " Magazine " I thought he meant a storing room with some more bikes but he took me to a grocery store where I could shop while he was watching the bike outside, when I got out again he was trying to get rid of a beggar, I gave the beggar some money, but it didn't stop the women so we had to drive on. He shoved me the way out of town and I was on the road again at 4 pm.
I was very happy driving again so I continued all the way to Lithaunia, Where I slept behind a tank station.


Wednesday 15-7 180 km

Lots of headwind. Saw a dead dog and immediate after its 2 brothers coming after me with a lot of barking, luckily I could make a good speed as the road was going a bit downwards.
Very well and nice agriculture in the northern parts of Lithaunia, more pore in the south. Still a lot of horses on the field and roads. Drove over a border bridge to Kalliningrad ( a small piece of Russia ) The town on the other side of the bridge was very damaged and dirty, I wasn't keen on sleeping in the open in that area, and so I went to a hotel in the centre.
Got a room on the 5th floor and the bike in the cellar. The lady gave me a price in D-mark But when I would pay in D-mark it wasn't good enough, suddenly she took the money and went out on the street, and came back a little later with a currency broker so I could exchange to Rubbles.
The hotel was really sinister-looking and worn out. I had a light sleep that night.


Thursday 16-7 225 km

Had to get rid of a beggar and drove on towards Kalliningrad the capital of Kalliningrad about 100 km away.
Good weather with sun the most of the time.
Saw for the first time ( and last) on this journey the Baltic sea. Had to wait a bit at the border to Poland as the Russians as usual had to make some phone calls. Think the Polish guard was a bit drunk as he asked me what way I would like the stamp in my passport to turn.
Slept at a campsite in Elblag.


Friday 17-7 254 km

A long day with heavy traffic and bad roads. There were many berry and fungous sellers along the road. Slept on a field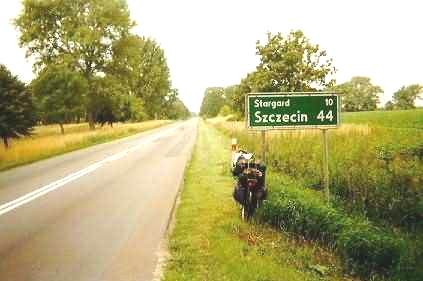 Polen

Saturday 18-7 236 km

Again a long day, I had looked forward to the German roads, but got a bit disappointed as there were many places with paving stone. But luckily it stopped after a while.
Got permission to put up my tent behind a house, at last, as the man was very suspicious, and finally asks if I was a spy. (this must be a rest of fear from when it was east German)


Sunday 19-7 240 km

Hard headwind but was determent on making a good distance as I now only wanted to go home. Slept 10 km past Lübeck.


Monday 20-7 231 km

Had some trouble with the German signs, I ended up on a no biking motorway and collected several German honks. Left the motorway by crawling over the side guard, because I wouldn't risk a ticket. Nice to hear Danish radio again, slept in Denmark at a town called Vonsild.


Tuesday 21-7 114 km

At 11,30 I was home in Faarvang.

.