Diary

Monday 28th June
Day 1 283 km

I left the hostel in Vancouver at 4:20 am. It was raining a little, but there was no wind. I was very set on doing every inch of the trip from coast to coast, so first I had to go 500 yards to the west so I could dip my tire in the ocean. Because of the rain I had tied two plastic bags on my feet, and must have surely been a cute sight. A police car drove by very slowly, examining the crazy guy.

Apart from that, it was a very cozy trip through Vancouver's rainy and almost deserted streets. In the part called Chinatown there were some homeless people wandering about and some were sleeping in the doors and gates. Later on, traffic increased and the coziness disappeared.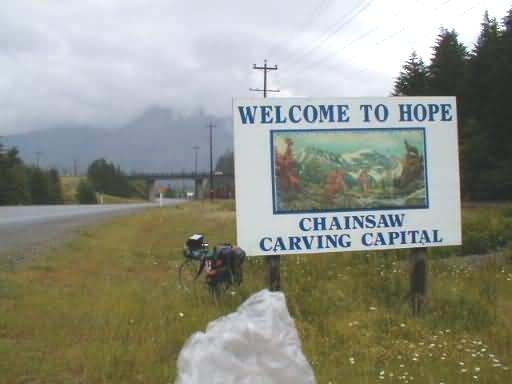 Hope



After about 62 km I already had my first flat tire. It rained continuously until I reached Hope. From Hope the road got better but also more mountainous. I was warned about serious up hills, and they were, I even had to walk a couple of km to make it. It's a very beautiful area with steep mountains and snow on some mountain tops. Passed a sign saying elevation 1244.

From Hope to Merritt there are 120 km mountains without any possibility for supplies. About midway there was a toll booth, but bikes were free. In Merritt I got permission to put up my tent behind a gas station, very smart because there were washing facilities and the shop was open 24 hours. Not so smart those trucks came in all night so I had a bad sleep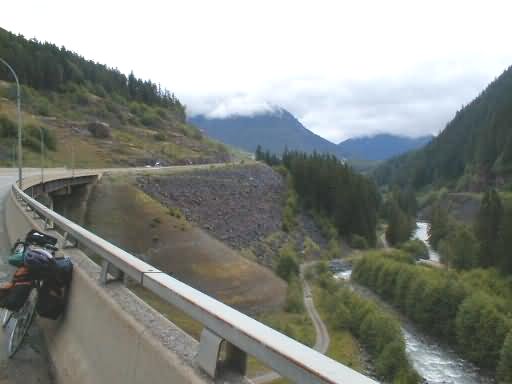 On the way


Tuesday 29th June
Day 2 276 km

Drove at 4:40 am towards Kamloops. The first 21 km went up, then I came to a 1 km flat, then it was up again for 6 km, to a sign saying "Elevation 1444 m" It was quite cold, so I had to put on my gloves to keep warm. Of wildlife, I saw a half wolf half dog with its cub, a deer and some sort of a groundhog, but no bears yet.

The last 15 km before Kamloops was downhill's, so that was easy. I sent 2 faxes from a motel, they charged me $11.20. That's almost highway robbery.. no, it is highway robbery.

The weather was great until I reach Salmon Arm where it began to rain, first lightly then by the time I reached Sicamous, it was pouring down. Sicamous is the place where the Canadian stopped on day 2. I continued on for about 50 km more, until a motel turned up in the rain and fog. I had no problem choosing between the tent and the motel, wet as I was. I think the owner was a bit concerned about me, because he came with some hot food.

Before long, the room was full of clothes hanging to dry and a sleeping biker snoring. The place is called Three Gap Valley.




Wednesday 30th June
Day 3 318 km.

Left Three Gap Valley Motel at 4:40 am. It was still raining but not so bad. I think the mountains are high here, but I'm not sure, because of low cloud cover. Arrived at Revelstoke about 5:50.

Revelstoke is the city where my parents lived for 2-3 years, and where one of my brothers was born in the early nineteen fifties. Most stores were closed so I went on without buying supplies. I got a bit uneasy a couple of km outside the town, because of a sign saying 72 km to next service. 72 km would be on top of Rogers Pass, but I was hoping there would be a coffee bar or something on the way, anyway I had some strawberry cake in my bag.

Luckily there were many small water streams on the way so I didn't die of thirst, but I was very hungry when I reached the top of Rogers pass, 1200 -1300 m above sea level.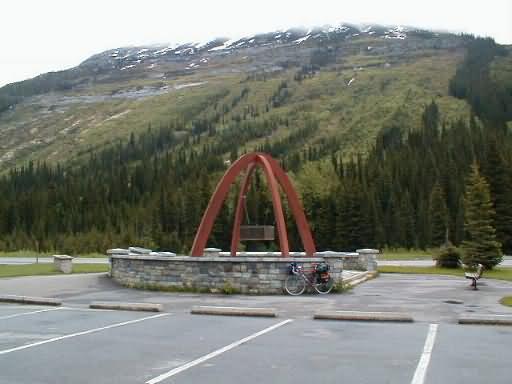 Rogers pass



After emptying the store for food and a small chat with a couple of bikers who also had started from Vancouver only a week earlier, I went down the mountains towards Golden. There were some very steep downhills and I had a good use for the brakes.

On a curve I spotted a black bear eating on the road side slope. I don't think it even saw me, it was so busy eating. I also spotted some big deer that I don't know the name of.

The rain stopped and the clouds were not as severe, so now the mountains were completely visible. In Golden I bought a lot of supplies because the next town was Field 60 km up the Kicking Horse Pass, a very hard piece of road to bike.

I had already passed through Mount Revelstoke National park and Glacier National park and was now driving into Yoho National park. It must be here that all the pictures of the Rocky Mountains are taken, it was so unbelievable beautiful.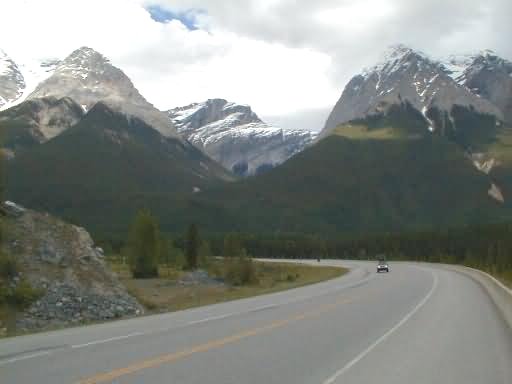 Rockies



At Field I asked a local if I had reached the top yet, "Oh no, you have the biggest hill in the world ahead of you" he said. I had a hard time believing him, as I had just biked 50 - 60 km up hills. After 8 - 9 km I reached the top, which was also the border between British Columbia and Alberta.

I was very exhausted and wet with sweat, so I was on the lookout for a place to camp for the night. But I reached Banff before I stopped at 10:00 pm and found a place to camp in the woods outside of Banff. Banff is a 99% tourist town and looked like it was decorated for Christmas with every house full of lights and finery and a lot of tourist on the streets.




Thursday 1st July
Day 4 240 km.

Started out at 5:00 am towards Calgary. The first 25 - 30 km went mostly downwards, then weakly up to Calgary, where I tried to send emails...but it was Canada Day so the computer shops had closed.

I sent a fax from Strathmore, now the price was $1.00 dollar each. I continued in the rain for a couple of hours, sometimes there were piles of hail on the roadside. Suddenly it became all dark and thunder and lightning flashed as rain and hail poured down. Here on the prairie there is nowhere to get shelter, as the "Plant a Tree" campaign has not yet been a success.

After a while I spotted a farm not far from the road, and I went in to ask for permission to sleep in the barn. The farmer was not happy about letting me sleep there, as he was not insured, but I was welcome to put up my tent in the back, which I did in the heavy rain getting the tent wet inside as well.




Friday 2nd July
Day 5 288 km.

Well, I got through the night although I was freezing a bit. It was still raining but not as heavily. I got my wet and cold clothes on and moved on in a hurry to get warm. Rain and cold until 11:00, then the wind changed to the west and the rain stopped and the sun started shining, so things were suddenly not so bad anymore.

I met Duncan Margach from Calgary on the road, a very experienced biker. He had just started his trip to Sidney in Nova Scotia, but at a more normal pace. Went in to Medicine Hat and bought 2 new tires for the bike.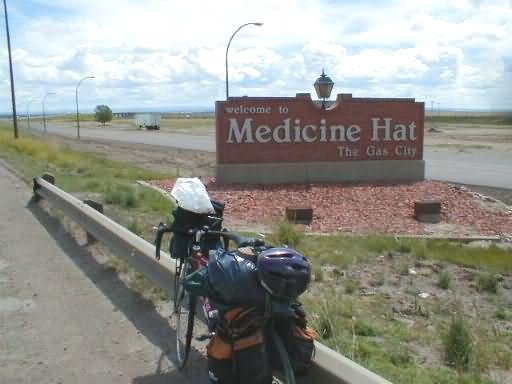 Medicin Hat



I have had two flats today, so now the score is three flats. The wind has gotten stronger during the day so I am making good speed.

Because all my clothes were wet, I decided to spend the night in a motel to try to get everything dry, even my sleeping bag was wet. The motel is called Prairie Pride Motel and is located at Maple Creek, about 100 km east of Medicine Hat




Saturday 3rd July
Day 6 316 km.

A very good biking day with sun and a tail wind so I made a good distance. The landscape is hillier now, almost as in Denmark. I saw a sign warning of antelope, and later I actually saw 4 antelope on a field. I also saw a lot of auto campers dragging small cars, they are covered in then.

I often have a small bird following me for about 500 m or so. It's like having a friend watching out for you. Another cozy cousin is the Canadian Pacific Railways which follows the highway most of the way. Sometimes it looks as if we have the same speed when its 2 -3 km away, and honking every minute, so I often reminisce the old western films.

Reached Moose Jaw in the evening and got an address of an Internet café in the center, but the only computer there, was out of order. Am sleeping outside of Moose Jaw behind a gas station.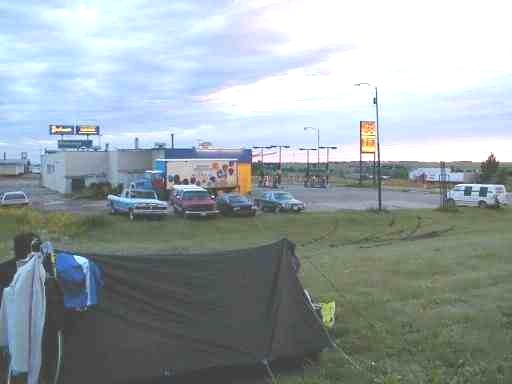 Moose Jaw


Sunday 4th July
Day 7 293 km.

The wind is in the south corner, so no more tail wind, but no head wind either. Cloudy all day, but no rain. I had sore legs to start with but they are better now.

Will probably not reach Winnipeg tomorrow, as there still remain about 350 km. Spent the night about 20 km before Elkhorn.




Monday 5th July
Day 8 343 km.

A strong tail wind pushed me over the Prairie today. I am now close to being a day ahead of the Canadians. With some luck I will reach the goal tomorrow. It will also be my last day on the prairie as I expect to reach the woods by midday tomorrow.

Manitoba has agriculture much like Denmark, and the crops are much better here than in Alberta and Saskatchewan, where they had severe problems with too much cold and rain. When I asked them about the coming weather they never knew but expected rain as usual, they seemed to have given up all hope.

Sign spotted in Alberta: "If children on the road slow down to 50 km.". (Maybe there will be no blood on the windscreen then). Sleeping just before Winnipeg.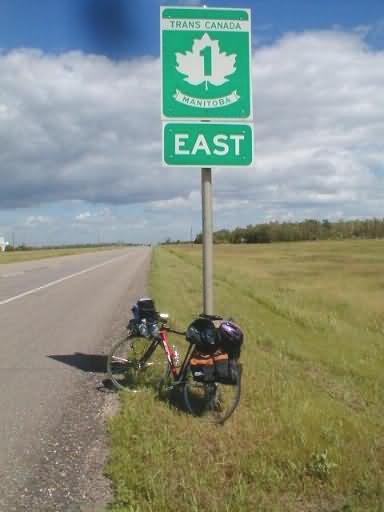 Manitoba


Tuesday 6th July
Day 9 279 km.

Have now reached Ontario. It has been a very hot day with sun out all day, until evening when a thunderstorm went by. Had a flat at some road working area at a steep downhill, a very unpleasant experience because I had big trouble bringing the bike to a stop. When I had fixed the bike I looked for a place to put up my tent for the night, but it's difficult in the forest because of rocks and vegetation.

So I was very lucky just around the next bend to find a Motel in the middle of nowhere, and just before a severe rainstorm pulled over. This is between Kenora and Vermillion Bay.




Wednesday 7th July
Day 10 312 km.

Started out a bit cold but soon it got hotter. I am a bit insecure sleeping alone in the woods, after being warned about it by the locals, not for the wildlife but for the two legged animals. So I am trying to sleep near towns now. Sleeping at a small town called Upsala




Thursday 8th July
Day 11 235 km.

A bad day where the spirit was gone, and very bad roads. Broke a spoke at Thunder bay. Stopped at Nipigon 100 km north/east of Thunder bay.




Friday 9th July
Day 12 199 km.

The spirit is back but many hills and a strong head wind made it hard. Stopping at Longlac which is the last town before Hearst over 200 km away. The locals claim there is nothing between the two cities so I must pack plenty of supplies for tomorrow.

I just hope the wind will turn to the west corner where it belongs. I'm satisfied with my pace as I'm still a day ahead and more I don't need. The next 5 - 6 days should be the worst of the trip with bad roads and small brained truck drivers. I haven't seen any bigger animals since I got in the forest area, only a half moose and some bones.




Saturday 10th July
Day 13 311 km.

212 km to Hearst with only forest and almost nothing else, but I was prepared so no problem there. From Hearst to Kapuskasing, the landscape was neat with small well painted houses and small towns. Almost 50% of the local are French and apparently they have a different relationship to their houses.

It seems to be a very relaxing job for some to be a road worker, there are always two workers, one at each end taking turns stopping the traffic. Saw a whole moose today, but it was unfortunately dead...for several days ago, judging from the smell. Some areas are burned down by forest fire, here nature must start all over. Until now the roads have mostly been OK.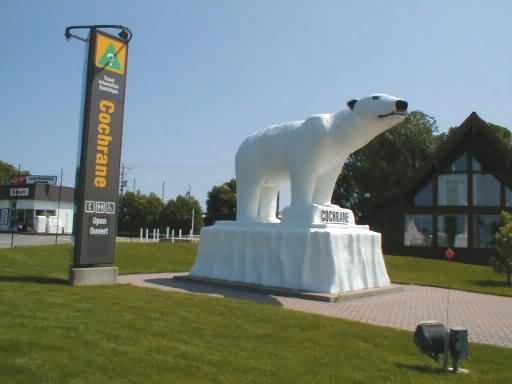 Cochrane


Sunday 11th July
Day 14 204 km.

A tiresome day with very bad roads, head wind and very hot weather 28 - 30 degrees Celsius and a broken spoke, made the distance short. I stayed at a motel in Matheson to get a bath which was much needed.

The man at the motel told me that a Belgian had been there 14 days ago, he was doing the exact same trip, but a couple of days later he had seen him driving back. Well, I won't come back because I have a plane to catch in St. Johns Newfoundland.




Monday 12th July
Day 15 262 km.

Already after 2 km I saw a black bear going to cross the road, but it fled into the woods when it spotted me. 75 km later I entered Quebec, where I had hoped for some better roads, but was disappointed because the roads were narrow without space for bikers, and the truck drivers are hunting the cyclists, trying to drive of their socks. Apparently bikers are legal game here.

I'm on the lookout for spare spokes because I only have one left now, but the type I use are not common here in Canada. Very hot day, sleeping at Val D´ Or.




Tuesday. 13th July
Day 16 254 km.

Again a very hot day. The roads have not improved but here in the late day the traffic is much less, and it's getting quiet. The few towns are only 10 - 20 houses.

I am sleeping in Desmaraisville. I have taken lodgings with the leading motel owner in town ( the only one ). I was the only customer and he had some trouble getting the hot water running, but after awhile he succeeded. I don't know if the buildings here are under construction or under demolition, but a decision has to be made.

The motel owner had a very scary dog with white eyes, I wasn't too secure with it, and it reminded me of some Dracula movie. If I get some better roads tomorrow, I might make a long distance and bike over 300 km to get over a 200 km wilderness. Otherwise I have to sleep in the woods.

It's quite difficult to bring food and water to last a night too as I usually eat the most in the evening so I can work the next day.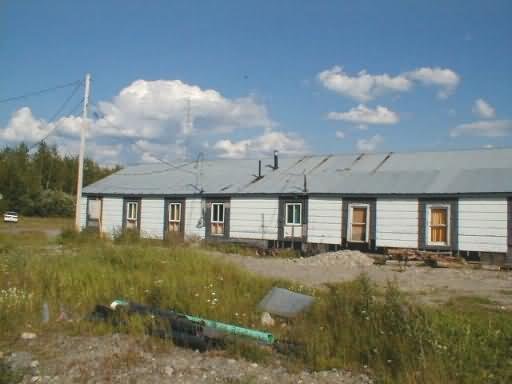 Motel


Wednesday 14th July
Day 17 241 km.

I didn't get through the wilderness, mainly because of strong head wind, tired legs and hills. I have 140 km to the next town.

Unfortunately I was given wrong information. I was told that I could buy food at the last tank station before the wilderness but they had only coke and chips, so I have to survive on the little bread I have left.

I'm camping at the only place legal in the national park. I had expected there to be a water post here, but there wasn't, so I had to beg a camper for water. I must have looked run down, as he later came and gave me a coke, or maybe it was because I petted his dog.




Thursday 15th July
Day 18 262 km.

Finally I came out of the wilderness, and here are lots of small towns and stores. I even found a store where they had some new spokes, so things are looking much brighter now.

The roads have improved a lot. I think the government of Quebec should be ashamed of the road conditions they offer the people living there, and they should also make some higher demands on the truck drivers when they are giving driving licenses.

Tomorrow I should reach the ferry at St. Simone by midday, but I will probably not reach New Brunswick before the day after tomorrow. It will be nice to come to an English speaking area again. The French are really nice, but they only want to speak French and roads are not their biggest gift.

According to the information I have from the Internet, the roads left to travel should be the best on the whole trip. Camping just before La Baie.




Friday 16th July
Day 19 233 km.

The road from La Baie to Saint Simone became quite a challenge because it was very mountainous, I had to walk several times. But it's a very pretty area with small towns and blue lakes.

I was lucky with the ferry Saint Simone - Riverie de Loop. We arrived at the harbor at the same time. The area on the other side of the water was less mountainous with big soft hills.

A very hot day, 30 - 32 degrees Celsius, so I have had a lot to drink today.




Saturday 17th July
Day 20 236 km.

A much too warm day. 35 degree Celsius is not comfortable. I have been at almost every store on the way to buy liquids and get water on my head. I became ill when there was a gap between the stores and had to recover under a bridge. Luckily there was some head wind which cooled me down a bit.

It was the hottest day of the year the locals said, but tomorrow is supposed to be getting even hotter. If that happens, I won't get very far tomorrow as I won't risk my life to beat the Canadians.

Broke another spoke today, but now I have 5 spare spokes, so I'm not worried. Staying at a motel and have used all the cold water. Located just south of Woodstock in New Brunswick




Sunday 18th July
Day 21 316 km.

Very close and sultry but not as warm as yesterday because it's more cloudy today. Had a bad sleep because of the heat and later because of a thunderstorm trying to overturn my tent.

This is about 30 km east of Moncton.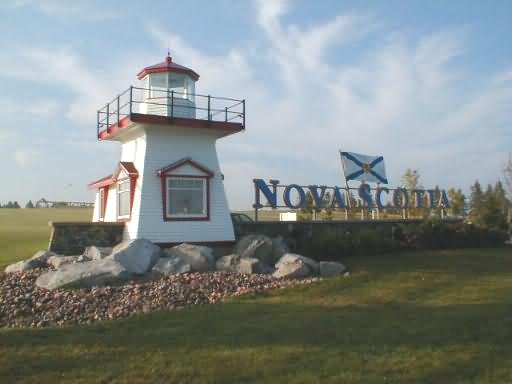 Tourist Office


Monday 19th July
Day 22 268 km.

I won't reach the ferry tomorrow at 14:30 pm, but I will sail at midnight instead. Then I will be ready to bike the last 900 km on Wednesday morning.

Asked a pair of road workers about the roads, one of them had bad memories of Quebec too. He was almost put in jail for hitchhiking. I got some pent-up feelings against Quebec of my chest, so we were on the very same wavelength.

Camping 10 km east of Antigonisk. There is about 200 km to Sidney so it will be a short day tomorrow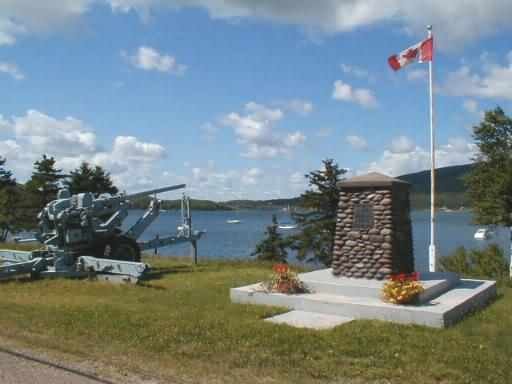 Monument


Tuesday 20th July
Day 23 195 km.

A short day as Sydney wasn't far away. The ferry sails at 23:59 pm and takes 6 hours to Port aux Basques in New Foundland. Used the rest of the day to do some chores I had put off like washing my clothes and mending the bike in a proper way and so on.

I paid only $3.00 dollars to have my clothes washed and they were even put together nicely, although they shrank a bit. Changed both tires as they were worn out, now they should hold to the end. I feel I have now crossed Canada from coast to coast and that the journey could stop here. But the Canadians took New Foundland too, so I have to do that also.

I have to make 225 km a day from here but hills and wind can easily make it a struggle. I feel I have had my share of head winds the last 14 days so a small hurricane from the back would be welcome.




Wednesday 21st July
Day 24 109 km.

The ferry was late so we sailed at 2:00 am. Have had little and bad sleep. I was tired and a maybe a little seasick. I also had a strong head wind and was in a really bad shape all together.

So I gambled and pulled over for the night after 109 km to try to get 10 -12 hours of sleep and hoping the wind had changed for the next day. I have to make 265 km each day the next 3 days now, so now the pressure is on as I don't know how mountainous the rest of the terrain is.




Thursday 22nd July
Day 25 284 km.

I was much better and have had a long sleep. The wind was weak in the morning but worked itself up to a stable tail wind for the rest of the day. It's quite easy to bike now.

The first 60 km was a bit hilly though, like a mini Rocky Mountains, very pretty. After that it was more flat with good roads and easy to ride.

Sleeping at South Brooks which is the northernmost I go on this Island. The next 2 days are to the southeast and can be very tough if the wind stays in that corner.




Friday 23rd July
Day 26 249 km.

Strong head wind (I can hear the wind singing in the wires) and rain is pulling my ability out of me, so I am making a slow pace. Camping at
Glowertown.




Saturday 24th July
Day 27 194 km.

Was very set on reaching St. Johns today but head wind, many hills and very weak legs made it impossible. I am very tired now and have to make many stops, so it's going to be a 28 day trip (shit). Stopped at Whitbourne.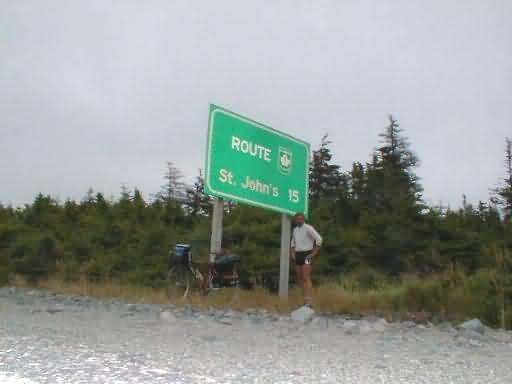 Nearly there


Sunday 25th July
Day 28 88 km.

Reached the harbor in St. Johns at 9:50 am Sunday morning. It was impossible to find a place to dip my tire in the ocean, so I just put my tire over the safeguard.

According to my bike computer I have now biked 7.089 km. But the really straight distance is probably about 50 km shorter because I have biked some extra km to by food and other necessary things like tires and so on. I am quite satisfied although I didn't make it in 27 days.

I still was faster than the Canadians as they reached St. Johns at 4:00 pm on their 28th day. I have used 4 back tires and 2 front tires, had 6 flats and 4 broken spokes. Everything else has worked satisfactorily. The bike has been working hard where the roads were bad and received a serious beating every day.

Have found a good place to stay in the middle of downtown, now I will relax for the next 6 days until my plane goes home to Denmark.