Schmidt Original Best in Test Ungeared, integral hub generator: the dynohub concept brought up to date. It comes complete with a modified headlamp to switch off the lights. You may know of the Union Wing (recommended in CTC mag p34 O/N 96 - now discontinued).
This is essentially the same thing, taken back and further improved by it's original inventor, e.g. by fitting better bearings. These are inaccessible, but the manufacturer guarantees to take care of any problems.
And against Shimano it has the advantage of extremely low residual drag. It knocks only ½% off your average speed.
These characteristics are especially appreciated by Audax and other long-distance, high-speed riders.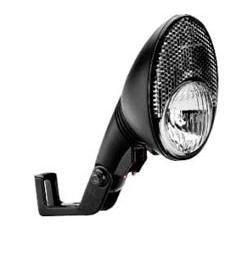 Lumotec Plus frontlight from B&M.
110 gram.