Dairy

Day 00. Friday 23-6
75 km

The flying from Denmark to Alta,( North Norway ) went well, and the bike was not damaged too much being reloaded 3 times. I assembled the bike outside Alta Airport, and changed to my biking clothes, my traveling suit I left behind, it was some old clothes I would have thrown out anyway, no need to have that to carry on the trip
Started out buying some food, and then drove on in the direction of North Cape at 18,30 in dry weather. After 75 km I put up my tent in a small birch grove in the high mountains called Sennaland, so tomorrow there only remains about 150 km to North Cape. I was freezing in the night and had to get up and take some more clothes on. There is still a lot of snow in the mountains, because the spring is delayed this year.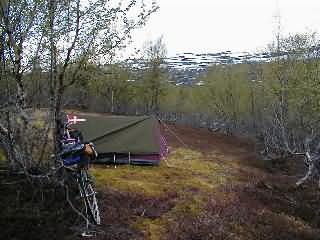 Birch grove



Day 0. Saturday 24-6
151 km

I am now in Skarsvåg, 13 km south of North Cape. In the morning the wind had worked itself up to a steady Tail wind, so it was easy to ride the first 100 km, but now the wind has turned more to the west, and increased a lot
From Honningvåg and up here I faced severe hills and winds, which made the travel very hard.
I hope the wind will be less aggressive tomorrow, otherwise I might lose km already the first day.
Passed several Tunnels, the North Cape tunnel was an experience by itself, going 3,5 km downwards and 3,5 km upwards, and was at a time 200 m under sea surface. Another tunnel at about 3 km was quit spooky because of missing lights, I didn't have any light on my bike, and therefore had trouble navigating.
I have rented a cabin as planned, in order to get set to tomorrow when this race is starting, it would be quit impossible to set up the tent anyway, the wind is strong and is maybe going to be a storm. There is no shelter up here at all, only rocks and some few reindeers.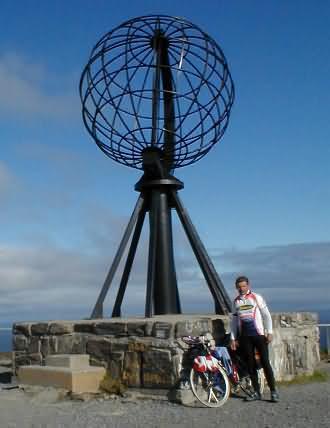 North Cape



Day 1. Sunday 25-6
13 km + 245 km

It was a very hard start on the trip, I drove at 6,30 the last 13 km up to the North Cape, it took me a hole hour because of wind and hills. It was free for bikers to enter the North Cape area, others had to pay a fee of about 30$, a very high price, almost robbery. There were only 4 degree Celsius and strong wind, so after taking some pictures I seek shelter in the building (A tourist trap) because I had an appointment with a radio station. At precise 9 AM I set of from North Cape after having got a stamp in my book from the ticket office to prove I had been there and left at 9 AM. North Cape is a very hard area to bike in, no matter what direction you are going. Unfortunately the heavy wind and me wasn't heading in the same direction, so the trip to Alta pulled a lot of energy out of my body, and the clock was 22,15 before I could put up my tent in a camping field just past Alta after 245 km. I mostly dislike camping places because of noise, and this one was no exception.


Day 2. Monday 26-6
286 km

I have stopped after only 286 km because of severe rainfall and cold weather the last 120 km. I have rented a cabin again, and will try to get my clothes dry. Everything is wet, even things packed in plastic. I have frozen the last many hours, so I have turned the heating system op to max, and my clothes are hanging all around in the room. I am now in Finland, the trip from Alta and up the ridge was very beautiful with a river and the road following each other on the way up. Here in Finland I have to buy my food in the towns, because the gas stations haven't got proper food, only candy, chocolate and such.


Day 3. Tuesday 27-6
324 km

The day started as it ended the day before, with rain the first hour, but cleared up and got quit hot and nice later on, with temperatures up to 20 Celsius, so maybe the freezing part of this trip is over. Had a good day and drove 324 km, so I'm back in business. Asked for help finding the right way at a Hotdog stand, with a very small hole for service and some smoking light in front to keep the mosquitoes away, there were millions of them, and my stay became very short.
Today I passed the The Arctic Circle and entered Sweden, where I put up my tent about 30 km north of Luleå.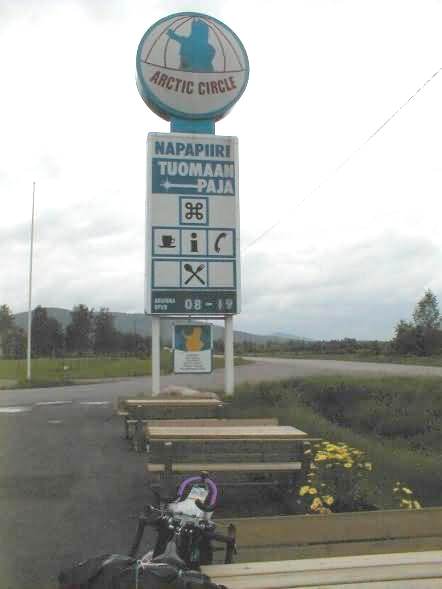 The Arctic Circle



Day 4. Wednesday 28-6
306 km

Warm and sunny weather, but headwind. The day went as the others, by hanging over the handlebars. In Finland and Sweden the mosquitoes rule with hard hand, I put up my tent in record-time to avoid too many bites. I stopped for the night in the woods at about 10 km south of Umeå.


Day 5. Thursday 29-6
328 km

Camping 6 km before Hudikswall after 328 km. This is in fact the very same spot in the woods where I put up my tent 2 years ago, when I was on my "Around the Baltic sea" trip. It has been a long and disturbing day, although I had sun and Tail wind. This because many roads are closed for Bikers, and you have to use much time finding an alternative road, a lot of asking for directions and some wrong turns is inevitable. My tent is very wet so I will try to sleep for open doors tonight, with mosquito-net of course.


Day 6. Friday 30-6
349 km

Tail wind and good legs made the distance 349 km. I was looking for a cabin but couldn't find any, so again I sleep in the woods.
I haven't had a bath since I left Denmark, 7 days ago, I might just be Sweden's most bad smelling person now. ( Have I broken a record here? ) I'm getting quick service in the stores now, so it's also a bit positive.
I am camping about 30 km north of Ørebro, and are quit tired.


Day 7. Saturday 1-7
354 km

Writing from the night-ferry between Gøteborg and Frederikshavn (Denmark), so I won't get much sleep tonight. I made a very good distance today, mostly because of Tail wind, but also because I wanted to reach this ferry, so the sailing wouldn't be in the daylight. I suffer now from strong pain in my legs when I get of the bike and try to walk, but oddly enough not when I'm biking. Some say pain is best biking away, so maybe I should take me a bike trip tomorrow.


Day 8. Sunday 2-7
260 km

Very little sleep, left the ferry at 1,15 in the night, and had to put up my tent at a factory and wait to dawn because I didn't have any light on my bike. At 3,30 AM I continued south, I was determined to reach my home at about 12 midday, and was looking forward to get a bath which's I still hadn't had, and I was also looking forward to see my family. I was home at 12,30 PM and was treated with lots of good food, and got a bit spoiled. I changed the chain and the rear tire, and set off again at 14,30. I stopped for the day just before Kolding at about 7 PM, a bit early to get some sleep.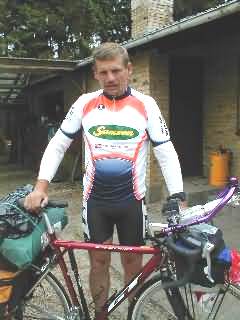 Off again




Day 9. Monday 3-7
252 km

Started the day late because I slept too long. Made a wrong turn in Kolding and therefore biked an extra stupid 10 km. In Germany I fooled around in both Flensborg and Slesvig, trying to find a way I was allowed to bike on. The biking path here is in very bad condition, gravel, paving stone or just bad maintenance. Have just come over the Elbe with a ferry and hurried to camp, because it got dark and rainy. The days are much shorter now than at North Cape were the sun never went down.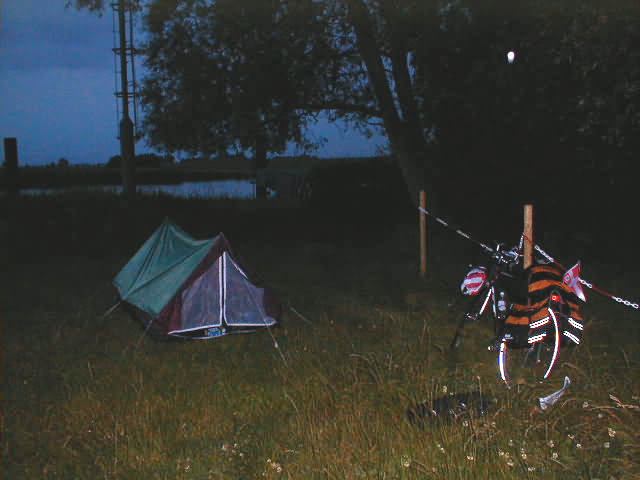 Camp at the Elbe



Day 10. Tuesday 4-7
282 km

The biking paths are much better now, but takes time, so it's very difficult to reach 300 km a day. I prefer the roads with no biking path because they are quicker to ride.
Biked sometimes today on very small paving stone roads with only local traffic, but luckily not for long.
I crossed a couple of rivers by ferry too, one was free of charge because the river was man-made. A scary thunderstorm chased me right into a Motel tonight, so I can get me a bath again. I am at a small town called Octorp.


Day 11. Wednesday 5-7
272 km

Time for status. At 9 AM this morning I have traveled exactly 10 Days and Nights and biked 3059 km, that's 305,9 km pr day. So far so good, but I'm a bit worried because I have lost km here in Germany. I'm now in Belgian, and have passed 50 km of Holland. Rain and headwind was the menu for today, along with a lot of small towns, so the distance was short. Had permission to put up my tent behind a hotdog stand a bit south of Tienen. Expect to reach France tomorrow.


Day 12. Thursday 6-7
285 km

Left Belgian after 80 km, and entered France. I had expected better roads, but no. There weren't any biking path, which was a plus though. It got very hilly today, and my panic gear was in use often, a bit surprising as I didn't expect "Mountains" here. Camping at a tennis court, quit suddenly in fact, It's almost dark and a thunderstorm is coming right over. I am just south of Meaux, and a bit east of Paris.


Day 13. Friday 7-7
279 km

I'm now 150 km south of Orleans. Today I drove 279 km, apparently it's impossible to reach 300. It has been a unique day with 4 thunderstorms. Storm 1 was in the early morning, with very huge hails, I tried to get shelter under some trees, but the haggle went right trough, luckily a car stopped and offers me shelter. Storm 2 an hour later I avoided by standing under a factory roof. Storm 3 hit me at midday in the middle of nowhere, with no place to seek shelter, luckily it only carried rain. Storm 4 was nice to me and only hit me lightly. A Fifth storm is actually on the way, but I don't care because I have rented a room in a guesthouse for the night, in order to dry my clothes and have a bath. It's a quite primitive place, the key is a square plate whit's probably fits in all doors, and the stairs up here are so narrow that my bike had to stay down under. The landscape round here is very beautiful with small villages and hilly fields.


Day 14. Saturday 8-7
317 km

Started early in the gleam of the streetlight. With the help of Tail wind and about 100 km of motortraficroad I made 317 km today. I'm not sure if it's legal to bike on motortraficroads here in France, in most countries it's forbidden. I had also the trips second flat tire, the first was in Germany. Settled for the day in the south outskirts of Bordeaux, on a camping ground. Tomorrow I expect to reach Spain.


Day 15. Sunday 9-7
275 km

Today I was sure I would be stopped by the police, I drove as usual right in on a motortraficroad, and after only 500 yards A police car came from the behind with the siren and flashing light turned on. Luckily they drove past me and stopped a car a bit ahead. I had to bike past them and had expected a remark, but nothing happened.
Had big trouble finding the right way out of Bayonne, I found a tourist office, but it was closed. Well, at last I found the right road, and soon I saw the Pyrenees ahead. This is a very beautiful area, with fields and houses way up in the mountains. From the border to Spain the road went right up for the next 10 km, I had to consult my panic gear (again). It had gotten very hot and sunny so I had to take a brake on the way. I had company of a big bird, maybe an eagle, I knew I looked like doomed, as I came puffing and blowing up the mountain, and in my state of mind I took it for a Vulture, and was sure it just waited for me to fall of the bike. It followed me a while but I didn't fall of, and it had to find another victim. After that a 20 km long slightly downhill road was more than welcome, but the bill came later with 12 km up again. I passed 2 tunnels, much better than Norway's dark caves. I'm now at the outskirts of Pamplona, were I camp in some bushes.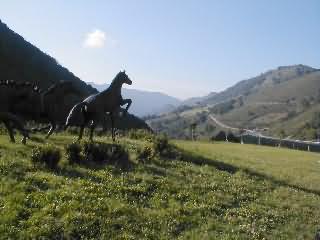 Pyrenees



Day 16. Monday 10-7
260 km

I started the day in the dark, biking 3 km on Motorway without any light at all. Drove slightly upwards for the most of the day. A laborious half headwind and 3 hours of rain didn't help either. I had to stop after only 260 km, I was worn out for the day. The landscape is mostly grain and wine fields. The roads are the best on the whole trip, with wide shoulders. I'm now 125 km north of Madrid.


Day 17. Tuesday 11-7
349 km

A very good day with mostly good roads and Tail wind made the day. Passed Madrid in a chaos of roads and heavy traffic. Sometimes I had to cross 3 lanes with heavy traffic, very dangerous and probably very illegal, but luckily I saw no police.
I'm at a Motel now about 220 km south of Madrid, the place is called Santa Cruz. It cost about 35$, but you get a bath and good sleep.(I NEEDED THAT!!)


Day 18. Wednesday 12-7
327 km

Torremolinus.
Very late and very tired, more tomorrow.


Day 19. Thursday 13-7
126 km + 126 km

I have now reached the Gibraltar-rock and have got my stamp from the guards at 11.33, to prove I been there at this time and date. I have biked altogether 5476,98 km, and used 18 days, 2 hours and 33 minutes, and had an average of 302,5 km a day, so I'm very satisfied and happy that it all went so well. I can now enjoy my trip back to Torremolinus were I left my tent, and I will hold a very slow pace. More later.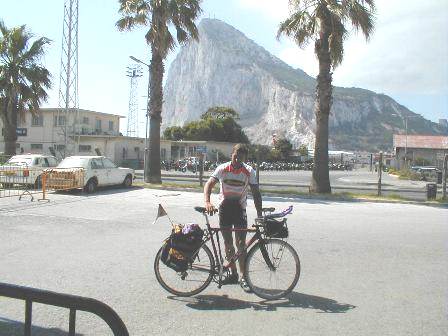 A happy biker



Friday 14-7



Just to finish the last 2 days



Day 18

Started out in the dark, I wanted to reach Malaga before nightfall. I knew I was up in the highlands, and therefore could expect a long downhill ride at the end. What I didn't expect was a lot of uphill mountains first. The day got very hot and unbearable. I struggle against headwind, mountains and the sun, so the day became the hardest on the whole trip. I got mad and stubborn, when the expected downhill turned to be another uphill, and found myself swearing like a trooper. Finally, just 20 km before Malaga came the downhill at last, with 3 tunnels, so I enjoyed the speed down the mountains. Ended up in Torremolinus, a tourist town, were I found a camping ground. Luckily there was light on the campground so I could see to put up my tent. Again I was lucky with the neighbors, they were jolly young guys who had fun half the night.


Day 19

Again I started out in the dark. I left the tent on the camping ground because I could be back again the same day. It was much easier to bike without the weight of tent mm. The 126 km took a long time to bike because of traffic lights and towns most of the way. I biked on the road called " Europe's most dangerous road" and it wasn't fun at all.
Gibraltar is English territory for some historical reason.
I'm glad I brought along some detailed maps, because there were almost no signs after Gibraltar. The first sign was 3 km before the border to Gibraltar, maybe the Spanish do not like having the English there. The story goes that the English only have Gibraltar as long as there is monkeys on the rock, so they treat them very well of course.
As mention before I passed the border to Gibraltar at 11,33 AM, and at the same time put an end to the race North Cape - Gibraltar.

I had 2 flats, and used 3 tires, the front tire was the same the whole way.
I had no accident with the bike whatsoever.




End of adventure





I hope someone will feel inspired and take up the challenge.
Records are mend to be broken.






Care to view all the pictures from the journey?

Click

HERE

.