Tuesday 9-7 - Day 00
Brisbane
I am now in Brisbane after a very long journey. In the flight from Sydney to Brisbane I saw the most beautiful deep blue ocean and a landscape with beautiful colors, mountains, rivers and even a few bushes that were on fire, the adventure is about to begin.

At Brisbane airport I was demanded to take everything out of my bicycle case. They were very careful and examined my bicycle for any dirt that could carry germs into the country. My rear mudguard didn't approve, and had to be brushed on the inside.

From the airport I took a taxi that drove me to the youth hostel I had booked from Denmark. It turned out they didn't have a room for me anyway, and the taxi driver was already gone. So I had to get another taxi that got me to the place where I am at now.

My bicycle case is rather heavy with its 32 kg. All my clothes and luggage is packed with the bicycle to protect It, so It would be rather annoying if I had to carry the box around. I assembled the bike and luckily It had not suffered any damage on the flights.

I asked at the hostel where the nearest supermarket were, and was warned not even to look at the Aboriginals that live as bums downtown. They advised me to completely ignore them, to avoid any trouble.

Tomorrow I will have to find a bicycle dealer, and buy some oil for my chain, the air flights do not allow aerosol on the planes, so I couldn't bring it with me from Denmark. Then I will take a little ride to see if everything is working okay. The ride could go up north on Bruce highway, so that I Thursday will be able to find the right way out of town in the dark.

It is now 8.30 PM and I had hoped to get some sleep, but it's difficult, because of the noise some people are making outside my door. They are all very nice people but they are certainly not quiet.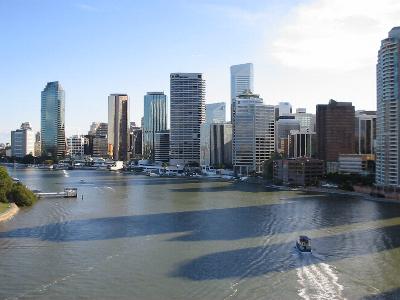 Brisbane River

Wednesday 10-7 - Day 0
Brisbane
It took me some time to get the Internet to work. I bought a prepaid internet pack but couldn't get It working. So I went down to the store and young sales assistant spend a good hour making It work. Afterwards he didn't want money for his trouble, as he said "It's service"

Then I went for the ride out on Bruce Highway, this is the road I will be following tomorrow morning and the next few days, 1385 km along the coast till I arrive at Townsville. Here I turn west towards Mt Isa and further on to Tree ways Roadhouse, about 1500 km away.

Bruce Highway has 2-4 tracks here at Brisbane in each direction with heavy traffic. Since I am starting out at 4.30 AM I hope there's less traffic.

I am ready, my bicycle is ready and my mind is set for the big challenge. I hope that is enough.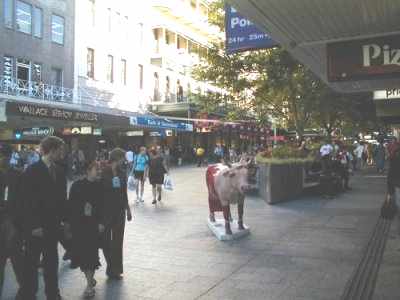 Brisbane

Thursday 11-7 - Day 1
Km: 312 - Km total: 312

Brisbane - Childers
I started out at 4.30 am. The first two hours were in the dark. The first hour I was still in the city and I had the street lamps, but later on It was all dark.

I didn't like the drive in the dark, because of the cars passing really close, and I had difficult seeing the road because of the oncoming cars headlights, which resulted in not seeing the holes in the road and trash that were spread on the shoulder.

I have seen two traffic killed kangaroos and some other animal that are no longer able to eat. Otherwise it's a very beautiful landscape around here.

The Australian truck drivers are just as crazy as the ones I meet in Canada and a few times the truck drivers has been so close they almost knocked me over. I don't intend to go through this trip if I have to put my life at risk. I will still carry on. Just not at night anymore, It is too dangerous with the inconsiderate truck drivers. Every time a truck comes by I have to get off the road.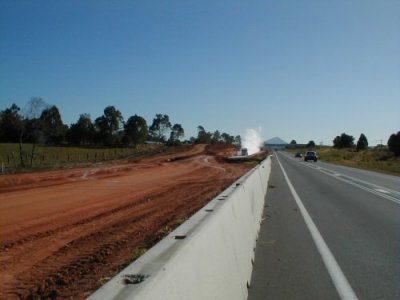 Roadwork

Friday 12-7 - Day 2
Km: 217 - Km total: 529

Childers - Calliope
I started out at 6 am from Childers. In 1,8 degree that later on became 21 - 23 degrees and sunshine. The day was pretty much like yesterday. The whole day has been calm.

It was a bit of a fight riding the 217 km I rode today. The first 100 km was hilly and with very uneven shoulders, but still I'm surprised that I was so marked of biking only 217 km.
After thinking about this some time, I came to the conclusion that I had not eaten correctly and I am now trying to get more energy. I hope tomorrow will be less painful then.

Tomorrow will be an easy day. To the next Roadhouse there is only 216 km away. Tomorrow I hope meeting Perry Stone, the man who has the world record, Around Australia with a car to follow. The record is 41 days and 5 minutes.

The entire day I have seen military cars on the road in southern direction, along with fields full of sugar canes. And I have also seen 14 traffic killed kangaroos on my side of the road and about the same amount on the other side.

The truck drivers have been nicer to me today, and there were only a few cases of harassment!. A few of the trucks with wide load were really close, but I think It was because of a moment's thoughtlessness.

I have been a little moody today because I have to stop riding at night, but still I feel It is the only right decision. Some places I have to ride at night, because of the great distances but It will be in more remote areas with much less traffic.

I am spending the night at Calliope.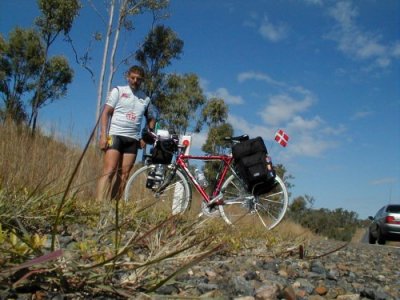 Break.

Saturday 13-7 - Day 3
Km. 218 - Km total 747

Calliope - Marlborough
I Slept 10 hours in a row, and I feel, that maybe that was the reason for my down trip yesterday. Not enough sleep and jet lag. Today was not nearly as hard as yesterday, even though I had two flat tires within 10 km!

I was an hour and a half late for my appointment with Perry Stone and therefore I didn't get to meet him.

I have given up counting traffic killed kangaroos, they just keep coming. I still have not seen a living kangaroo yet.

After Townsville I will try riding at night again. I count on less traffic in the outback, so I think I will be fine. Today we had 26 degrees in the shad. North of here It will probably be about 10 degrees hotter than here. Today I also passed the tropic area line, the area where the sun is right above our heads on December 21.

I do have some problems getting "real" food here. It has been a while since I was able to buy oatmeal, actually not since Brisbane. Mostly I eat Hamburgers. They are huge and probably healthier than the Danish hamburgers. They are filled with salad and tomatoes and no mustard or remolade. On a day like this I drink 3-4 liters of milk and 2-3 liters of coca cola, mixed with water.

When I was riding through Rockhamton I was stopped by a patrol car and asked to wear my helmet, which I of course then did. 10 km out of town It got too hot and I took It off again. 25 km out of town I passed a police car. The police car passed me again, and after about 200 meters It pulled in front of me with flashing lights. My first thought was "Don't they have anything else to do than harass cyclists who are not wearing a helmet". But then they turned around and chased a car driving the other way. Again I was lucky.

I am planning to get 10 hours of sleep tonight. My jet lag should hopefully be over then.

Staying the night at Marlborough, 105 km north of Rockhamton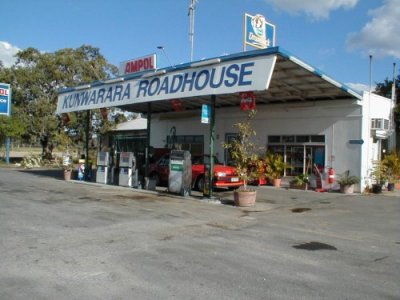 Here they sell burgers.

Sunday 14-7 - Day 4
Km: 229 - Km total: 976

Marlborough - Mackay
I started out at 6 am and It was still dark outside, but at 6.15 the daylight started coming. I had some trouble getting the Internet to work last night, and I made an agreement with the motel owner that I could try in the morning. Then I could pay the bill at 6 am when they opened. But when I was ready to go at 6 am everything was still dark and I just left a 1 dollar coin with the keys and drove off.

A half an hour after I started I saw my first kangaroo on the middle of the road. The kangaroo rumpled away with a few elegant jumps and that was that for today.

The roads today have been perfect with good shoulders and most of the time a flat country. These are the conditions that are good for fast riding, and I was prepared to ride many km, if It had not been for the head wind that worked its way up, and took over as the landscape changed from cattle fields with wood and bushes to an open landscape with fields of sugar canes.

The first 3 days It has almost been calm all the time, so I am still waiting for the legendary southern wind they say rule here.

I was also attacked by a Magpie. It attacked me 3 times before It let me go. I have seen lots of magpies on my way and It had crossed my mind why they never attacked me. They have a bad reputation when It comes to attacking people. I think It might be the Danish flag on my bicycle they don't like, but this bird was certainly not frightened by It.

I still see some military cars in southern direction, but not as many as I did before. I also see other animals than kangaroos killed in traffic. Many of them I don't know the names of. But I did recognize an owl and I also think I saw a Dingo, a small snake and maybe an eagle.

The temperature today reached 27 degrees and that's way enough for me. I hardly have any influence on the temperature and have to expect It will keep rising further north.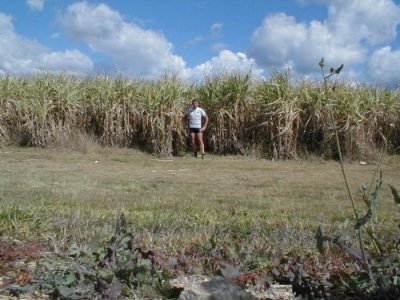 Sugar cane.

Monday 15-7 - Day 5
Km: 289 - Km total: 1.265

Mackay - Home hill
I started out at 5.30 am, so I was able to reach Home hill before nightfall, if the wind keep being in my favor. It was head-wind for the first 30 km and It was rather hilly too. I was not very positive at that moment, and was afraid I had to spend the night in Bowen only 189 km away.

But as the morning went by the wind changed for my advantages and the road became fine and flat. So I pulled on to get to Home Hill before dark.

I had just left Bowen and gotten the bike up in speed, ready for the last 100 km. Suddenly I heard a strange noise behind me, and when It was repeated I turned around to see what was going on. It turned out to be a police car, they wanted me to pull over.

I realized It was the helmet problem again and I counted on getting a reprimand from the officer. The officer had the opinion that this "crime" was so serious that It demanded a fine of $30. He told me that he only 3 weeks ago saw a guy getting killed because he was not wearing a helmet. And because of that he could not let me go without a fine, fair enough.

I made It to Home hill just before dark, even though the wind the last few hours became cross wind.
The first 130 km today went through sugar cane fields. There are networks of railway carriage that carry the canes to further development. The railway tracks are constantly crossing the road, the crossings are not very even and I have to slow down every time, and sometimes even stop, and pull over the tracks. The next 140 km were mostly cattle fields, but at the end It was sugar canes again.

Staying the night at Home hill, 100 km south of Townsville.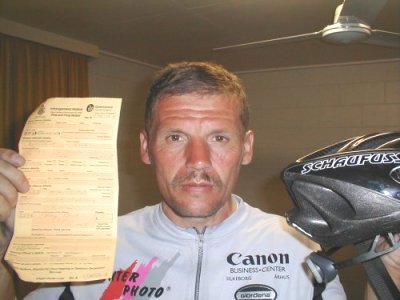 Remember the helmet!!!!

Tuesday 16-7 - Day 6
Km: 237 - Km total: 1.502

Homehill - Charters Tower
What a lousy day. It did start out positively three quarters of an hour before dawn. After 2 km I reached a long bridge I had to pass. On that bridge there were an iron grating, but I didn't see It before It was too late. I punctured my rear tire, and was not able to fix the tube again, so I put on a new tube.

After riding for another 20 km I had another puncture and fixed It. Now I thought It surly would last the next 70 km to Townsville where the nearest bicycle dealer was located. I thought wrong, after only 30 km I had another puncture, and my mood was certainly at a low-point. This time I found a microscopic stone, and removed It.

I finally reached Townsville and bought some tubes and tires, but time was running and I wanted to reach Charters Tower before evening, and the town was still 133 km away. So I set out of Townsville in a fast mode. The landscape was hilly and with head wind, so I had to work hard to make It.

After 15 km I passed a Japanese guy who was heading towards Darwin on a mountain bike loaded with stuff. He had some trouble keeping up the speed in the head wind and was hardly riding more than 15 km/hour. I could not wait for that and said goodbye. After 500 meters I unbelievable had another flat tire, this time on the front wheel, and the Japanese went by. When I had fixed the tire I passed the Japanese guy again and prayed that I would not have another flat tire, so that the Japanese had to pass me once more. He would probably die laughing. Luckily no more flat tires for today.
The last 50 km the wind turned to my advantage and I reached Charters Tower before evening.

The traffic is getting less and this is a really nice change. I saw some parrots with the most beautiful colors. There was a time I was heading in the same direction as a whole flock of parrots. They were all around me, It was a really fun and amazing experience.

The picture shows the water level in 1946 was up to 21.79 meters. Isn't that amazing?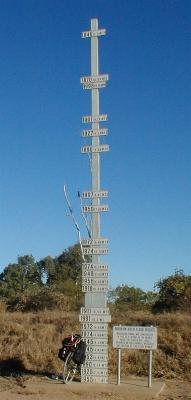 Water marker, the highest 21,79 meters.

Wednesday 17-7 - Day 7
Km: 252 - Km total: 1.754

Charters Tower - Hughenden
I started out an hour before dawn and the ride went pretty good since the traffics not so heavy anymore. The roads are of various quality, most of them are narrow and with no shoulder. Because of the much lighter traffic a Road-train and a cyclist are able to pass each other, but a car and a Road-train and a cyclist is too much, and guess who has to leave the road then. The shoulders I think, has a great deal of the blame for all my flat tires because of all the pebbles.

The last few days the wind has been very changing. In the middle of the day I rode for a half an hour without even seeing a car.. Pretty nice.

I ordered a hamburger in Torrens Creek Hotel. It took them 40 min to make It, and I who was in a hurry!
Many creeks around here have formidable names like Deadmans Creek, Skull Creek and Skeleton Creek. Today the temperature reached 26 degrees, and there is winter here. Imagine the summertime!!!

I will try to reach Julia Creek tomorrow.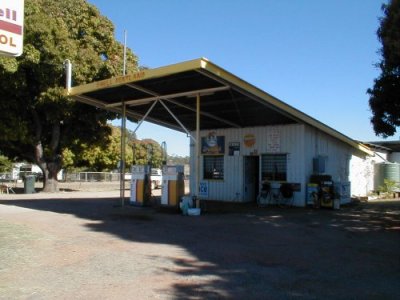 Pentlands store.

Thursday 18-7 - Day 8
Km: 268 - Km total: 2.022

Hughenden - Julia Creek
As usually I started out at 5.30 am. After 66 km I noticed an Emu about 20 meters from me. It followed me for a while and then I started speeding up to give It a change to back out. But It also speeded up and just kept following me until I slowed down and then he crossed the road in front of me, and took off. Funny enough, I have now tried to race with an Emu.

At 212 km I saw another 5 Emus about 200 meters from the road. I stopped and tried to take a picture with my zoom camera but they took off and before I got the picture taken they were about 300 meters away.

I am now in Julia Creek after a pretty easy day. I have had tail wind the entire day and arrived at 4 p.m. The next overnight accommodation was 135 km ahead, so I had to stop here for the night. I asked for a room at the Motel but everything was taken so I drove through the city to the Shell Roadhouse. They didn't have any rooms available either, but recommended a Caravan park with small cabins.

Here the owner clamed $61 for a room without a shower and no toilet. I asked them if there was another Motel in town. She called the Motel I already had been at, and luckily they just had a cancellation and I got the room.

The landscape has been flat and without trees all day. I was happy for the tail wind because head wind in this situation would have been terrible. The temperature was about 27 degrees.

As I said before this was a pretty easy day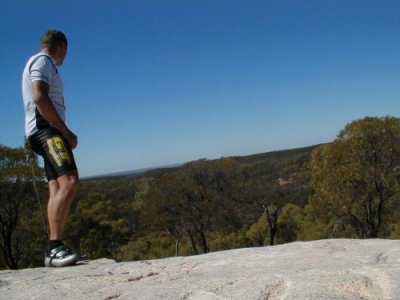 Viewpoint at Great Dividing Range.

Friday 19-7 - Day 9
Km: 262 - Km total: 2.284

Julia Creek - Mount Isa
I left Julia Creek at 5.30 am. It was starry outside. Luckily I didn't meet any cattle in the dark, but later on I saw a few traffic killed ones. Within 7 km I saw 5 cows, a wild boar, and 2 kangaroos on the side of the road smelling pretty bad. The picture shows that Dingoes are not well liked and the farmers probably get money killing the dingoes. In the dark I saw a dingo eating of a kangaroo on the road. I got surprised and took a turn with the bike, but It just kept eating.

After 9 days on the road I have only meet one cyclist, the Japanese guy. That is probably why the cattle always get frightened when I pass them, they are not used to seeing people on a bike.

The landscape has changed from open and flat to bushes and mountains since Cloncurry. I am impressed off Australia, it's so beautiful and different from Denmark, and the mountains are fantastic. I see now incredible amounts of traffic killed animals, which also means the most awful smell is following me.

Tomorrow is going to be a pretty easy day. I only have to ride to Camooweal 188 km away, after that I have 261 km to Barkly Roadhouse. Flinters Highway has been the name of the road since Townsville, but it's now called Barkly Highway.

The temperatures today reached 26 degrees. I had a flat tire 15 km before I reached MT Isa.
.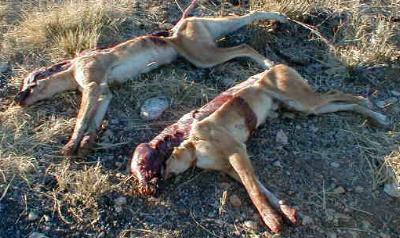 Killed Dingoes.

Saturday 20-7 - Day 10
Km: 192 - Km total: 2.476

Mount Isa - Camooweal
I started out a half an hour later than normal, because this was going to be an easy day. I planned to take It easy and take some photos on my way. After 60 km the road got narrowed down, so that two cars had to have half of their wheels out in the dirt. I also had to drive into the dirt when Road-train appears. About 70 km passed by like this, but I didn't have huge problems because the traffic was light, and the Road-train only appeared about once an hour.

At a time a waterspout was under development about 100 meters to my right. Little bushes raised and branches were cut of trees. I thought It had the same direction as me so I started speeding up, but It stopped again.

Then I had ANOTHER flat tire and at this time It is not at all funny anymore. The tire was pretty used up so I changed It out with a new one. This was the beginning of a disaster. Maybe It was because of wear and tear or maybe I tightened It too hard, but the hub that is supposed to tighten the wheel became over screwed, so I could not tighten the wheel again.

I had to ride carefully the next 20 km ahead to Camooweal, where I started looking for a nut and asked in all the stores but without any luck.
One even closed up his store to look in the back. In the meantime the customers just had to wait. I was out of ideas and went into the bar at the hotel I stayed at and asked around, if anyone might have the nut I needed. A man was sure he had one at home and took the hub with him to test It out.

At this very moment I am still waiting for the man to come back.

The temperature reached 29 degrees. I always carry a thermometer to make sure whether I am allowed to sweet or not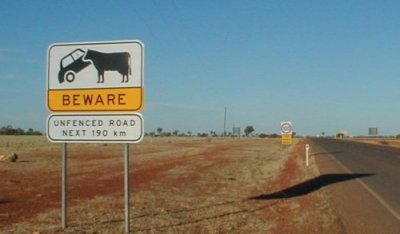 Cows do also get hurt.

Sunday 21-7 - Day 11
Km: 0 - Km total: 2.476

Camooweal
I waited the entire night in vain. My thought was that "Maybe now I lost the hub too". The next morning the hotel and the bar were closed. I walked around the city to wait for the bartender or the nut guy. I was afraid I had to hitchhike back to Mt Isa. There was a bicycle store and maybe they had a new hub or else my only chance was Darwin and if that became the case, trying to set a record was over.
At 10.30 am, I packed my stuff and waited outside the hotel. The bartender showed up and asked me about the problems I had the day before.
At my worst fear the bartender didn't know who the man was. He had the idea that It was one of the tourists staying at the shell Roadhouse in the other end of town.
Now I was really in trouble. The man had probably left town already, but I tried to reach him at the Roadhouse, and luckily on my way I met him. He was just on his way to give me the nut that fit the hub. He had found It on a refrigerator. Now the wheel is on, and I'm back in the race.
I have to wait until tomorrow because It is impossible for me to ride the 262 km to Barkly before evening. This has turned into an unwillingly day off, but still I am relieved that the hub story only cost me a day.
I will use the rest of the day to wash some clothes.
A little bit about Camooweal:
Is about 13 km from the border to Northern Territory. Population 360. Contains a museum, 2 service stations and a very limited sale of goods, a hotel and a motel. No one has a phone that is able to send emails. The nearest civilization is 190 km away in Mt Isa and there is 262 km to Barkly Homestead.
Nothing ever happens here!
Found on the internet:
Camooweal!

There's no way to avoid CAMOOWEAL but you might wish there were; the township's atmosphere of lazy aggression is exacerbated by a total lack of charm.

The highway from Mount Isa forms the main street, built in 1944 by American servicemen whose names are painted on a rock at the edge of town. You'll find a roadhouse, mechanic, general store (and Westpac agent), post office and hotel - a risky place for a last drink in Queensland.

The store's old decor is worth a peek, and murals at the service station (with EFTPOS; tel 07/4748 2155) should raise a chuckle; around the back are cabins and a campsite with thick grass to raise a tent over. Otherwise, move on.

The best features of the surrounding area are dolomite sinks known as the Caves; drive 8km down the Urandangie road south of Camooweal, then turn left and follow the dirt track for about thirty minutes. There's an NPWS campsite here with toilets and a fence to keep out marauding cattle. Flocks of gibbering green budgerigars congregate around the creek and, if you can put up with their racket, it's preferable to a night in town.
On my way many people honk the horn just for a friendly gesture. A train also honked at me and once even the well known five time honk. From Charters Tower to Hughenden a tourist threw water in my face an early morning. I have no idea what that was all about, as he drove about 100 km an hour the water hit me hard and didn't do me any good.
The Road-trains often transport cattle's. The cattle's carried in two decks, and mostly there's 3 trailers.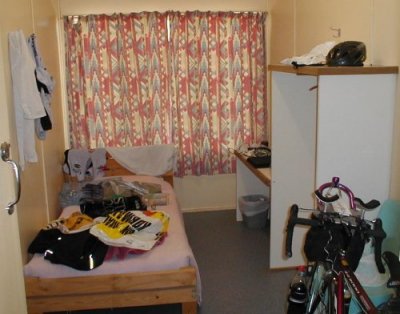 My room in Camooweal.

Monday 22-7 - Day 12
Km: 264 - Km total: 2.740

Camooweal - Barkly Homestead
I am now at Barkly Homestead. Here is nothing but a service station with a motel and a restaurant. It's very expensive, $75 for a room without a phone or TV, but It did have a shower and a toilet.

The day has been hot with 29 degrees and tail wind. I met another cyclist riding from Darwin to Cains. He had a two wheel trailer loaded with stuff. He was not in a hurry and had a lot of formidable stories to tell about cyclists and snakes. He said that we are in an area with a lot of pythons, but I am yet to meet one.

I saw a few 2-3 meter high termitaries on my way. Also some live kangaroos, but not so many traffic killed as before.

I am now in Northern Territory

I made a new plan for the next 14 days. I have 3257 km to Sandfire Roadhouse. That will hopefully get me through the worst heat. I will have both short and long days to make It to the next overnight accommodation. The shortest will be 131 km and the longest 295. My average will then be 231 km including my famous 0 km day in Camooweal. It is easy to plan, yes. But to carry It out is another case. The heat worries me some.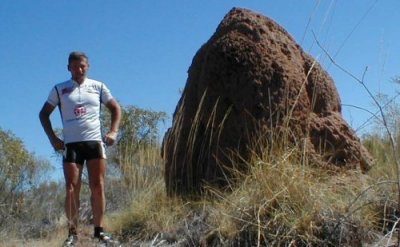 It's bigger than me.

Tuesday 23-7 - Day 13
Km: 190 - Km total: 2.930

Barkly Homestead - Tree ways
A short but still a hot day. 30 degrees. It is not possible to buy bread here because they want people to eat at the restaurant. It's not good for me, because I have to buy some food to eat tomorrow while on the road. I guess It has to be hotdogs and such, bought the night before.

I hope to reach Elliot tomorrow evening, the first town since Camooweal. I expect they have some proper food there. Today two people stopped and asked me if I was all right and offered me water. I was not in trouble but It is comforting to know that somebody cares.

Tomorrow and the next 5 days I should also be able to buy something to drink while on my way, a luxury I have been missing the last few days. Tomorrow I will start the 1000 km up to Darwin along Stuart highway.

In the twilight a Shell Road-train with 4 trailers came in. That is a really long vehicle.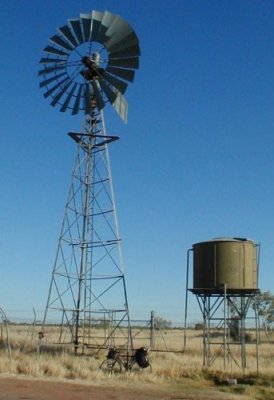 Windmill gets water to the travelers.


Wednesday 24-7 - Day 14
Km: 230 - Km total: 3.160

Tree Ways - Elliot
The temperature peaked at 31 degrees and the landscape was with more threes than before. It is still not possible to send an Email but I will try again tomorrow in Larrimah. All the inhabitants here are aboriginal except in the stores were only white people work.

I'm planning to buy a few tires and have something done with my hub when arriving to the bike shop in Katherine. It's annoying riding with something that is only half done. Unfortunate my 0 km day in Camooweal also resulted in me not getting to Darwin before Saturday afternoon after hours. I heard they have a good bicycle store there.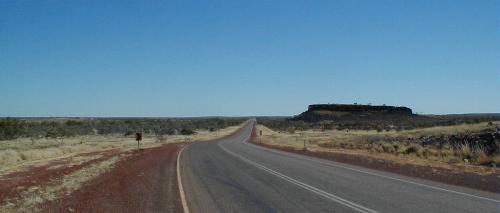 Just before Renner Springs

Thursday 25-7 - Day 15
Km: 241 - Km total: 3.401

Elliot - Larrimah
I am staying at Larrimah hotel-wayside in or also called the historic pub. It has a lot of names but It is the same place. This pub is the bottom of everything concerning quality. They say It is a historic pub, but I am sure that in the old world they appreciated things that worked. That is certainly not the case here. The men's bathroom had two showers but only one of them worked. The toilet didn't work either and I had to go to the ladies room. Everything is falling apart here.

I have not experienced a whole lot today. The temperature reached 32 degrees and the threes are getting bigger. It is actually possible to get some shad sometimes now. The air is fresher, because the amount of traffic killed animals are fewer than before.

I have realized that riding without a helmet is not so smart in the heat, It made my head swim and I am now riding with my helmet on. Tomorrow I will try to pour water in my hair and then put my helmet on. I hope that will keep me cool for a while.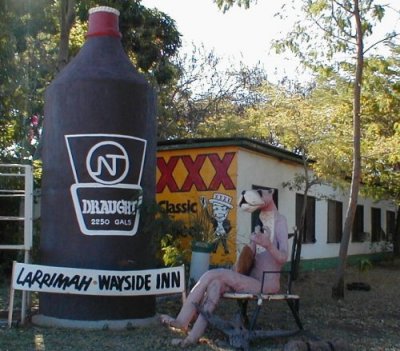 Larrimah Inn.

Friday 26-7 - Day 16
Km: 280 - Km total: 3.681

Larrimah - Pine Creek
I started out at 4 am, early to reach Katherine. I wanted to find the bicycle store and find a place to send my emails from. I arrived at the bicycle store at 12 am after 189 km. The sales assistant was a disappointment but he did have a new hub for me. I was not completely sure that they fit and the sales assistant would not let me try them on my bike before I bought them so I had to buy them. I could not risk not buying them.

After a few visits on Internet cafe's I finally found a place to send my emails from. I will come back here again in two days when I return from Darwin, and before I turn west.

I am staying for the night at Pine Creek Roadhouse, $25, it's just a container without anything than a bed, but fine for me. I had hoped for a little luxury after several nights in unpleasant beds, but $71 a night at a motel was too much for me.

The winter peaked at 32 degrees. About 20 km before Pine Creek I took a brake by a three with enough shad for me to get some strength and to drink some of my almost boiling water. Some road workers passed by and asked about my health. I told them that I was ok, but my water was rather hot. One of the guys jumped out of the car and gave me a bottle of ice water. That was really nice, cold water quench one's thirst much better than hot. Funny enough one of the guys used to be married to a Danish girl so we also talked a little Danish.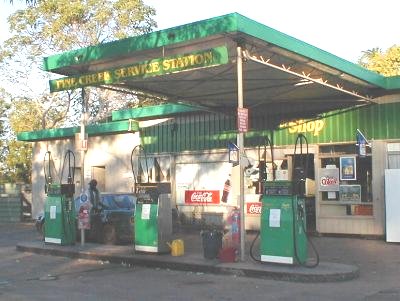 Pine Creek Roadhouse.

Saturday 27-7 - Day 17
Km: 234 - Km total: 3.915

Pine Creek - coolalinka
I took off at 5 am in the moon light, on rather uneven roads to begin with. About 10 km before Hayes Creek was a 7-8 km detour with some very uneven dirt track. Very annoying because It was still dark, and I couldn't see the holes so well. Tomorrow I will have to ride the same detour, when the trip goes back to Katherine.

About 10 km before Adelaide River I observed some big strange rocks 100 meters ahead. Suddenly the rocks raised their heads and It turned out to be buffaloes. I was really curious about what would happen when I passed by, only 10 meters away. The rumor say's that Buffaloes are very unpredictable but fortunately they just stood and starred at me.

When I arrived at Noonama I had planned to book a room for the night and then ride the last 42 km up to Darwin and back again. In spite of a sign saying "Noonama Hotel" It was not possible to stay the night there, apparently the hotel didn't exist. So I had to continue and I then booked a cabin in coolalinka about 25 km south of Darwin. I rode the last km to the Darwin sign, took a few pictures and went back to my cabin.

I didn't have the energy to go downtown Darwin. The towns do not interest me and the temperatures peaked at 33 degrees.

The landscape has changed to a more green and tropic area with palm trees and the leaves on the threes are thicker and give the cyclists more shad. The wildlife has changed too. Here I think about the birds. I don't know their names, but they are very pretty. The termitary is seen in heights up to 4-5 meters. I am longing to be going west because the traffic is annoying here. This road, Katherine-Darwin, is the highway in Northern Territory, with most traffic.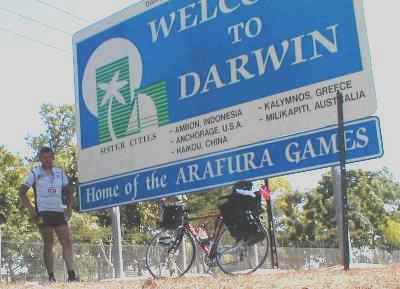 Arrived at "THE TOP END" Darwin in 33 degrees.

Sunday 28-7 - Day 18
Km: 294 - Km total: 4.209

Coolalinka - Katherine
I has been a rough day. The last 155 km I had strong head-wind. I started out at 4 am. I meet an Australian cyclist that also wanted to ride around Australia. But he was using a year on the project. After Hayes Creek I passed two German cyclists, they didn't go for any record, and had lots of time.

After a few km the annoying detour came to me again. I was not able to ride faster than ordinary walking tempo. A truck sprayed water on the road, to keep the road from dusting.

When I finally was past the 8.4 km detour the German cyclist came through the blocked road....That meant that I have been riding 8.4 km in vain..SHIT.

When I arrived at Pine Creek I pulled over to gather some energy and get some food and a little rest. But there still remained 90 km, so off again. The head wind was still a pain, and the temperature reached 33 degrees, so It was a big struggle to reach Katherine. I hope to have enough energy tomorrow, for the 283 km. to Timber creek.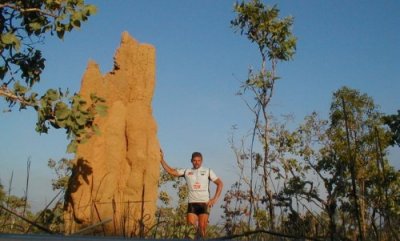 Termite.

Monday 29-7 - Day 19
Km: 200 - Km total: 4.409

Katherine - Victoria River
I started out at 4.30 am on my weak legs, but after a while It got better and I started having optimistic thoughts about the day.

When I passed the 100 km everything was going ok even though I could still feel the pain in my legs from yesterday.

At 125 km It went slower and slower and at 150 km I realized that my body could not handle It. I was dizzy, feeling ill and tired as hell. I had to realize that I would have a hard time just reaching Victoria River at about 200 km.
It is annoying because I will lose a whole day compared to my plan. I took an extra long break by a three to get through It and get some rest. It did help a little but after a few km I knew that the battle was over. Irritating because the temperature today was only 29 degrees.

I saw a very big pelican in the bushes that tried to be invisible, plus some kangaroos running across the road. The road to Katherine - Kununura is named Victoria Highway.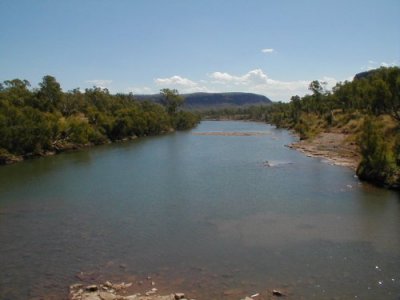 Victoria River.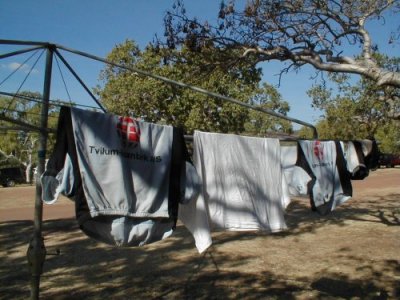 Laundry time.

Tuesday 30-7 - Day 20
Km: 92 - Km total: 4.501

Victoria River - Timber Creek
I started out at dawn and I think It is the first time on my trip I started out this late, but I only had to ride the 92 km to Timber creek. But having a half day off is maybe not so bad at all!

I saw a few kangaroos, and two wild boars in the bushes. The landscape is very beautiful with small mountains. The road follow some kind of valley, probably made by Victoria River centuries ago.

Timber Creek had a supermarket and I could buy some bread. This is normally not possible at the Roadhouses because they want people to buy food in their restaurant. Most of the time It is not possible to get the food that are fit for at cyclist but this time I was lucky.

Tomorrow the trip goes to Kununura 228 km ahead. This is the biggest town in days, almost 4000 inhabitants. Tomorrow will also be the day I cross the border to Western Australia. There it's banned to import fruit and dairy products. I can expect to be supervised.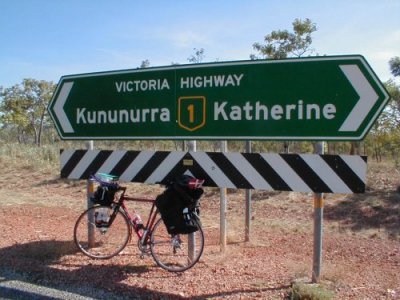 Just before Timber Creek.

Wednesday 31-7 - Day 21
Km: 232 - Km total: 4.733

Timber Creek - Kununura
I rode 2 hours in the moonlight to arrive in good time to Kununura. It is the last big town in a long time, and I found a place to send Email from. The landscape has been varied with bush land, wood, mountains and plains. Some places they have great Boab threes, and lots of cattle.

Western Australia is the territory I will pass through for the next 5200 km or so. The next week or two, I will ride in very waste areas and my Email delivering will surely not be regular. The temperature stayed at 29 degrees today, 4 degrees below the Darwin area.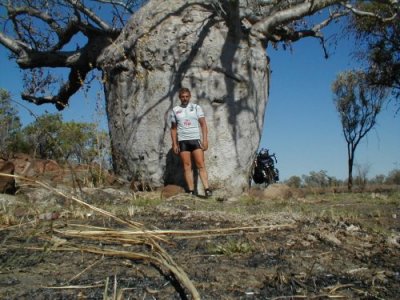 Boab tree.

Thursday 1-8 - Day 22
Km: 198 - Km total: 4.931

Kununura - Turkey Creek
I started out at 6.30 am ,Queensland time. The time I have been following the whole trip. The time changed ˝ an hour when I arrived at Northern Territory and is now changing another 1˝ hour. That will be 2 hour all together. After WA time the time is now 4.30 am.

I had to put on long pants because It was a very cold morning. After 45 km I saw a sign saying Wynham 56 km ahead, and no signs for Halls Creek. "Did I take a wrong turn this morning in the dark?". I stopped at a picnic area and asked one of the local for the road to Halls Creek. luckily I was on the right way, and he told me that only 500 meters ahead came the turnoff.

Great Northern Highway is the name of the road the next 1500 km. Unfortunately I got the head-wind for the rest of the day, but since the temperature didn't go higher than 29 degrees It was ok. After 80 km Dunham river came and I stopped at the picnic area to get some water. There were no water tank, but luckily a campist gave me some.

After 105 km the big surprise of the day came. A brand new Roadhouse had opened only 3 weeks ago between Kununura and Turkey Creek. I got some cold water there. Suddenly a campist yelled for me to come over. He had filmed me when they passed me on the road and he wanted me to see It.

I am now riding in an area called The Kimberleys a mountain area about ten times bigger than Denmark, and with only 25.000 inhabitants. Most of them live in the few towns in the area. The area is larger than the Australian state of Victoria, and includes the Great Sandy Desert. The remoteness of this region is emphasized by the fact that it has fewer people per kilometer than almost anywhere else on Earth. It's unbelievable beautiful with lots of hills.

Today I saw 3 waterspouts close to the road. They appear out of the blue and disappear just as fast again. 80% of the bushes have been burned and some still have smoke coming from them.

I am now in Warmun or Turkey Creek as It was called until the area was given back to the Aboriginals. The Roadhouse which is the only building is still named Turkey Creek Roadhouse though. It is very expensive, I had the choice between living with 8 other people for $20 or pay $80 for a motel. It was not a choice for me because I have to get some sleep.

The rumor says that in Fitzroy Crossing It is not possible to get a room under the amount of $100. I am looking forward to getting to a place with a little competition between the motels.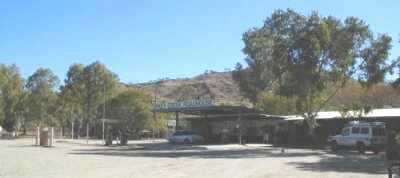 Turkey Creek Roadhouse.

Friday 2-8 - Day 23
Km: 166 - Km total: 5.097

Turkey Creek - Halls Creek
Today's distance had many hills and head-wind. I saw some very big kangaroos and the usual cattle. Today was also the day I meet the first river running over the road. It was not very dangerous because the water hardly was more than 2 cm deep. I don't understand where all the water comes from because most of the other rivers are more or less dried out.

I have been on my bike for 23 days now, almost without a cloud, I'm looking forward see some clouds once in a while. I arrived early to Halls Creek and washed some clothes. I went to an Internet café to read my emails, but It was not possible to send any emails from my laptop.

I have been planning this trip for the last 2 years and I have always considered the distance "Halls Creek - Fitzroy Crossing" as the biggest challenge. The temperature hardly ever gets below 30 degrees and with no possibilities to sit under a tree for shad. A distance that has to be planned.

I will start out early morning to ride farest possible before the heat sets in. I plan to ask some campist if they are going the same way tomorrow, and if they are, would they hand me some bottles when they pass by. I am staying in another container. $22 for a room without a cushion but with a sheet. $51 for the last 2 days in average is ok.

Halls Creek is bigger than I had expected with a few stores and even a tourist agency, but they didn't know a place where I could send my Email from....

I got some campists from Melbourne to give me the bottles of water tomorrow when they pass me. They will arrive around 1 PM, so that's just perfect. I gave them 6 bottles to hand over, so I should be safe.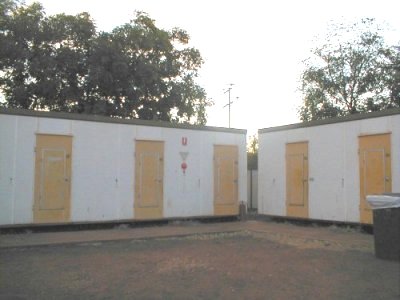 I live in the corner.

Saturday 3-8 - Day 24
Km: 295 - Km total: 5.392

Halls Creek - Fitzroy Crossing
I started out at 4 am, three and a half hour before sunrise. The first 30 - 40 km I could hear many kangaroos running away in the grass and some crossing the road. Suddenly a kangaroo came rumpling so close that I thought we were going to crash, and at the same time I heard another kangaroo behind me on the road. It was almost too exiting and could go wrong, so after that experience I started ringing my bell every 30-40 meters or so, to let them know that something was coming. At dawn I started speeding up. Head wind the first 100 km and after that tailwind.

After 214 km the campists arrived with my water, but I'm not sure I needed It at all, because I have been riding so far before the heat became a problem. Today the temperature only reached 31 degrees. Twice during the night I rode over some big rocks that normally would give me a flat tire, but I was lucky and nothing happened.

I wasn't feeling safe and was glad to get a room out of town even though It was expensive. The town was run out of bread so I have to live on cookies and cakes till I reach the next town.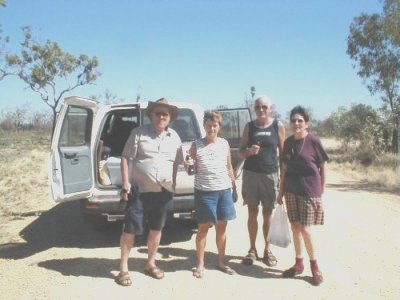 My water supplier from Melbourne.

Sunday 4-8 - Day 25
Km: 234 - Km total: 5.626

Fitzroy Crossing - Willare Roadhouse
I started out at 5.15 am. I have no help from the moon anymore, its only half now. As yesterday I saw allot of shooting stars. After 10 km I could still see the lights from Fitzroy Crossing. That says something about how flat and tree less this area is. The first hour I had the road to myself. Then a truck came and ruined everything.

I rang my bell to warn the animals, but I am not sure there were any kangaroos here at all, at least I didn't see or hear them. Today I have mostly had crosswind but also head and tail wind. The temperature peaked at 33 degrees. I had to take a 6 km detour in the worst heat. It was a dirt track and the biking went so slow that the flies were all over my face. I could not get rid of them because I had to have both hand on my handlebar to keep my balance in the sand.

Willare Roadhouse had a tent to $35 and I took It. The Roadhouse luckily sells bread. Tomorrow the distance is only 132 km to Roebuck Roadhouse. The day after tomorrow I have a distance of 286 km to Sandfire.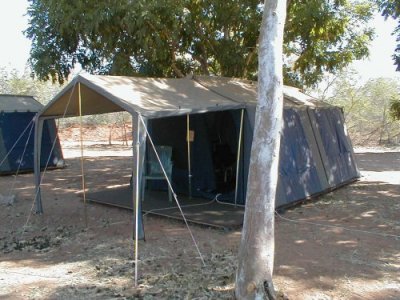 Tent camp, 35 dollar Willare Roadhouse.

Monday 5-8 - Day 26
Km: 132 - Km total: 5.758

Willare Roadhouse - Roebuck Roadhouse
I passed 4 bridges right after I left from Willare Roadhouse. They took me across rivers all containing water. I also heard pottering in the bushes along the road but I just kept ringing the bell, and saw no animals in the dark. Some cattle ran along the way to get away from me but in the end they realized that the only way to get rid of me was to disappear in to the bushes. I arrived at Roebuck Roadhouse at noon and got another container for the amount of $50. I used the free time I have today to wash my clothes.

I am now 34 km away from Broome and the Indian ocean, so I have been putting some km behind me since Brisbane. Tomorrow I will start out at 3.30 am because of the heat. I don't feel good when the temperature reaches 30 degrees and above. It's not because I like riding at night, but rather the night than the heat.

I called Sandfire Roadhouse to make sure they had a room for me. "No worries" they told me, so I am counting on that. The next few days I ride through "Great Sandy Desert" that should be exiting.

Today I also killed my back tire because It was worn out. It has done well too, 4150 km without a flat. Michelin Dynamic 700x23 is the name of the tire, I hope to buy one just the same later.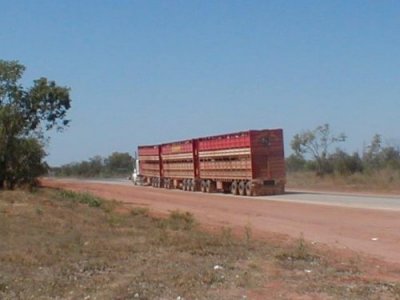 Road-train with cattle.

Tuesday 6-8 - Day 27
Km: 291 - Km total: 6.049

Roebuck Roadhouse - Sandfire Roadhouse
At 3.45 am It was starry outside. I didn't see any animals this night. At 66 km I could still see the light from Broome town. After 117 km a little fruit stand appeared and I bought and ate a Rockmellon.

At 200 km I stopped to eat some honey and marmalade sandwiches. Then a man came and I had a little chat with him. He told me that this property was a faction under a million acres, and that It stretched from about 40 km back to Roebuck and all the way to Sandfire, 80-90 km ahead, and from the ocean and about 30 or 40 km in the country. The property is owned by a company.

Today's ride had lots of side wind and head wind some places. 32 degrees in the shadow which was not to be found. This distance is one of the most poisoning distances yet, and thank God I only have to ride It once.

Sandfire Roadhouse is a dirty place with a camel and 10-12 peacocks taking a dump all over the place. The people are very nice and easy to talk to. I got a container for the amount of $35 including a coke and 2 sandwiches. I did have to chase a lizard out of my room before I could be alone. I am glad that this is the dry season, because the roof does not seem to waterproof.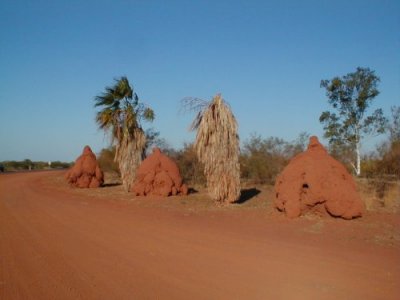 Entrance at Sandfire Roadhouse.

Wednesday 7-8 - Day 28
Km: 291 - Km total: 6.340

Sandfire Roadhouse - South Hedland
In the morning I had the experience to see allot of cockroaches running around. I'm glad I didn't see those before I went to sleep. Sandfire Roadhouse had almost everything you can desire.

At 4.30 am I started out. I met cattle a couple of times in the dark. Pardoo Roadhouse at 139 km, it's nice to have a stop on my way again.

33 degrees today and tail wind. Just before Port Hedland a truck stopped. It turned out to be a Danish person seeing my flag, this is the first time in 28 day I have talked Danish. Rode to Hedland and after riding around for a while I found a caravan park with a free cabin.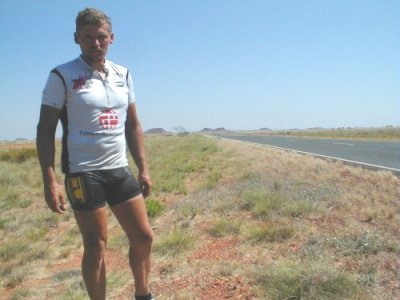 Great Sandy Dessert.

Thursday 8-8 - Day 29
Km: 231 - Km total: 6.571

South Hedland - Karratha
I am now at a backpackers place and have to share a room with another guy. I hope to get some sleep. Tail wind most of the day. The temperature reached 33 degrees. The name of the road is now North West Coastal Highway.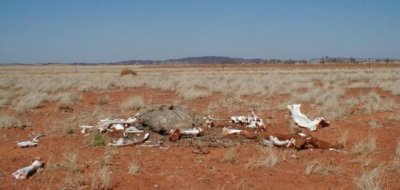 Cattle bones.

Friday 9-8 - Day 30
Km: 195 + 80km. by car. - Km total: 6.766

Karratha - Nanutarra
The race Around Australia is over!
Unfortunately this was the last day I used to set a record. I had to get some help the last 80 km to Nanutarra Roadhouse. Not because of the heat, as a matter of fact It was only 29 degrees. And not because of the head-wind or the hills. But simply because of a physical and probably also a mental breakdown has been on its way for a few days. Together with being amazingly tired the last few days and not feeling on top I had to give up trying to reach Nanutarra.
The main reason I think is too bad food for too long. As mention before many Roadhouses have very limited food selection in the stores.
I know I disappoint a lot of people, but no one is hardly as disappointed as me.. All the days and nights seem to be for nothing.
I have at this moment not yet planned what is going to happen next. I probably continue riding as planned, but at a slower pace, and then maybe cut a corner or two on the way. If this is the case I will still keep my dairy up to date.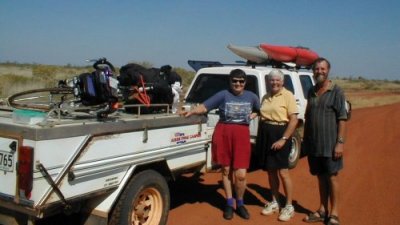 The end of record attempt.

Saturday 10-8 - Day 31
Km: 22 km +ca. 600 with Road-train - Km total: 7.388

Nanutarra - Rest area
I started out at dawn. No need to start out at night anymore.

After 22 km a Road-train stopped. I asked for a lift to Carnavon a town a little bigger than usual. He was going to Perth and had the opinion that I might as well go with him all the way, so I did.

His name was Russel, 32 years. He came from Karratha with empty trailers and was heading home to Perth. The Road-train was 53 meters long and with tree trailers. After a few hours we arrived at a truck area mend to gather the Road-trains on. He wanted one of the trailers on the other one because It would be cheaper in gas that way. It took about an hour and a half.

Russel told me that he probably killed 1 or 2 kangaroos on each trip. Once he killed 14 on a single trip with the Road-train. Below one of the trailers we also found a part belonging to a kangaroo. The kangaroos are not to be trusted and It is impossible to avoid running them over. As the dark came I could see for myself that the kangaroos keep running where ever they felt like. If the truck drivers had to slow down each time they would never get anywhere.

What really surprised me was the winds impact on the Road-train. In head wind Russel was not able to drive more than 90 km/hour: he normally drives 110 km/hour. It is really exiting to ride in these monsters and hear the truck drivers talk over the phone.

On our way we also came through an area with wild goats in an enormous number. Russel have never killed a goat by running It over, because they are too smart, and run away. Even though a Road-train is impressing to look at, the room for the driver is not bigger than in a small car. Around 9 PM we stopped at a picnic area to get some sleep.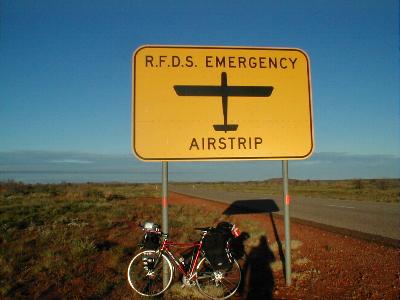 Royal Flying Doctor Service.

Sunday 11-8 - Day 32
Km: Ca. 600 km with Road-train - Km total: 7.988

Rest-area - Midland
Last night Russel heard a strange noise from the motor and checked It out at dawn. It turned out that the propel was cracked almost all the way around. We drove carefully to the nearest town and had It fixed. It took a few hours.

The landscape is mostly farming, with tomatoes, wine and banana trees in between. I am now on a Caravan park in Midland outside Perth. Tomorrow I will take the train into Perth, and try to send my emails and maybe getting my camera fixed. I dropped It when I was helping Russel with the trailer.

I plan to ride down to the southern corner and follow the route as planned. I will take my time seeing whatever may seem interesting. I will still send my emails, but the picture situation is kind of critical at the moment.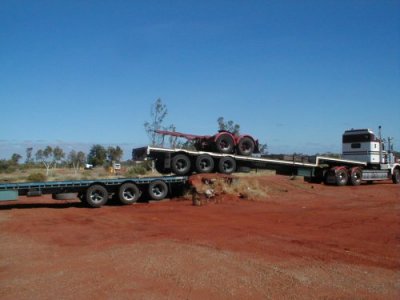 Shifting the wagons around.

Monday 12-8 - Day 33
Km. 0 - Km total 7.988

Midland - Perth - Midland
I arrived to Perth after riding with both bus and train. I left my small coins at the cabin and when I gave the Bus driver a 50 dollar bill he could not change. He claimed that he had never seen a 50 dollar bill before. At the end he let me go for free.

In Perth It was not possible to get my camera fixed and on top of It they meant that is was too expensive to get It fixed. I had to take a deep breath and buy me a new one. So now I can send pictures home again.

Even though I visited about 15 Internet cafés, computer stores, hotels and even a tourist agency, It was not possible to use my laptop and get on the Internet. I can't believe It is so difficult to send an Email. The last time I send one was from a Caravan park on a chair. It is unbelievable that a town like Perth don't have that kind of service.

I am back in Midland and ready to ride tomorrow.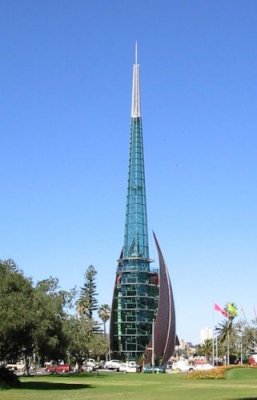 Bell tower (The Swan) in Perth.

Tuesday 13-8 - Day 34
Km. 97 - Km total 8.085

Midland - Pinjarra
It was cold again this night. I totally forgot to tell about the huge temperature changes I had to deal with since I arrived in Perth. Yesterday It was 2 degrees at dawn and 18 in the afternoon. Actually it's the best weather to bike in, but these cabins are not isolated and there is no heat in them. The temperature is about 8 or 9 degrees in the room when I wake up.

The first 40 km there were two lanes with lots of traffic. But It luckily got less later on. The landscape reminds me of England with green fields and cows. It is so much different than up north.

I have rented a room at a pub in Pinjarra. The pub is called Exchange Hotel and they charge $25 a night. The owner is a very nice guy and let me send my emails from his office. He didn't even want money for It.

I am following the South Western Highway to Bunbury and will then rejoin the highway 1 again. I only drink a quarter off what I used to up north. The towns are situated close, and buying only the water I need at the moment is pure luxury.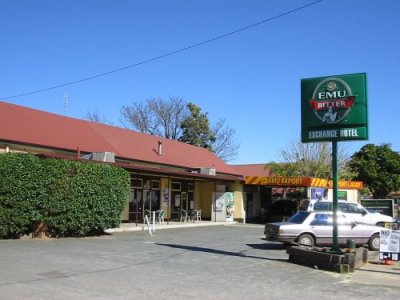 Exchange Hotel, 25 dollar for a good room.

Wednesday 14-8 - Day 35
Km: 186 - Km total 8.271

Pinjarra - Bridgetown
The first 100 km reminded me of Denmark with lots of cattle's. I am staying the night on a Hotel in Bridgetown for the amount of $45 including breakfast.

Even though the landscape is beautiful I am already beginning to miss the wilderness and the great distances between seeing a car. After a few days I think It will be wilderness again.

I plan to visit The valley of the Giants by Walepole close to the southern ocean. They should have the biggest trees in Australia. They also have a Tree top walk, which is a 600 meter long bridge, up to 40 meters above the ground. To see this I only have to ride 10 or 15 km off the road, and I feel It would be stupid not to take the detour.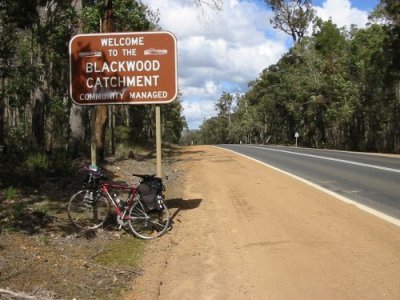 The trees are getting bigger.

Thursday 15-8 - Day 36
Km: 158 - Km total 8.429

Bridgetown - Walpole
I started out with some strange weather, RAIN for the first time. Right outside the town Manjimup, Diamond Forest started. About 10 km later the Diamond tree lookout appeared, a 52 meter tall tree with a platform on top of It. I didn't think It looked too safe and stayed on the ground.

The rest of the ride the trees gradually became bigger and bigger. But they are supposed to be bigger yet in The valley of the Giants. My map told me that between Manjimup and Walpole a small town should appear. But my map was wrong, so for the first time I run out of water, and had to beg some from a passing car.

I am staying at Walpole, and got at a room for $35 with heat and washing facilities. That was just what I needed as I was soaked from the rain that followed me all day. It's a very nice room and everything works.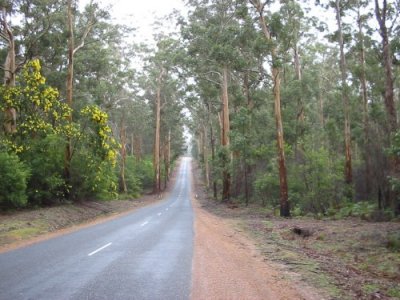 South Forest.

Friday 16-8 - Day 37
Km: 132 - Km total: 8.561

Walpole - Albany
After 15 km the road to The Valley of the Giants appeared and I saw the trees. Sure they were big but not as impressing big as I had expected. The trees are named Karri and Tinkle. They should be related to, I think, the eucalyptus trees.

When I arrived to the Tree-walk, I had to wait an hour and a half for them to open. It was raining and I didn't feel like waiting, so I pulled on.

When I arrived to Denmark the rain suddenly stopped and the sun started to shine. It's a pretty town with a lot of small stores. I tried to find some Danish cooking but didn't succeed.

14 km after Denmark an alternative road to Albany appeared. On that road I came through a town called Bornholm, that's the name of an island in Denmark, so I felt almost at home. There were only a few houses, but anyway.

I'm in Albany now on the White Star Hotel, It have seen better days, but still ok. Albany is supposed to be the oldest town in West Australian.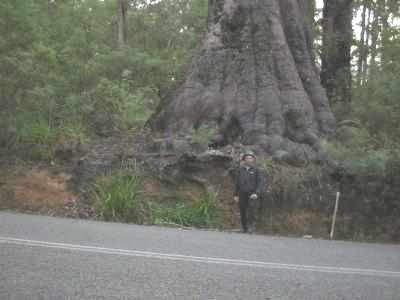 Valley of the giants.

Saturday 17-8 - Day 38
Km: 182 - Km total: 8.743

Albany - Jerramungup
At the hotel there was a lot of noise because someone was having a party. At 4 am they were finally quiet.

The next 4 days they had promised a lot of sun and heat, but I woke up to rain again, and It lasted all day. I have met some Tree Farms on my way but mostly fields with corn, sheep's and cattle's.

At about 165 km I noticed a kangaroo hopping the same way as me about 20 meters away from the road. He did see me but he just kept hopping in the same direction as me. After 300 meters finally he stopped and looked after me.

I am at a motel now for the amount of $45. Luckily here in the south, there's heat in the rooms. Because of the rain I didn't take any photos. I would have taken several pictures but my camera hates rain. I have just heard the weather report for tomorrow, Sun like today...hmm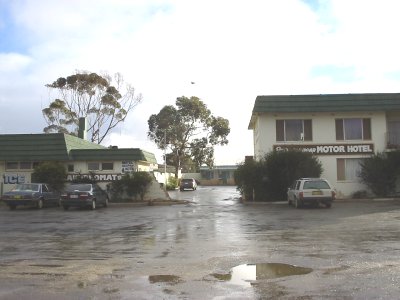 Here I live.

Sunday 18-8 - Day 39
Km: 116 - Km total: 8.859

Jerramungup - Ravensthorpe
As promised we had a lot of sun. I haven't seen any cattle's today but lots of sheep.

Ravensthorpe is big enough for 2 gas stations. It does not seem to be a million dollar business though. I am staying at Palace Hotel in the middle of the town. $22 for a room. There were some noise from the bar and I hope they remember its Sunday and they have to get up early at work tomorrow.

Since north of Perth It has not been allowed with Road-trains, but after Jerramungup they have started driving again.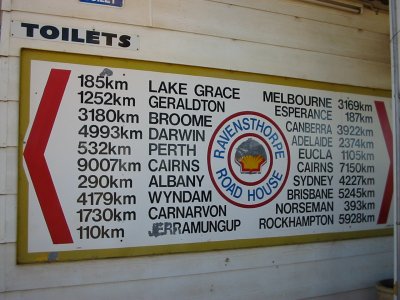 Distance in Ravensthorpe.

Monday 19-8 - Day 40
Km: 183 - Km total: 9.042

Ravensthorpe - Gibson Soak Hotel
I started out half an hour before sun rise, not because I was in a hurry, but because I was ready to go. It was cold to begin with, but soon the sun came and heated things up.

Today I saw 2 new animals. A fox and a rabbit. They are both hunting objects from the 18 century, and now a part of the Australian wildlife I have been attacked 3 times today by magpies, on a 20 km distance. I haven't been attacked since the east-coast, so It a bit surprising.

I stopped by Munglinup Roadhouse after 82 km. The owner was a funny person. I asked him for some cake and all of a sudden he went into his private resident and came back with a big cake. It was then up to me to decide the size of the piece. I also asked for bananas and back to the private resident again to get some bananas. It was a fun experience and I kind of regretted later on, that I didn't buy more cake, as It turned out to be very good.

At 160 km the road for Gibson arrived. It is a shortcut that cuts 30 km out of the route. It was a peaceful road and paved too, I didn't meet any cars on my way to Gibson. Gibson Soak Hotel is not a real hotel, more like a motel, and they charged $35 a night, that's cheap compared to other rooms of the same standard.

They also had a General Store which is one of the worst stores I have ever seen. It was not easy to find anything for the ride tomorrow, luckily I only have 75-80 km to Salmon gum. They should have better stores I hope.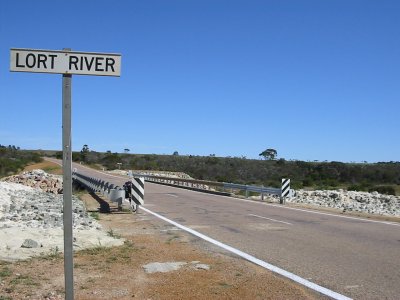 In Danish this means Shit River.

Tuesday 20-8 - Day 41
Km: 181 - Km total: 9.223

Gibson Soak Hotel - Norseman
Off at dawn. The road was good to start with, but became rough later on. Sunny and calm weather.

At 73 km I stopped to eat and drink a little. When I started out again I noticed the rear wheel drags on the brakes. A closer investigation showed that a spoke had pulled itself through the rim. This was serious and could not be fixed, so I adjusted the other spokes so I hopefully could make It to Norseman 110 km away.

I made It to Norseman, but the wheel was beginning to drag the brakes again, and another spoke was on the way through the rim. I have to get a new rim somehow, but Albany is 700 km away, and there is about 1200 km to Ceduna. I had hoped to cross the Nullarbor on Bike, but now It seemed impossible. I will try to work something out in the morning.

Today I saw 3 Emus, and for the first time some road killed ones.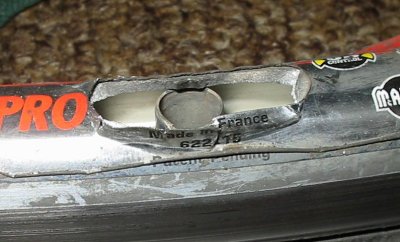 Here was a spoke.

Wednesday 21-8 - Day 42
Km: 0 - Km total: 9.223

Norseman
In the morning I meet tree Australian bikers who had stayed at the same motel as I, and now were setting out to cross the Nullarbor. One of them were wearing a jersey from Team Fakta in Denmark, my bikeklub back home, but had no relations to Denmark at all, funny.
One hour later 2 other Australians was setting out to go east. I had a little chat with them, and they could tell that op north, in Kalgoorlie, were 2 bike shops and they even had the phone number. I called up there at 8 o'clock, and yes, they had a rim of my type, so 10 minutes later I was standing by the road with my wheel trying to get a lift.
After only 5 minutes I was lucky, and got a lift in a station wagon, and I could get a lift back again if I was ready 3 hours later. I was hoping the bike shop could have It fixed by that time, and I was lucky again. So I was already back in Norseman 14.38.
Yes, I'm back in business again, and will start out in the morning.
About Norseman
The gold mining town of Norseman is Western Australia's "Golden Gate to The Western State". NORSEMAN was named after a prospector's horse which kicked up a large nugget in 1894 - a real case of lucky horseshoes; a bronze statue of the creature now stands proudly on the corner of Roberts and Ramsay streets.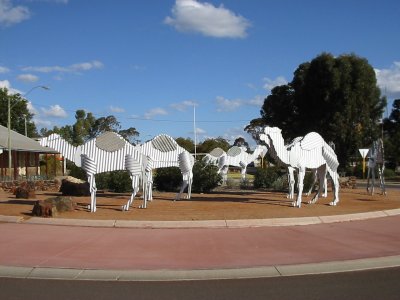 Roundabout in Norseman.

Thursday 22-8 - Day 43
Km: 193 - Km total: 9.416

Norseman - Balladonia
The first 10 km of the Eyre Highway I saw 2 Emus and 2 kangaroos running across the road. A sign warned me against camels, Emus and kangaroos on the road for the next 150 km. The landscape is filled with bushes and trees, as a matter of fact 10 meter tall trees. I feel good in this kind of landscape even though I do miss the termitarys.
A strong head-wind today, but fortunately also big tress, so not so bad. For the first time I saw a Wombat, unfortunately killed in traffic.
Balladonia became world famous in 1979 when part of the US Spaceship Skylab fell down here. They have a little museum with parts of Skylab. President Carter called Balladonia Roadhouse to apologize the incident.
There is a poem about Skylab.
Skylab Speaking.

Balladonia here I come,
far from where I started from...
Traveling ever speedier
to avoid the media.

Far from the curious populations,
journalists and TV stations...
Somewhere - nowhere to descend
at my epic journey's end

I've picked out an empty space,
where I see no human face...
Simple scientific me
I abhor publicity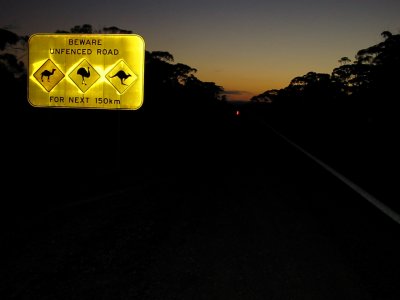 Early morning 10 km from Norseman.

Friday 23-8 - Day 44
Km: 184 - Km total: 9.600

Balladonia - Caiguna Roadhouse
I started out at 6 am as usual. A very strong head-wind was blowing today. At about 106 km I passed Barbara and Paul, the two that gave me the number for a bicycle dealer. I had expected to meet them around Balladonia, because they didn't want to ride more than 100 km a day, but somehow they got this far. They have given up reaching Caiguna today because of the strong head-wind and were going to camp a bit further ahead.

I reached Caiguna, 2 - 3 hours later than if there had been no wind, beaten for the day. I got a budget room for $55.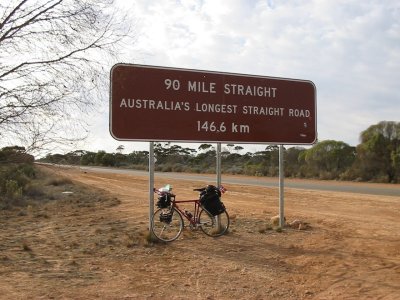 Nullarbor.

Saturday 24-8 - Day 45
Km: 159 - Km total: 9.759

Caiguna Roadhouse - Madura
The wind is almost storming, and still right in the head so I had a very tough time just to keep the bike rolling at 16-18 km an hour.

Apparently allot of people are riding between Perth and Sydney. I met 2 right before Madura and they could tell me about 3 further on, and apparently It was not the 3 I meet in Norseman. When I stopped at Cocklebiddy a car driver told me that I had 2 more cyclists behind me. All together that is 13 bikers heading east.

The weather the last 5 winters have been very dry here, and because of that they are in need of water. Some Roadhouses even have signs saying "No rain = No bloody Water". They only have water for those who stay for the night.

The time changed 45 minutes right outside Caiguna. That is the only place in Western Australia they have their own time before the border to South Australia.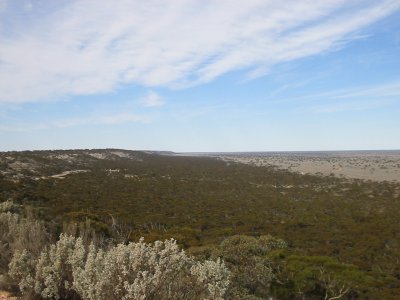 Madura is hidden down here.

Sunday 25-8 - Day 46
Km: 116 - Km total: 9.875

Madura - Mundrabilla Motel
Still very strong head-wind, so my knees and legs are sore. The landscape is flat and almost tree less, and it's now possible to see allot of live kangaroos along the roads. There's also plenty of traffic killed kangaroos by the road, and many birds are eating off the dead kangaroos.

Sometimes also the birds get killed, because they don't move away fast enough, when a car is passing by. Today I have seen 4 Wedge tailed eagles road killed. I have not seen any camels yet but it's also a rare sight I believe.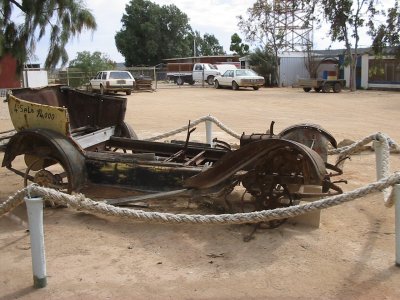 4000 dollar is the price for this car.

Monday 26-8 - Day 47
Km: 80 - Km total: 9.955

Mundrabilla Motel - Border Village
By Eucla a steep hill appeared with a nice view over the sea. Tomorrow the road follows the sea, and if I'm lucky I will see whales swimming around.

I am now in southern Australia at the Roadhouse Border Village. They have strangely enough their very own time here. They use 3 different times, and since I still ride after Queensland time, a 4th time, I was happy to discover they had 24 hours service.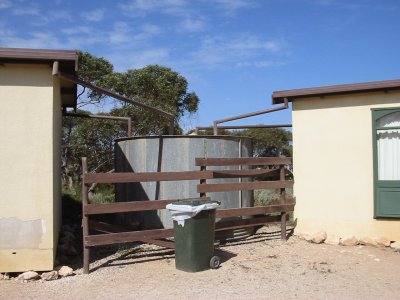 Rainwater is gathered allover Australia, here at Border Village.

Tuesday 27-8 - Day 48
Km: 187 - Km total: 10.142

Border Village - Nullarbor Roadhouse
Unfortunately I didn't spot any whales today. Actually I saw almost no animals at all After 5 days of strong head-wind, a strong tailwind was blowing me ahead today.

I arrived to Nullarbor Roadhouse about 2 PM and called Yalata Roadhouse 93 km ahead to reserve a room for the night. But everything was full and I had to stay at the Nullarbor Roadhouse, watching the good tailwind passing by. The 3 cyclists I met in Norseman, one of them in a Fakta jersey arrived tonight, they had stayed last night at Eucla.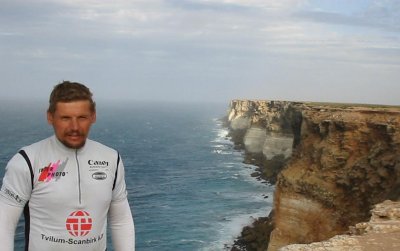 Australia's coastline to the south.

Wednesday 28-8 - Day 49
Km: 226 - Km total: 10.368

Nullarbor Roadhouse - Penong
Today I saw only 3 dead animals. I think that southern Australia must be collecting the dead animals often, because no old road kills are to be seen.

At Yalata Roadhouse which is owned by Aboriginals, a few fields began showing. It's now again possible to buy ordinary food. In Penong they had a general store with limited selection.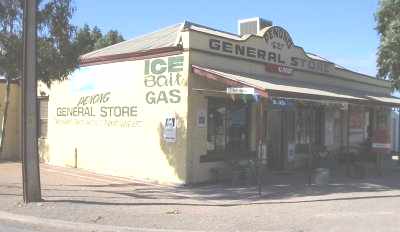 After 7 Days it's possible to by bread again.

Thursday 29-8 - Day 50
Km: 218 - Km total: 10.586

Penong - Poochera
I arrived to Ceduna after being checked for bringing fruit and stuff into the rest of southern Australia.

When I arrived to Poochea about 4.30 PM the hotel manager told me that everything was taken. The next stop was 70 km ahead but fortunately she checked the books again, and found a room for me. I just had to wait 10 minutes, so they could clean the room. It didn't include shifting the sheets, I discovered later on.

I have now finished riding over Nullarbor which is considered to be the hardest part of Australia. I don't agree at all, here the longest distance between the Roadhouses were only 191 km. In the north there were several areas with up to 300 km between the Roadhouses, and more road trains too.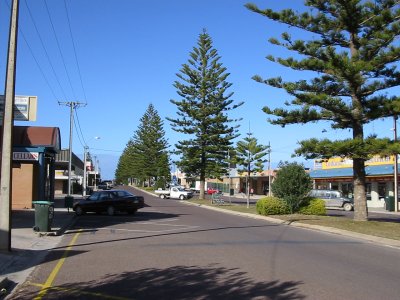 Nice main street in Ceduna.

Friday 30-8 - Day 51
Km: 176 - Km total: 10.762

Poochera - Kimba
In Australia they do allot to animate people to take a break from driving. Several signs say "Don't drive tired" and " Sleepy? take a break" and similar signs.

In Southern Australia they put up posts where an accident occurred. A black post with a cross means that the person was killed immediately and a black with a red square means that the person was alive but died later on. A red post mens that the person was injured.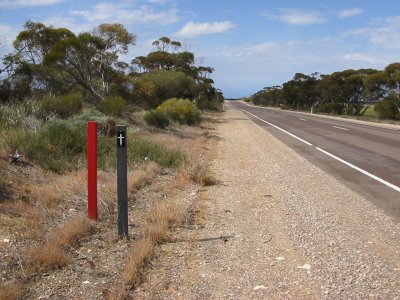 Poster shows that here was one killed and one injured in a car accident.

Saturday 31-8 - Day 52
Km: 160 - Km total: 10.922

Kimba - Port Augusta
At Port Augusta I was attacked by a very angry magpie as I crossed a road. The car drivers had their fun seeing me fighting the beast.

During breeding season Magpies (especially males) fiercely defend their nest and territories by basically dive bombing any perceived threat whether in the air on the ground including humans, sometimes resulting in a jab to the back of the head, or at the very least a huge fright.
They prefer to wait until the quarry is not looking, so often the first you know of it is when wings are beating beside your ears.

I expected the town to be bigger with more stores, but they did have a god tourist office.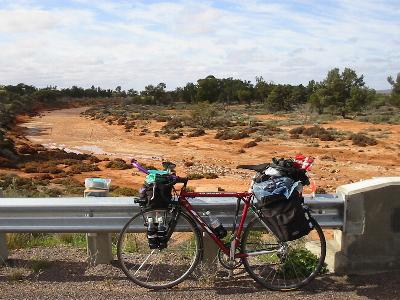 Dry River.

Sunday 1-9 - Day 53
Km: 214 - Km total: 11.136

Port Augusta - Port Wakefield
The landscape here is mostly farming. I also passed Snowtown which have a sad murder case to talk about. 11 bodies was found, some in a bankbox not used anymore. For those who have Internet access, try searching for Snowtown and you can get the whole story.

Tomorrow I am heading for Adelaide. I have now ridden about 10.000 km on highways. I have decided to take the train from Adelaide to Sydney because of the traffic down south. From there I will ride the 1000 km up to Brisbane on small roads if possible.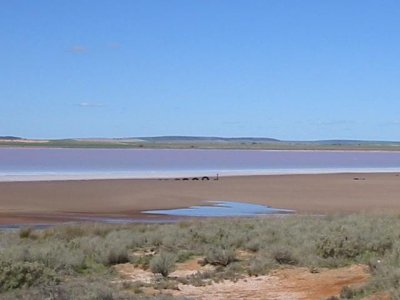 Monster at Lock-eel.

Monday 2-9 - Day 54
Km: 101 - Km total: 11.237

Port Wakefield - Adelaide
Today the distance was only 100 km but I got up early anyway. I tried to be quit and tried not to wake up the others, but I failed when I used the toaster. The smoke alarm started, and even though I opening the door, It kept going. At the end I had to take a chair and take out the batteries, but anyone was hardly sleeping at that time.

Nice weather to Adelaide were I got a room for $45 including breakfast. I also got a ticket for the train to Sydney at a tourist office.

I have not been shaved since I left Denmark, so I stopped by the nearest hairdresser. He wanted $4 and I had to wait a half an hour. I didn't feel like waiting and looked around for another one. I found one and he took care of It for free.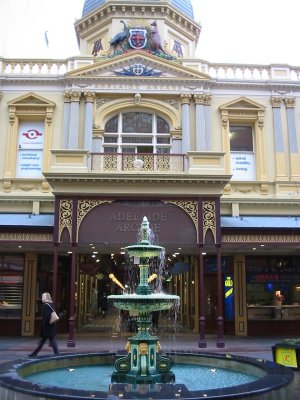 There are many beautiful buildings in Adelaide.

Tuesday 3-9 - Day 55
Km: 0 - Km total: 11.237

Adelaide
I am still wearing my bicycle shorts and people can't help staring at me. They obviously think It is weird.... Until I noticed that I had a big hole in the back. I went back to the hotel and put another pair on but that didn't help much.

Adelaide is filled with shops and cafés. The city is nice and clean and they have something I miss in Denmark...they have benches all over the place.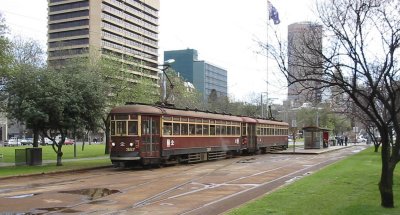 Still driving trolleys in Adelaide.

Wednesday 4-9 - Day 56
Km: 800 - Km total: 12.037

Adelaide - Sydney on train
I think I saw a burglar early this morning. When I passed the TV room everything was opened, but I have a "date" with a train to Sydney and I will let the hotel take care of It.

The train was an hour late, I think It was engine problems. We stopped at Broken Hills, a mining town. The town had 22 hotels we were told, so It was pretty big.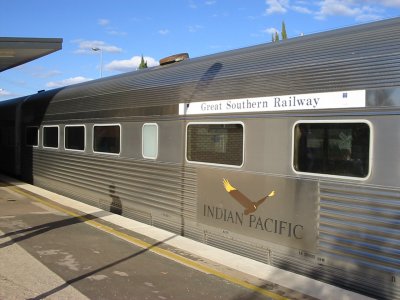 I traveled with Indian Pacific Railways.

Thursday 5-9 - Day 57
Km: 809 - Km total: 12.846

Adelaide - Sydney on train
After arriving to Sydney I headed for the tourist office. On my way I saw the Opera house along with allot of sky scrapers.

I had to pay $83 for a room at the Aaron's hotel, and that was supposed to be cheap...

Sydney is filled with Chinese people and the rumor goes that many are here illegal.


Friday 6-9 - Day 58
Km: 0 - Km total: 12.846

Sydney
Last night a friend of mine came and showed me some of the city. Among many things we saw Sydney Tower 250 meter above the street. We also saw the city by night which is an amazing sight. Thank you for a very nice day LARS....

Today I have played tourist and tomorrow I will start heading north towards Brisbane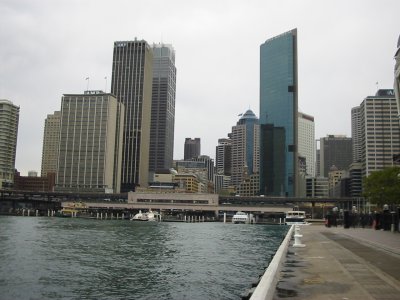 Skyline Sydney.

Saturday 7-9 - Day 59
Km: 108 - Km total: 12.954

Sydney - Lake Munmora
I took city rail to Hornsby to avoid the heavy traffic in the center. From Hornsby to Gosford I rode on the old Pacific highway to avoid the traffic on the freeway. It was a beautiful area with big trees. I saw lots of bicyclist that spend the Saturday to exercise a little. From the Hawkesbury River to Mount White I rode with
Andy Ryan
, a serious biker, taking me over some severe hills.
I had been warned about the possibilities to get a room in the weekends just outside Sydney, as many of the City folks are fleeing to the countryside in the weekends. I was lucky and got a room.
Clear weather and 28 degree.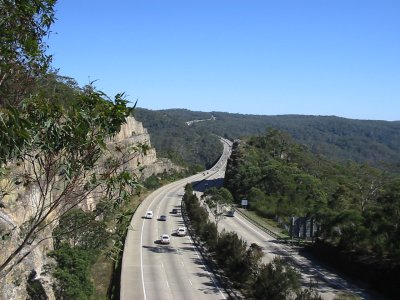 Freeway cuts through the Mountains.

Sunday 8-9 - Day 60
Km: 139 - Km total: 13.093

Lake Munmora - Bulahdelah
The magpies were upset today, so I did as an Australian guy advised me and put a couple of "eyes" on the back of my helmet and they stopped attacking me that day. The same guy told me that they didn't attack people that live in the area. That explains why they apparently only attack me....

I stopped at "Ayers Rock", a restaurant shaped as Ayers Rock. They actually had closed but I could get in and notice that the place was completely empty.

Nice weather and 23 degrees.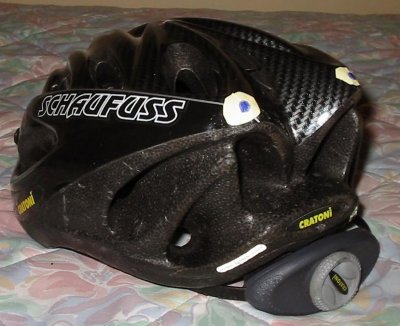 Evil eyes on my helmet.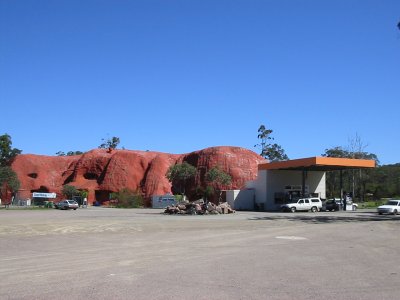 A Restaurant shaped as Ayers Rock.

Monday 9-9 - Day 61
Km: 161 - Km total: 13.254

Bulahdelah - Port Macquarie
After 110 km I turned from Pacific Highway and took the Ocean route the last 50 km to Port Macquarie. A beautiful route with lots of water and houses.

I have seen several signs with koala bears by the road. But I have not seen a live one yet.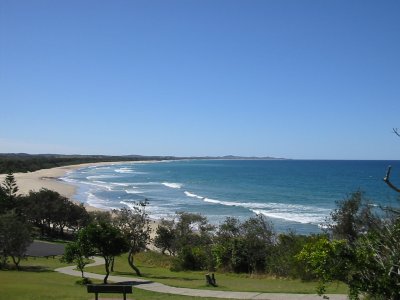 Pacific Ocean at Bonny Hills.

Tuesday 10-9 - Day 62
Km: 114 - Km total: 13.368

Port Macquaria - Nambucca Heads
Sunny and 22 degrees today.

My "magpie eyes" are obviously not evil enough because a real set of magpie eyes followed me closely today.

A big advantages by the east coast are the many motels at the cities. I like the competition and the fairly cheap prices.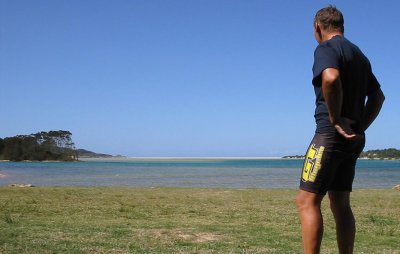 Lookout at Nambucca Heads.

Wednesday 11-9 - Day 63
Km: 137 - Km total: 13.505

Nambucca Heads - Grafton
Right outside Coffs Harbors I turned down to the sea and placed my bike at a rock, and took a picture of It. With my luck a big wave came and washed the bike.

Banana fields on my way, I also passed a sign that warned about wild horses.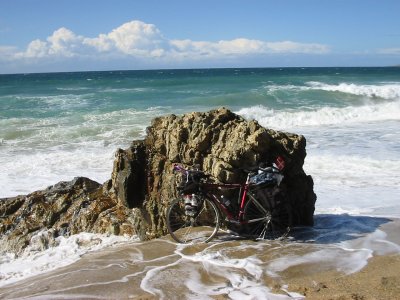 Pacific bike washing.

Thursday 12-9 - Day 64
Km: 135 - Km total: 13.640

Grafton - Ballina
The road has been following a river the entire day = no hills, and the days chore was done before dinner.

Ballina was partly closed even though It was Thursday, because of the big event of the year, Ballina cup. Half the stores in town had decided to close, so they could join the fun.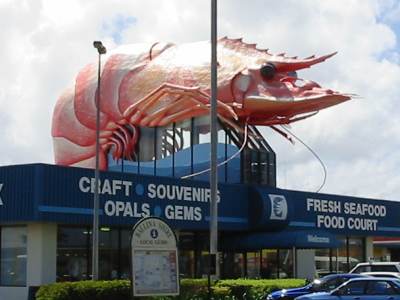 A huge shrimp at Ballina.

Friday 13-9 - Day 65
Km: 111 - Km total: 13.751

Ballina - Miami Beach
After 54 km the small road turned into a freeway = four tracks and a 2 meter shoulder, which was very nice. The freeway passed a small tunnel, the first I have seen in Australia. It is legal to ride here, they have a big shoulder just for bicycles.

The gold coast is a real tourist area, with tall hotels along the coast, and I was a little worried about the price level. But It was possible to get a room for $45 only 100 meters from the beach, I think maybe it's because it's apparently is out off season now.

My motel is 150 meters from a McDonalds, so I might probably stop by there also. The gold coast is about 50 km long and has cities and hotels all the way. I have passed an area called Palm Beach and I am now staying in a section called Miami Beach.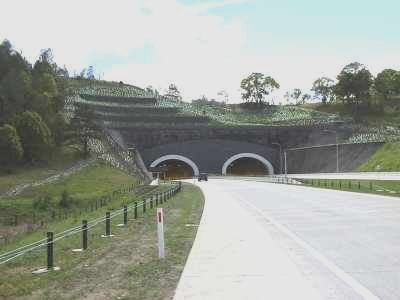 Tunnel on the freeway, notice the good shoulder.

Saturday 14-9 - Day 66
Km: 68 - Km total: 13.819

Miami Beach - Brisbane
I was not allowed to ride a bicycle on the Motorway, so I got a lift on a car with a trailer, that took me 20 km down the road till I was allowed to bike again, about 25 km from Brisbane.
I found a smaller road and the rest of the trip went fine.

I am at a cheap motel in the center of Brisbane. Unfortunately I paid for the room before I saw It. It was dirty and filled with bugs. The cupboard has a hole from a shotgun but I guess I have to deal with that for the cheap price.

Roundtrip Australia has ended. I didn't break any records, but riding the 11.106 km through an amazing continent was worth It. The north of Australia made the biggest impression on me, with its wild landscape.

The distance Darwin - Port Hedland was really exiting, not least the hours at night is very clear to me. I still remember the smell of cattle and the sound of kangaroos in the night.




The trip has ended and my Australian adventure is over. The bike now takes a break and I am just waiting for the plane ride home.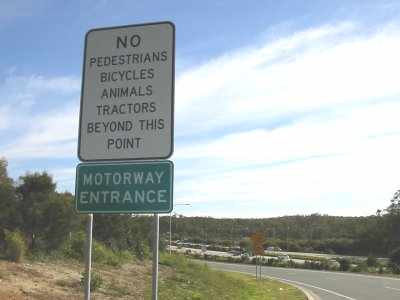 Bikers not allowed.
End of Adventure
Care to view all the pictures from the journey?
Click
HERE
.