Diary


Day 1. 140 km

From Faarvang to Esbjerg and the England ferry.
Rain and headwind. The ship departed a ½ hour late because of engine trouble. While I was waiting on the ship, I spotted another Biker who hurried to the ticket office, and a moment later came disappointed out again. Bad luck having to wait for 2 days until the next ferry is sailing. I meet 2 English girls who had been biking in Denmark and Norway, they were now heading for their home in the south of England. I was lucky having a room for myself, so I had a good night's sleep .


Day 2 98 km

Had a nice and steady trip, and the ferry arrived on schedule at Parkeston harbor, after 18 hours of sailing. Started off against Cambridge at 13,30 in hot and dry weather. I drove the rest of the day on small, cozy and not very hilly roads. The English are very helpful telling me the way, sometimes too helpful, they explain the way so far away that I can't keep remembering it. I had permission to tent for the night at some farm buildings I think belongs to an Estate, anyway there was some very huge machinery there. Driving in the "Wrong" side off the road is not so bad after a couple of hours, their double roundabouts though I haven't yet learned to like. A lot of Rabbits are running around in this part of England, and many lays on the road, victims of the traffic.


Day 3 220 km

The traffic is very heavy, even on the smaller roads. Once I rode on an ordinary highway with 3 lanes in each direction with very heavy traffic, this was not funny, I felt like the trucks were driving my socks off. I have put up my tent for the night in the Sherwood Forest, at least I think so, I'm not sure where it starts and end. Today I asked a women for the direction to a village nearby, but she knew nothing about it, Her 10 year old son though, had heard of someone who had been in that town once, and pointed in the direction I just came from!!! I found the town myself, and measured the distance to 7,5 km, I still can't understand it's possible to know so little about one's own part of the country.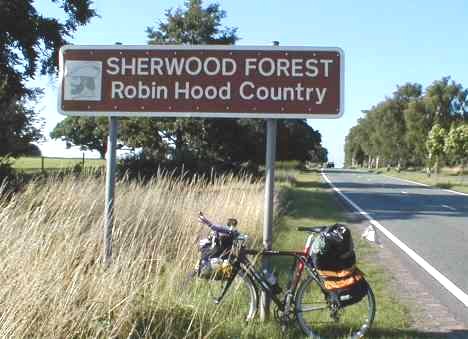 From here there was 10-15 km to the forest



Day 4 127 km

I decided to change my route and give up biking to Scotland as planned, I can always tickle the Loch Ness monster some other time. I decided this because I had to follow the big roads to make it and that would be very unpleasant because of the heavy traffic. I have bought a very detailed map so that I can bike on all the smallest roads for the rest of the trip. I set course at Wales and it became soon very hilly, and more than once I had to get of the bike and walk. Hairpin bend is not used here, they just glue the road up the Hill, no need to make the roads longer than necessary. When I ask for directions to a town 8-10 km away, it often sounds like this is longer than they have ever been away, and tells me it's far too long a distance to bike. I have settled in for the night on a camp site at Cheatle, Southeast of Stoke on Trent.


Day 5 116 km

Heavy rain from the morning, so I laid and waited for better weather. At 9 it got better, and I drove on, and soon the sun came along, and stayed for the rest of the day. Not nearly as hilly as yesterday, and a very beautifully landscape, with Estates, twisted roads and beautiful small towns and flowers all over. I have found a campsite with the view to Wales and the mountains. I am surrounded by some boys who claim that we already are in Wales, and how should they know better when their parents don't. Today I also expired to drive over a carpet-pee machine, one of these small noisy dogs who are very tough behind a fence, but not so tough when you come in to them. This one was an exception, it came without a sound rushing right at me, but must have misjudged something, it went right under my rear wheel which could noting but run over it, as I had good speed on. It didn't sound as the dog had much fun anymore, I managed to keep the balance on the bike and when I got a hold on the bike I turned around and saw the hero walking slowly towards the garden, looking very choked, and surely will be very sore for some days I think. Sleeping at Trewern.




Maybe I should buy this shed??



Day 6 159 km

The night was rainy but, it cleared up in the morning. I had a flat yesterday, and discovered one of my brand-new spare tubes was broken so I drove to the nearest big town to get an extra tube, just in case. I asked at a gas station for directions to a store, but he claimed there was no bike store in the city. This was a rather big city, so I had a hard time believing him, and I did find 2 stores but they had not open yet. I spend the hour till opening time driving around the city, and visiting a bakery. I got my tubes, and drove up in the Cambrian Mountains, its all grass and hills and 1000 of sheep's bleating. I came up were there was no trees, but some very beautiful view. Later on I had a very long and nice way down, but after that it got nasty hilly and I had to walk a couple of times again. I am now at Monmouth, about 20 miles north of Bristol. I have given up asking the farmers for permission to camp, I always get no because of the Foot and Mouth decease, so its camp sites from now on.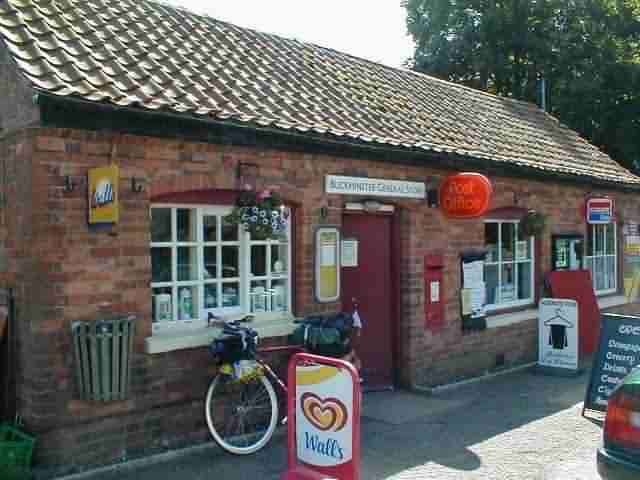 Buckminster General Store



Day 7 176 km

Drove on at 6,30 and it began to rain. Right from the start I had to walk up a severe Hill. After 20 km of serious hill biking, I came to Cheestow were I fooled around trying to find the way to the bridge over the inlet, Severn. Normally there are very few bike paths in England, but on the bridge there were 2 very wide and good paths. Rain all day, I reached Stonehenge which was one of my biggest goals. I was very disappointed, it was fenced in, I had dreamed of walking around in between the stones, but this was not allowed, furthermore you had to pay a fee, and then you came no closer than about 10-15 m. I continued and was looking for a campsite, but found none. After about 50 km of biking I had to settle in at a B&B in Hungerford, wet and dirty as I were. I will not mention the price, but I got 20% off because I got pale and dizzy when I heard the price. This is luxury, I have TV, bath and you name it, and I even had some entertainment later on, as the fire alarm went off, several times. Due to the price, I will try to eat as much as possible tomorrow morning, I feel I have paid Princely for it. I got disinfected for Foot and mouth decease today, when some cows crossed the road. The farmer washed the road, and told me not to put my feet down.




Stonehenge, and it's raining



Day 8 114 km

Still raining strong from the morning, but later only showers. The landscape is much more human now with only small, easy to ride hills. Again I drove longer than planned, trying to find a campsite. Actually I did find one, but it belonged to R.A.F.
I'm again on B&B, this time on top of a pub, in Luton, north of London. It's very dirty and threadbare, but there's shelter.


Day 9 125 km

I was promised breakfast at 7, but there was nobody around, and everything was closed. Furthermore a car blocked the way out, so after a while waiting, I dismounted the bike, so I could lift it over the car. I had a bad start taking some wrong turns, but later I got better finding the way. I visited the towns Thaxsted and Barnston because my grandfather lived here for a summer, working on a farm. In Chelmsford I visited the tourist information, and got directions to a campsite 9 miles out of town. I expect to sleep here 2 times, as I intend to spend the day tomorrow in Chelmsford.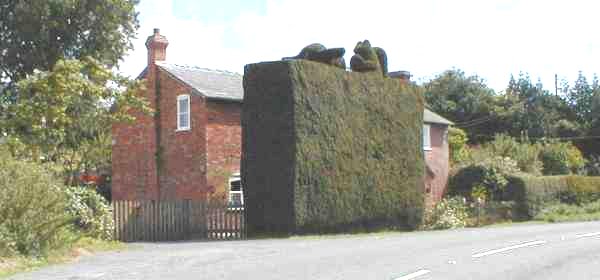 A hedge.



Day 10 41 km

I used the day visiting Chelmsford, I took some pictures of the Cathedral my grandfather had visited in 1909. I also tried to find the hotel he stayed on, but it didn't exist anymore. Besides that I just wandered about playing the tourist I was. The campsite here is quit rural, I had visit by 4 chickens and a duck peeking in to my tent. They live here on the farm and therefore feel they are more than us simple campers. No one has yet charged my for the staying, very odd.


Day 11 116 km

Admitted... I drove from the bill. In the evening I went to the farmer to pay, but he said I should wait till he's wife came over, but she never turned up. I was ready to go at 6,15 in the morning, and nobody were around, so I just drove on, with only a little bad conscience.... well, I DID offer to pay. I headed for Clacton on Sea, a big town at the sea where I planned to use the day. I arrived at 11 and discovered that many others had the same idea. It was a big tourist trap, with gambling casinos and other tourist temptations. I didn't like the place so I drove on to Harwich where I booked in on a small campsite, belonging to a very old farmer who charged 4 pound. When I was finish putting up the tent, I went to look for the toilet and bath. I asked a fellow campest were the "Facilities" was, that made him smile, and he pointed at a small shed containing 1 toilet, 0 toilet paper, 0 hot water and 0 bath.


Day 12 29 km

The day I used biking around the old town in Harwich until the ferry to Denmark set of at 5. I bought some food to eat on the 18 hour long sail trip, the food on the ship is very expensive. I also bought a T shirt at a recycle store, so I had some clean clothes to put on when I had a bath on the ship. The first I did on the ship was finding a toilet with a bath, so I could get of my dirty clothes. As I was standing under the shower, I heard 2 ladies' come in, and then I realized I had choosen the ladies room. Later I managed to come out without been seen, I forgot my shampoo in there, but I didn't feel like going back to get it.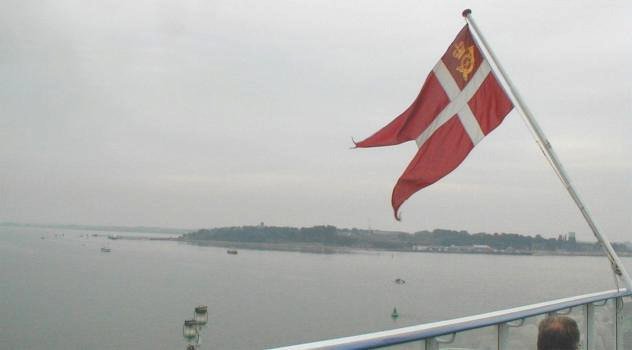 Bye England



Day 13 140 km

The trip from Esbjerg to my home at Faarvang was nice and easy. I realized how good roads and little traffic we have here in Denmark, compared to England.

I can only recommend England as a country to spend a biking holiday in. It's very cozy when you get on the small roads, and if you like, you can just avoid the hilliest parts of the country.